Hi everybody, I've been working with the frontend STEEMPeak for some time now.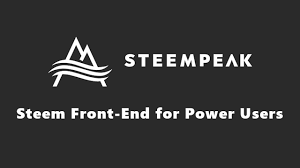 STEEMPeak has grown up. For me the best frontend to access the Steemblockchain. Now the biggest update for STEEMPeak 2019 has been released and we are at STEEMPeak version 2.0. And the changes, improvements are groundbreaking and make this frontend even more interesting than it already is.
From now on, users who don't (yet) have a Steem account can log in to steempeak.com with their Facebook, Google or GitHub accounts.
These users will receive a guest account and can make their experiences. They have their own profile page and can explore Steem according to their wishes. Each new account will receive a random username (at least 17 characters to avoid collision with Steem usernames) generated by the system.
Revision of the Explore page
The top menu on the Explore page has been updated to provide more options and to make it more useful and easier to configure. It is now possible to add "preferred" users, topics and curators directly from the menu. It's very easy to reach your favorite Steemians and the Explorer page is really good and works as I tested it very well.
Merging the old HTML editor with the Markdown editor
Due to some problems with the previous HTML editor, I decided to switch to a single editor that allows you to work in both Markdown and HTML. So the new editor is exactly the same for both styles, but the syntax is updated according to your needs.
Allow Schedule Post via Keychain
You can now plan the posting publication via Steem-Keychain. This is a strong and good innovation. I have worked a lot with Schedule Post myself, but with Keychain there were often problems. Good that this has now been fixed, improved.
Have fun with the frontend STEEMPeak
Best regards Michael
Translated with www.DeepL.com/Translator
Deutsch
Hallo zusammen, ich arbeite schon eine gewisse Zeit mit dem Frontend STEEMPeak.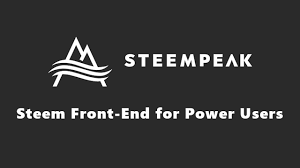 STEEMPeak ist erwachsen geworden. Für mich das beste Frontend um auf die Steemblockchain zu zugreifen. Nun ist das grösste Update für STEEMPeak 2019 erschienen und wir sind bei STEEMPeak Version 2.0. Und die Änderungen, Verbesserungen sind bahnbrechend und machen dieses Frontend noch interessanter als es schon ist.
Ab sofort können sich Benutzer, die (noch) kein Steem-Konto besitzen, mit ihren Facebook-, Google- oder GitHub-Konten bei steempeak.com anmelden.
Diese Benutzer erhalten ein Gastkonto und können ihre Erfahrungen machen. Sie haben eine eigene Profilseite und können Steem nach ihren Wünschen erkunden. Jedes neue Konto erhält einen zufälligen Benutzernamen (mindestens 17 Zeichen, um eine Kollision mit Steem-Benutzernamen zu vermeiden), der vom System generiert wird.
Überarbeitung der Explore-Seite
Das Top-Menü auf der Erkundungsseite wurde aktualisiert, um mehr Optionen zu ermöglichen und nützlicher und einfacher zu konfigurieren. Jetzt ist es möglich, "bevorzugte" Benutzer, Themen und Kuratoren direkt aus dem Menü hinzuzufügen. Es ist sehr einfach seine bevorzugten Steemians zu erreichen und die Explorer Seite ist echt gut und funktioniert so wie ich es getestet habe sehr gut.
Zusammenführen des alten HTML-Editors mit dem Markdown-Editor
Aufgrund einiger Probleme mit dem vorherigen HTML-Editor wurde zu einem einzigen Editor gewechselt, der es ermöglicht, sowohl in Markdown als auch in HTML zu arbeiten. Der neue Editor ist also für beide Styles genau gleich, aber die Syntax wird aktualisiert.

Schedule Post über Keychain zulassen
Es können jetzt über Steem-Keychain die Posting-Publikation geplant werden. Das ist eine starke und gute Neuerung. Es gab immer Probleme mit dem Schedule Post und Keychain. Das wurde behoben und funktioniert nun zuverlässig.
Viel Spass mit dem Frontend STEEMPeak.
LG Michael