Achtung: Verlängert bis Montag 20.4.20 9:00 MESZ | Attention: Extended until Monday 20/4/20 9 am CEST
---
Beneficiaries
Steempeak 3 %
Warum diese Info? Ich meine, dass diese für Kuratoren entscheidungsrelevant sein kann.
Why this info? I mean, it can be relevant to curators' decision.
Warum an dieser Stelle? Weil sie dann auch in der Vorschau im Blog und in den Listings sichtbar ist, wo man ja auch voten kann.
Why in this place? Because then it's also visible in the blog previews and the listings, where you can also vote.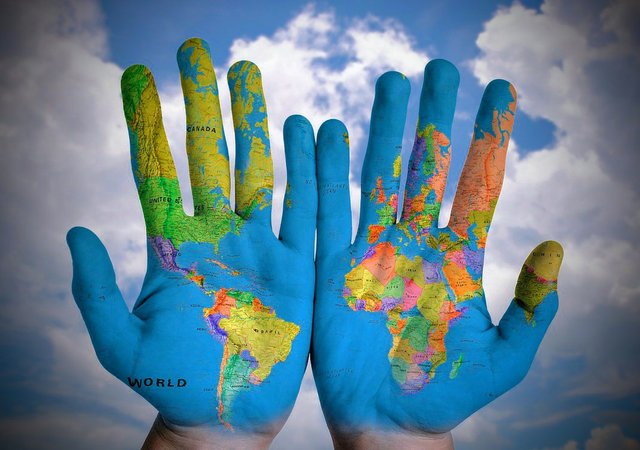 Von / from Pixabay
[Deutsch, English see below]
Auflösung vom letzten Mal und Gewinnvergabe
Fragen und Aufgaben
1. Welche Teile welcher zwei Länder haben zeitweise einen Zeitunterschied von 15 min und zeitweise von 1:15 h?
2. Du stehst mit einem Bein in Land A und mit dem anderen in Land B. Dann verlagerst du ein Bein und stehst nun mit beiden Beinen in Land A, aber so, dass du Land B unter dir hast. Nun verlagerst du beide Beine und stehst jetzt mit beiden Beinen im Land B und hast dabei Land A unter dir. Wo bist du?
3. Durch welche beiden Länder, die beide von ihrem einen Nachbarland vollständig umschlossen werden, verläuft die selbe volle Längengrad-Minute (##°##'00")?
4. Nenne eine Insel, auf die folgendes zutrifft:
Auf ihr ist mehr als ein Land.

Auf ihr gibt es Exklaven.

Sie wird geographisch einem anderen Kontinent zugeordnet wie politisch (oder je nach Sichtweise zumindest ein Teil von ihr).
---
Richtige Antworten
1. Die Chatham-Inseln (Teil von Neuseeland, einige hundert km östlich der Hauptinseln, Zeitzonen: UTC + 12:45 Normalzeit, UTC + 13:45 Sommerzeit) und ein Großteil der Linieninseln (Teil von Kiribati, Zeitzone: ganzjährig UTC + 14:00)
2. Auf dem Gipfel des Sorgschrofens, wo der Grenzverlauf zwischen Deutschland und Österreich mW weltweit einzigartig ist:
Sein Gipfelpunkt bildet die einzige Landverbindung der zum Staatsgebiet Österreichs gehörenden Gemeinde Jungholz mit dem restlichen Gebiet des Landes Tirol. Seit dem Grenzvertrag zwischen Bayern und Österreich von 1844 und einem Ergänzungsvertrag von 1850 besteht auf dem Gipfel des Sorgschrofen die seltene Besonderheit, dass dort vier Grenzlinien je zweier deutscher und österreichischer Gemeinden in einem Quasi-Vierländereck zusammentreffen:
Bad Hindelang (Westen, Deutschland)
Pfronten (Osten, Deutschland)
Jungholz (Norden, österreichische funktionelle Enklave)
Schattwald (Süden, Österreich)
Die österreichische Exklave Jungholz in Tirol ist vollständig von Deutschland umgeben, berührt aber auf dem Gipfel punktuell Österreich.
3. San Marino und Vatikanstadt
Beide sind vollständig von Italien umschlossen und durch beide verläuft 12°27'00" O.
4. Zypern
Auf ihr liegt das eigentliche Zypern, Nordzypern (nur von der Türkei anerkannt) und die beiden britischen Militärbasen Akrotiri und Dhekelia (sowie eine neutrale Pufferzone). 4 zyprische Exklaven sind von Dhekelia umgeben. Zypern zählt geographisch zu Asien und politisch zu Europa (wobei die Türkei Nordzypern höchstwahrscheinlich auch politisch zu Asien zählt).
---
Wertungen
Teilgenommen hat diesmal endlich wieder jemand, und zwar mein fleißigster Teilnehmer @zuerich. Zwar nur einer, aber ich hoffe, dass es wieder mehr werden, trotz der Spaltung!
Ich kann es diesmal ganz kurz machen:
Zum allerersten mal hat jemand alles richtig!! Ich gratuliere dir ganz besonders herzlich, lieber @zuerich!
Liebe weitere bisherige Teilnehmer und Interessenten, nehmt euch ein Beispiel! Jeder von euch kann der nächste mit 4 Richtigen sein! 😎🤑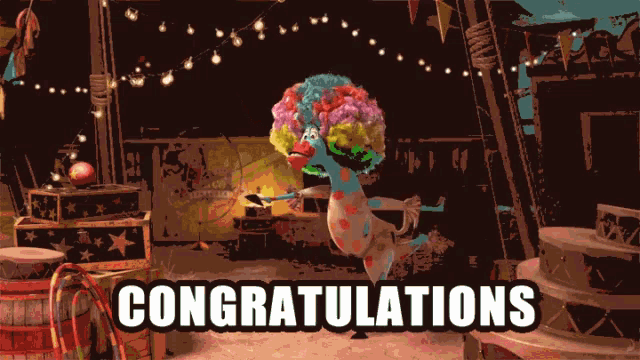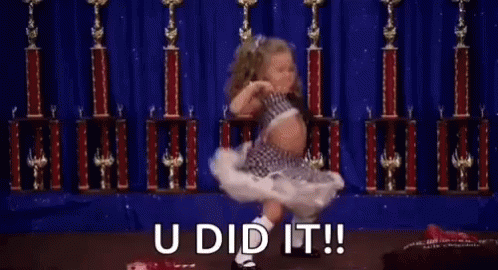 Hinweis zu 1.: Die Zeitzone UTC + 14:00 gilt für alle zu Kiribati gehörenden Linieninseln, wovon Kiritimati (Weihnachtsinsel) die größte ist.
Hinweis zu 2.: Gemäß Wikipedia liegt der Berührungs-Grenzpunkt exakt auf dem Gipfel.
---
Ausschüttungen
Der Autor-Reward beträgt 7,151 STEEM + 1,244 SBD.
@zuerich kriegt 44,44 %, das sind 3,178 STEEM + 0,553 SBD.
Damit bleibt erstmals nichts für den @steemchiller. Aber nachdem ich mich freue, dass er endlich Witness ist, lege ich für ihn 4,44 % obendrauf, das sind 0,318 STEEM + 0,055 SBD.

Preise
Wer zuerst alle 4 Fragen richtig beantwortet, bekommt 44,44 % des Autor-Rewards.
Wenn niemand alle 4 Fragen richtig beantwortet, bekommt der erste mit 3 richtigen Antworten 25 % des Autor-Rewards.
Wenn niemand 3 Fragen richtig beantwortet, bekommt der erste mit 2 richtigen Antworten 14,44 % des Autor-Rewards.
Dazu musst du mir innerhalb von 144 Stunden (6 Tage) nach der Veröffentlichung des Beitrags eine verschlüsselte Memo mit dem Mindestbetrag von 0,001 STEEM bzw. SBD senden, z. B. mit SteemWorld. Wie das geht, siehst du im Anhang. Ich schütte auf jeden Fall 44,44 % des Autor-Rewards aus! Wenn weniger als 4 Fragen richtig beantwortet werden, bekommt die Differenz (19,44 % oder 30 % oder 44,44 %) der Steemchiller.
Bitte beachten: Die Lösung nicht in die Kommentare schreiben, um Chancengleichheit zu gewährleisten!

Der Neulings-Bonus für aktive Neusteemians
Er ergibt sich aus folgender Formel:
(100 - A) x 0,044 STEEM x AR%
A = Alter deines ersten oder einzigen Accounts in Tagen zum Zeitpunkt der Veröffentlichung dieses Beitrags kaufmännisch gerundet auf volle Tage
AR% = dein erreichter Anteil am Autor-Reward
Beispiel: Dein Account ist 36,5, gerundet also 37 Tage alt. Du hast als erster 3 Fragen richtig beantwortet und niemand alle 4.
(100 – 37) x 0,044 STEEM x 25 % = 0,693 STEEM
Voraussetzungen, die am Ende der 144 Stunden erfüllt sein müssen:
Deine Reputationsnote muss mindestens 40 sein.
Du musst einen introduceyourself-Beitrag sowie mindestens einen weiteren veröffentlicht haben.
Du musst mindestens 4 Kommentare und 4 Antworten veröffentlicht haben.
Die Zahl deiner Follower muss mindestens 44 sein.

Fragen und Aufgaben
1. Nenne ein Land bzw. den entsprechenden Teil davon, in dem die Sommerzeit-Umstellung nicht eine Stunde beträgt!
Tip: Bei einem endet die Sommerzeit auf ##:00.
2. Welches Binnenland hat mit einem seiner Nachbarländer eine viermal so hohe Zeitverschiebung wie mit einem anderen seiner Nachbarländer?
Tip: Beide Nachbarländer haben beinahe dieselbe Einwohnerzahl.
3. Welche Zeitzone gilt für die größte Anzahl an Ländern weltweit? Mit Zeitzone meine ich hier alle Gebiete, die dieselbe Uhrzeit und dasselbe Datum haben, egal, wie diese Zeitzone in einzelnen Ländern genannt wird. Wenn die betreffende Zeitzone nur für einen Teil eines Landes gilt, zählt dieses Land dazu.
Tip: Jahreszeiten?
4. Welches ist das flächengrößte der Länder, die vollständig von einem einzigen Land umschlossen werden?
---
Was nicht gilt
Die Lage in der selben Klimazone oder auf dem selben Kontinent
Irgendwelche Bandbreiten von Koordinaten, die mehr als einen vollen Längen- bzw. Breitengrad umfassen
Irgendwelche Bandbreiten von Höhenlagen, die mehr als 100 Höhenmeter umfassen
Antworten, die das Wort "ungefähr" enthalten
Gemeinsame Buchstaben oder -folgen oder Wörter in geografischen Namen
---
Beispiele für die erforderliche und ausreichende Exaktheit
"Alle Städte liegen zwischen 11°40' S und 12°40' S."
"Durch beide Orte verläuft die 900-m-Höhenlinie." oder "Beide Orte liegen auf 900 m Höhe."
"Der höchste Punkt beider Länder liegt zwischen 4.440m und 4.500 m (bzw. max. 100 m Differenz)."
Mit Land sind immer Staaten der höchsten Ebene gemeint, keine Bundesländer o. ä. Alle richtigen Antworten sind geografischer Natur.

Anhang: So sendest du eine verschlüsselte Memo
Da es mit der SteemWorld wohl am einfachsten und übersichtlichsten geht und die eh so gut wie jeder nutzt, zeige ich es damit. Es geht u. a. auch in deiner Wallet.
1. Auf Balances klicken
2. Auf Transfer... klicken
3. Wenn ein solches Popup angezeigt wird, wähle STEEM oder SBD
4. Ausfüllen wie angezeigt
5. Wichtig: Encrypt Memo anhaken
6. Im Popup-Fenster rechts unten mit Klick auf Transfer bestätigen
7. Die Abfragen in den beiden folgenden, selbsterklärenden Popup-Fenstern beantworten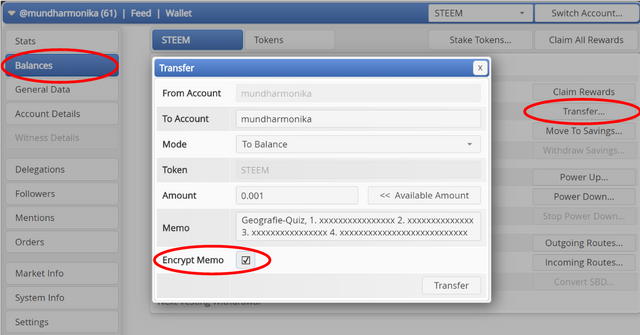 ---

---
English
Translated with www.DeepL.com/Translator (free version)
The prizes
Whoever answers all 4 questions correctly first gets 44.44% of the author reward.
If nobody answers all 4 questions correctly, the first one with 3 correct answers gets 25% of the author reward.
If no one answers 3 questions correctly, the first with 2 correct answers gets 14.44% of the author reward.
You have to send me within 144 hours (6 days) after the publication of the article a encrypted memo with the minimum amount of 0.001 STEEM or SBD, e. g. with SteemWorld. You can see how this works in the appendix. I will definitely pay 44.44% of the Author Reward! If less than 4 questions are answered correctly, the difference (19.44% or 30% or 44.44%) gets the Steemchiller.
Please note: Do not write the solution in the comments to ensure equal opportunity!

The Newbie Bonus for active Newsteemians
It results from the following formula:
(100 - A) x 0.044 STEEM x AR%
A = age of your first or only account in days at the time of publication of this post commercially rounded to full days
AR% = your achieved share of the author reward
Example: Your account is 36.5, rounded so 37 days old. You were the first to answer 3 questions correctly and no one answered all 4.
(100 - 37) x 0.044 STEEM x 25 % = 0.693 STEEM
Requirements to be met at the end of the 100 hours:
Your reputation grade must be at least 40.
You must have published an introduceyourself post and at least one more.
You must have published at least 4 comments and 4 replies.
The number of your followers must be at least 44.

Questions and tasks
1. Name a country or the corresponding part of it, where the daylight saving time changeover does not take one hour!
Tip: In one of them the daylight saving time ends at ##:00.
2. Which landlocked country has a four times higher time difference with one of its neighboring countries than with another of its neighboring countries?
Tip: Both neighboring countries have almost the same population.
3. Which time zone applies to the largest number of countries worldwide? By time zone I mean here all areas that have the same time and date, no matter what this time zone is called in individual countries. If the time zone applies to only part of a country, that country is included.
Tip: Seasons?
4. Which is the largest of the countries that are completely enclosed by a single country?
---
What doesn't count
Situation in the same climate zone or on the same continent
Any bands of coordinates that comprise more than one full degree of longitude or latitude.
Any bands of altitudes exceeding 100 metres in height
Answers containing the word "approximately"
Common letters or sequences or words in geographical names
---
Examples of required and sufficient accuracy
"All cities lie between 11°40' S and 12°40' S."
"Through both places runs the 900 m contour line." or "Both places are at 900 m altitude."
The highest point of both countries is between 4,440 m and 4,500 m (or max. 100 m difference)."
Land always means states of the highest level, no federal states or similar. All correct answers are of a geographical nature.

Appendix: How to send an encrypted memo
Since SteemWorld is probably the easiest and clearest to use and almost everyone uses it anyway, I show it with it. It goes among other things also in your Wallet.
1. Click on Balances.
2. Click on Transfer...
3. If there shows up such popup, choose STEEM or SBD
4. Fill in as shown
5. Important: Encrypt Memo tick on
6. Confirm by clicking on Transfer in the bottom right of the popup window
7. Answer the queries in the following two self-explanatory pop-up windows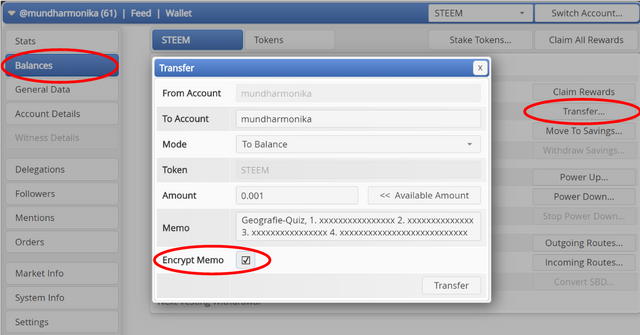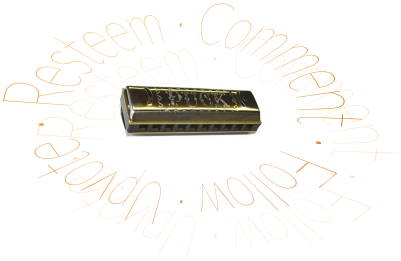 @mima2606
@zuerich
@kaptnkalle
@meins0815
@indextrader24
@btcsam
Falls jemand keine Mention mehr möchte, bitte melden!
If someone doesn't want a mention anymore, please contact me!