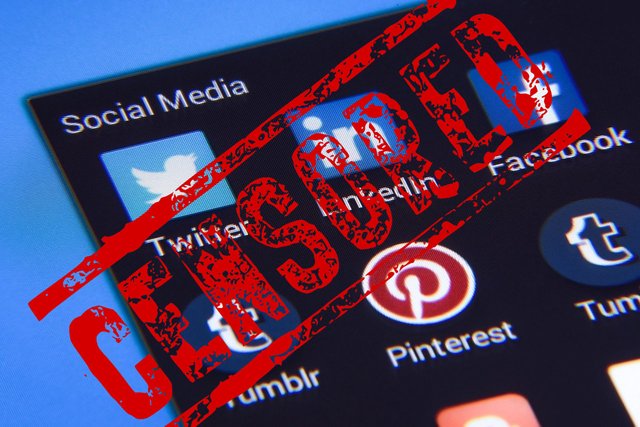 Deutsche Fassung unter der Englischen
Twitter & Facebook block hundreds of thousands of users
The blocking of hundreds of thousands of Twitter and Facebook accounts by Chinese users, who allegedly portray the protests in Hong Kong badly, is a very good argument for using the Steem Block Hain.
I do not want to take sides with the Chinese government, or support the opinion of blocked users. If the lock had gone the other way, I would have been annoyed about it as well.
Social media are exploiting their market power
All I care about is that I find it absolutely absurd for companies like Twitter or Facebook to abuse their media power to influence public opinion.
It can not be that the users of Facebook, etc. only content that fits into the world view of these companies can post.
This has nothing to do with freedom of expression and deprives people of the opportunity to form an independent opinion.
In times of unilateral public opinion manipulation by state broadcasters, the free, alternative media are more than necessary.
If now the social media companies block the free media, sooner or later we will live in a world where the states determine what the truth is.
And in such a world, we certainly do not want to live!
Therefore, it is all the more important that Steem is a successful project. I have not been here for a long time on the platform, but the bottom line is that I have not found anything that speaks against the use of Steem.
OK. It's complicated to use, but I think it's worth the effort to deal with it.
And you probably will not get rich, but at least you get over something. With the other platforms you get nothing except that you are gulped with advertising. But on the contrary. You even have to give something, namely its data, which Facebook and Co then market beautifully in their favor to gain weight.
So better here at Steem home.
Best regards
RuhrSearch
Deutsche Fassung:
Twitter & Facebook sperren hunderttausende Nutzer
Die Sperrung von hunderttausenden Twitter und Facebook Konten von chinesischen Nutzern, die angeblich die Proteste in Hong Kong schlecht darstellen, ist ein sehr gutes Argument für die Nutzung der Steem Block Hain.
Ich möchte mich hiermit gar nicht auf die Seite der chinesischen Regierung schlagen, oder die Meinung der gesperrten Nutzer unterstützen. Wenn die Sperrung andersrum gelaufen wäre, hätte ich mich genau so darüber geärgert.
Die sozialen Medien nutzen ihre Marktmacht aus
Es geht mir einfach nur darum, dass ich es für ein absolutes Unding halte, wenn Unternehmen wie Twitter oder Facebook ihre Medienmacht missbrauchen um die öffentliche Meinung zu beeinflussen.
Es kann nicht sein, dass die Nutzer von Facebook usw. nur Inhalte die in das Weltbild dieser Unternehmen passe, posten können.
Das hat mit freier Meinungsäußerung nichts zu tun und nimmt den Menschen die Möglichkeit sich eine unabhängige Meinung zu bilden.
In Zeiten von einseitiger staatlicher Meinungsmanipulation seitens staatlichen Rundfunks, sind die freien, alternativen Medien mehr als notwendig.
Wenn jetzt die social media Konzerne die freien Medien blockieren werden wir früher oder später in einer Welt leben in der die Staaten bestimmen was die Wahrheit ist.
Und in so einer Welt wollen wir ganz sicher nicht leben.
Daher ist es um so wichtiger, dass Steem ein Erfolgsprojekt. Ich bin noch nicht lange hier auf der Plattform, aber unterm Strich habe ich noch nichts gefunden das gegen die Nutzung von Steem spricht.
OK. Es ist kompliziert in der Anwendung, aber ich denke es ist die Mühe wert sich damit zu beschäftigen.
Und reich wird man wohl auch eher nicht, aber immerhin bekommt man über irgend etwas. Bei den anderen Plattformen bekommt man nichts außer das man mit Werbung zugemüllt wird. Ganz im Gegenteil. Man muss sogar etwas geben, nämlich seine Daten, die Facebook und Co dann schön zu ihren Gunsten zu fetten gewinnen vermarkten.
Also besser hier bei Steem heimisch werden.
Beste Grüße
RuhrSearch