Almost 4 months have passed since hard fork 21/22 and the introduction of the EIP. Some stats on downvotes to follow.
The time frame for all the charts is midnight 25th August 2019 to midnight 25th January 2020.
---
Count
There have been 779,190 downvotes during the time frame stated above.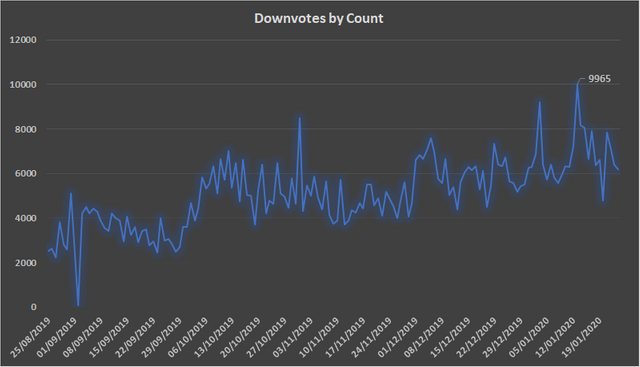 The peak day during the time-frame covered was quite recently - 13th Jan 2020.
---
Unique voter count
The average number of unique accounts downvoting in the time frame covered is 290.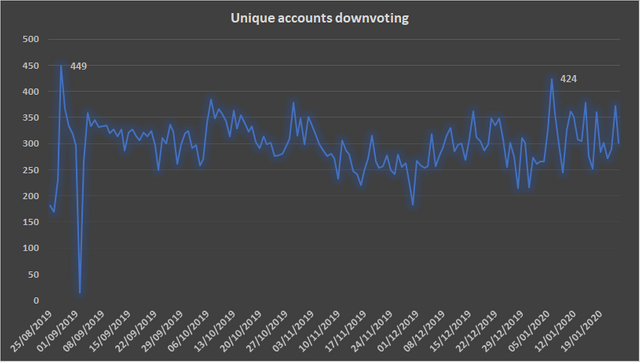 The highest number of unique accounts downvoting came shortly after the fork, the next highest was on the 6th January 2020.
---
Weight
From the 25th August 2019 to the 25th January 2020, the equivalent weight of 177,298 100% downvotes have been distributed.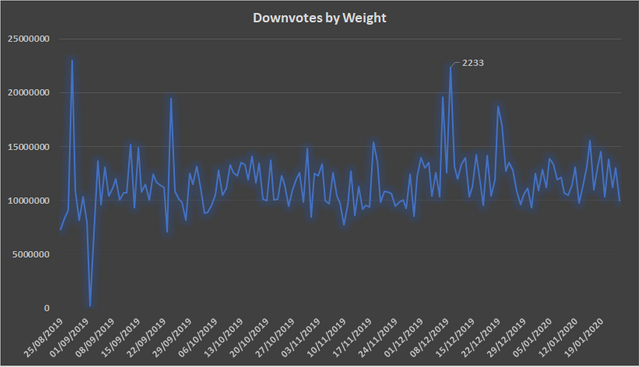 On the 9th December 2019, the equivalent of 2233 100% downvotes were issued.
---
VESTS
Perhaps the most important metric - how many VESTS are behind the downvotes.
**The huge caveat here is that I'm using the total VESTS 'active' for each account/vote based on today's 'active' VESTS for each account. VESTS/SP held in each account will be different 4 months ago.
E.g. and account may have had 5 million SP 4 months ago but only has 2 million SP now. The VEST count for each downvote by this account for the time frame covered will use the number of VESTS = 2 million SP.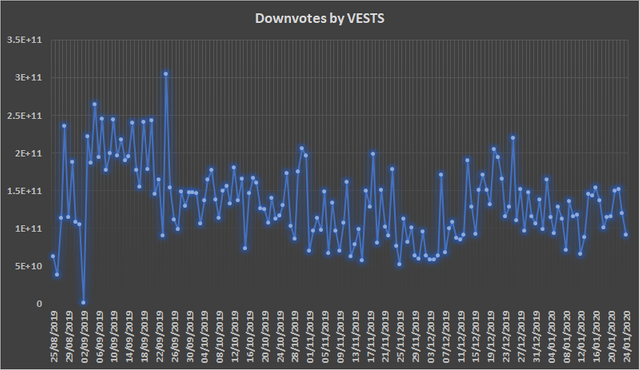 The daily average total VESTS downvoting is 1.33495E+11.
Using STEEM Per MVests = 509.046 STEEM, that is around 67,615,217 SP worth of downvotes each day.
---
Have a nice weekend,
Asher