With 30 STEEM and a number of SBI shares to be won - sign up, engage, and win! 🎁
Welcome to the Engagement and Curation leagues. How does your engagement on Steem compare against others?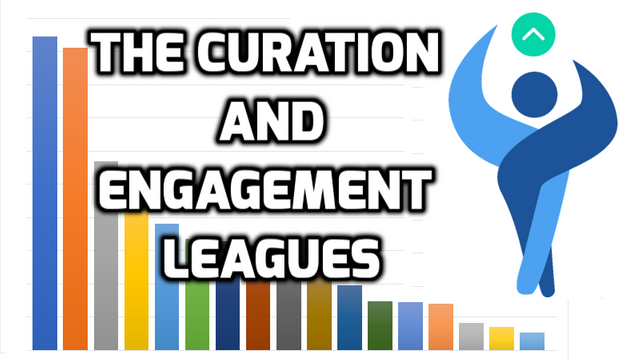 ---
This weeks Post is sponsored by @esteemapp - A mobile and desktop app for Steem.

Thank you for your sponsorship @esteemapp!
---
League Info
Would you like to enter the leagues? Make a comment below - this is for a lifetime membership and so you will need to ask to be removed.
The league tables are reset each week and so any time is a good time to join!
---
The Engagement League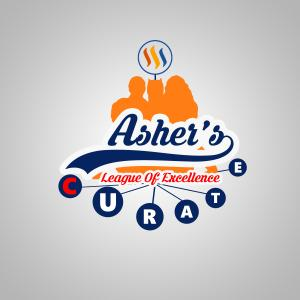 This league is not based around financial rewards and relates to engagement.
Everyone currently on my master list has a chance here - including those powering down or dealing in delegations over the past couple of weeks.
I've used some metrics relating to:
Posts (P)
Comments - number of (C)
Number of people spoken to (PS)
Comments - replies to replies - depth > 2 (C R)
Comments - length in characters (C L)
Witness votes (W) (for those proxying witness votes, your total is always 30)
Up-votes to others (V)
Up-votes to different authors (U V)
Self-votes - No minus score but no bonus STEEM (S V)
Note: Copy/Paste comments will be excluded!
Engagement League Table

---
Firstly, if you are placed in the table above then you among the top 15% of the league entrants!
335 accounts earned a score this week (334 last time)
The top 100 produced 866 top level posts (1006 last time)
The top 100 produced 8858 comments (8740 last time)
The top 100 produced over 1.58 million characters of text in comments (1.66 last time)
The top 100 cast 31649 votes (31696 last time), of these, 361 were self-votes (335 last time)
Congratulations to this weeks Engagement League winner:
Another win for @johannpiber as he holds off @wakeupkitty to claim yet another 1st place. @brittandjosie is in 3rd spot this time.
Excellent engagement levels also from @chireerocks, @mad-runner, @markkujantunen, @traciyork, @dandays, @bearbear613, @abitcoinskeptic who will all be receiving some STEEM this week.
Those without a self-vote and placed in the top ranks will also receive a little STEEM. These people are: @sunlit7, @tarazkp, @redheadpei, @bengy, @anggreklestari, @crypticat, @riverflows, and @lenasveganliving.
Well done everyone!
---
The Curation League / Rewards based
NOTE: If you have started a power-down or been involved in delegations in/out of your account, you will not appear on this list for 15 days following the activities above. Thanks!
The end column is what I think is a genuine indicator of how well you are financially working the curation game with the tools, including vested Steem Power, that you have at your disposal.

---
🎁 Prizes 🎁
The Engagement League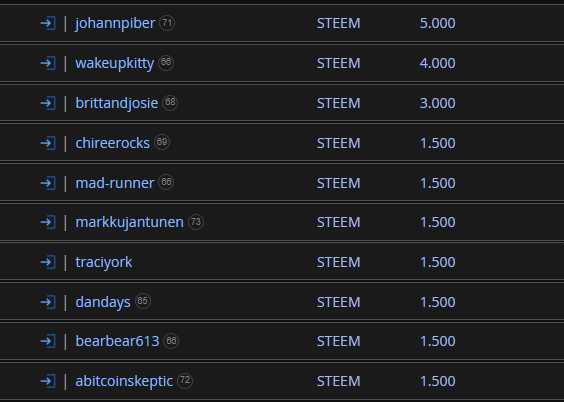 0 votes to self - Spot Prizes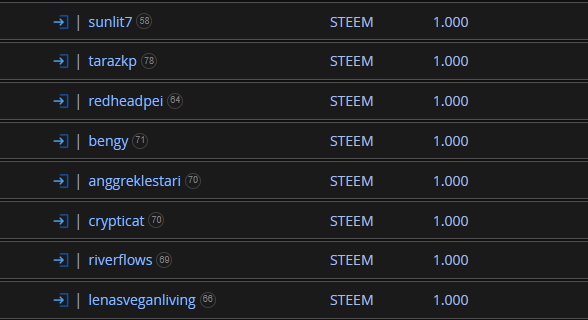 Lucky numbers
The list is ordered by the date that sponsor first offered a prize for their lucky number.
A big thank you to all the sponsors and well done to the winners!
If anyone wishes to sponsor a number give me a shout and I'll try to remember to add it next week.
And if you no longer want to sponsor a number, no worries just let me know :)
---
Finally
If you have spotted any glaring mistakes in my post, please let me know so I can fix them

If you would like to be added or removed from the master list, give me a shout

If you have any other comments or suggestions, please enter them into the box below
---
Have a good day all,
Asher