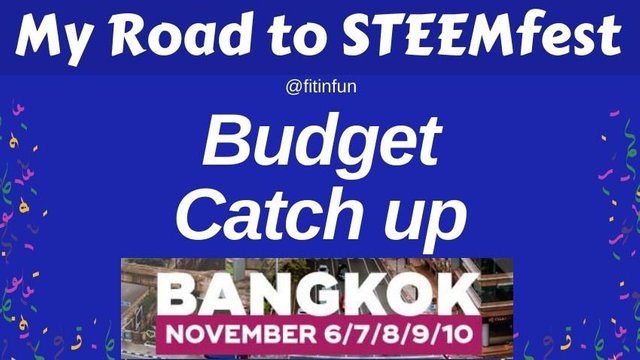 I hope I will soon catch up on my budget for STEEMFest, and I am staying optimistic no matter what!
The good news is that I have been able to pay for some of the cost of the trip now. Most of my transport costs (buses and trains) are now paid.
I have enough cash in MYR and THB to eat cheap on the two day bus/train trip and afford city transport when I will need it.
Hua Lumpong Train Station Main Lobby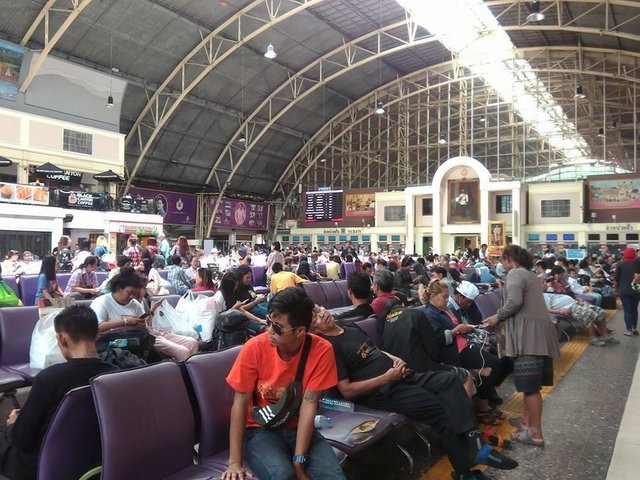 But I do not have money to pay the hostel when I get to Bangkok. I have enough to pay it in STEEM, but do not have any way to get that STEEM out so I can use it.
Why not?
The exchange I was using in Thailand recently closed down because of something to do with the US SEC. My lovely fast exchange with cheap fees? Boom! Gone. Those infernal over-extended Yankees and their mad dash for taxes is a pox on the whole world.

I have two other exchanges I use but so far have not gotten over the hurdles to be able to send cash to my Thailand bank.

I have been selling STEEM to various members of TeamMalaysia but no one can do this now for whatever their personal reasons are. Some are traveling to STEEMFest too, and others just can no longer buy STEEM at this time.
You cannot simply drive a tuk tuk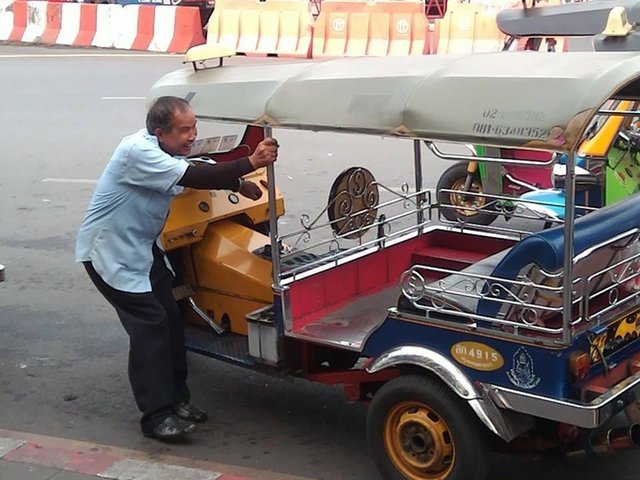 So how will I pay for the hostel cost?
The amount I need to pay the hostel for 8 days is:
1043 thb or
35 usd or
232 STEEM
Above is all the same value at today's rates. Who knows what the future will bring!
I have enough STEEM for the hostel now, and need this money on Wednesday afternoon, so I will have more by then as payouts come in.
STEEMFest check in starts at 3 pm on Wednesday November 6. The conference hotel is a quick and cheap bus ride from the Hua Lamphong Train Station. This is where I will arrive in the city.
Yes, you really need to push it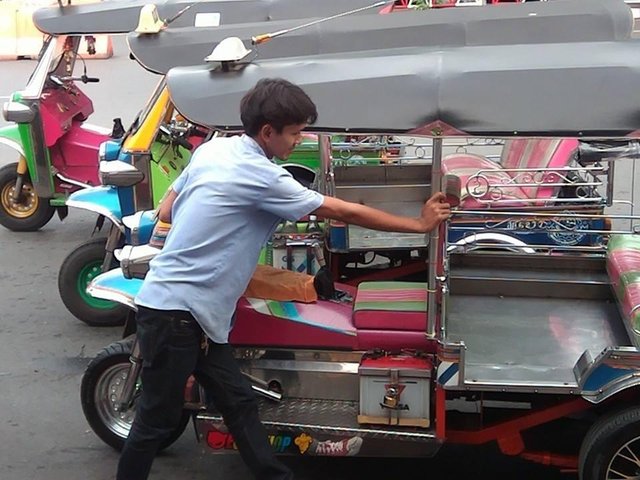 I will go to the conference hotel first instead of to the hostel. Then I will find some free wifi and coffee until the check in starts.
I will go as early as I can to the check in and park myself there. I will ask everyone who comes in to change my STEEM to THB until I get to 1100 THB - the amount I need to pay the hostel.
Then I will take the bus back to my hostel, check in, pay, and turn around to come back to the conference hotel for the opening banquet at 8 pm. By then I should know at least half of the people lol.
I will be taking photos of this STEEM/THB exchange event to see what happens.
How many people will show up early for the check-in?
How many people will I have to ask before I have success in getting the amount I need?
Will many people change tiny amounts of STEEM for thb?
Will few people change larger amounts of STEEM for thb?
How many people will let me take their photos exchanging STEEM for thb? Of course I will do a post about this.
8 AM Standing for The King Hua Lumpong Train Station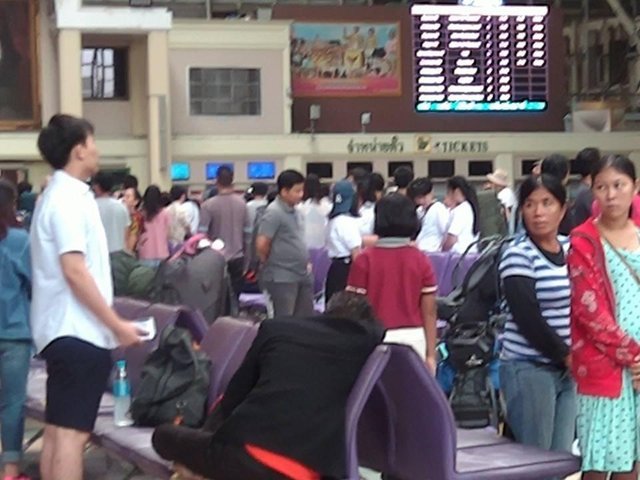 This is not over! I will keep asking to change money for the whole entire event. At least I can get STEEM money without fees while there. Unbelievably, I will need to pay rent again when I get back to Malaysia. And eat. And pay wifi. Ergh... Not thinking of this now.
My main goal for STEEMFEST is to see if I can get help for projects down in minnow and redfish land. If nothing else, the small amounts I am dealing with here will show it does not take much to help.
Wish me luck my friends and stay tuned for results!
If you have any better ideas for me or if you are going to STEEMFest and want to be part of this money changing deal, please let me know, and we can work it out!
Hanging off the side of my Thai Train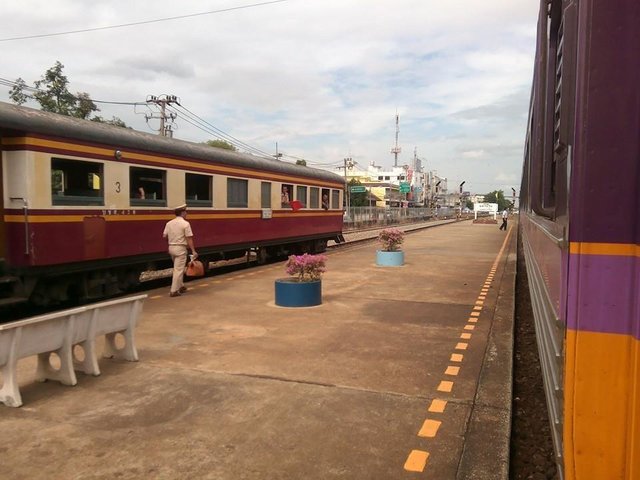 All photos are taken by me on my last visit to Hua Lumpong Station. Only the last one is at some random station on the way down south. I was using a cheap cell phone I do not have anymore for this trip.
= =
I won the Conference Fee to STEEMFest in Bangkok!
Less than a week ago, I got this great news. I was going to be in Bangkok anyway for a necessary Visa trip, but now I will really be at STEEMFest in a few days.
If you would like to help me get to STEEMFest, you can!
You can upvote any of the posts on my three STEEM blogs, especially those older and close to payout:
@fitinfun
@fitinfunfood
@bxlphabet

You can send any amount of STEEM/SBD to my @fitinfun wallet.

If you would like to send cash by paypal, please contact me in Discord. Sending that money to a member of TeamMalaysia instead of to me directly ends up being quicker and with much less fees.
If you would like to send cash to my Thailand Bank account where I can access it with no fees while in Bangkok, please contact me in Discord to get that information.
My Discord Contact Info:
fitinfun#2249
Many thanks to those that have already helped:
I am so grateful to all of you and will not let you down.
@whatisnew
@lizelle
@mrnightmare89
@contrabourdon
@felixgarciap
anonymous times 3 <<< TY mystery STEEMer(s)
What I do on STEEM
I post a total of 5-8 posts a day on my three niche blogs. The majority of what I do here is to help small blogs grow. I normally work on STEEM full time and over time. STEEM and STEEM-related money provide 90% of my cost of living. I live very cheaply in SE Asia.
I did see an uptick in voting right after NewSTEEM came in. Most of that has disappeared now and I am struggling still.
All my blogs enter contests many times a week. We win often now since there are so few other participants.
Top @tipu Curator which pays $0.11 STEEM per day.
Regular top participant and winner in the Weekly Engagement League of @abh12345.
Constantly on the @trufflepig list for undervalued posts.
= =
freewrite daily with @mariannewest
Minnow Tips
Photography
Travel
Food and ccc contest posts
Tasteem restaurant reviews
@pifc contest entries
dApp, tokens/tribes and gaming review posts
dpoll- STEEM and lifestyle questions
My most recent summary of Minnow Tips is here:
These tips will help you if you are new and struggling on STEEM. Tag me in any comment, and I will help you if you ask me to.