I just finished a 5.049km running that lasted about 0hh:27mm:21ss !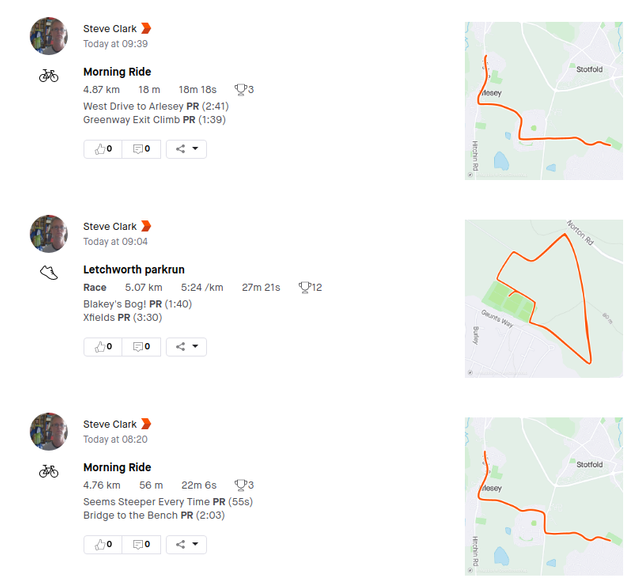 I managed to get up in time for this run. I do not set an alarm and just see how it goes. I need time for some breakfast and to cycle there. It had been raining and there were a few drops as I set off. The ride there does not seem to get any easier with all that uphill, but Strava reckoned I was quicker on some segments.
With the coronavirus situation we were advised to hold our own finish tokens for scanning and then drop them in a bucket afterwards to minimise contact. There is a possibility there may not be a run next week. Other countries have already cancelled. Letchworth is a small event, but if bigger ones are off then many more could come and just shift the problem.
As usual it did not look like many were turning out, but lots of people appear at the last minute. Maybe they sit in their cars until it is time. I think many people set off a little too quick on the initial stretch downhill before 'carnage corner' and the long uphill run. It was not too muddy there and the boggy patches at the top may have shrunk a little since last week. I still splashed through some puddles. By lap two I was still going okay, but a little slower than I would like. A younger guy overtook me on lap one and I was able to keep in sight of him with a chance to catch up near the end, but he had a little more in reserve. A lady overtook us both with a kilometre to go. I gave it what I could near the end and came 33rd out of 98. I was 40s quicker than last week, but still a way off my best for the course.
It will be a shame if there is no parkrun for a few weeks, but I can keep on running anyway. My son was at the gym today and said they were taking extra care to wipe down equipment after each person used it. I was at the supermarket later and some things such as pasta and tinned goods were run down. It did not look like people were too worked up generally. I just bought what I really needed.
Life is likely to be disrupted in coming weeks, but we can try to still make it enjoyable and stay active. Running outside does not have to involve contact with anyone else.
Take care and run free!
Check out some detailed info at my EXHAUST page
Join me in testing out EXHAUST!