My snack for tonight is just this fruit salad but so delicious and far from boring!
Thanks to nuts, seeds and coconut😉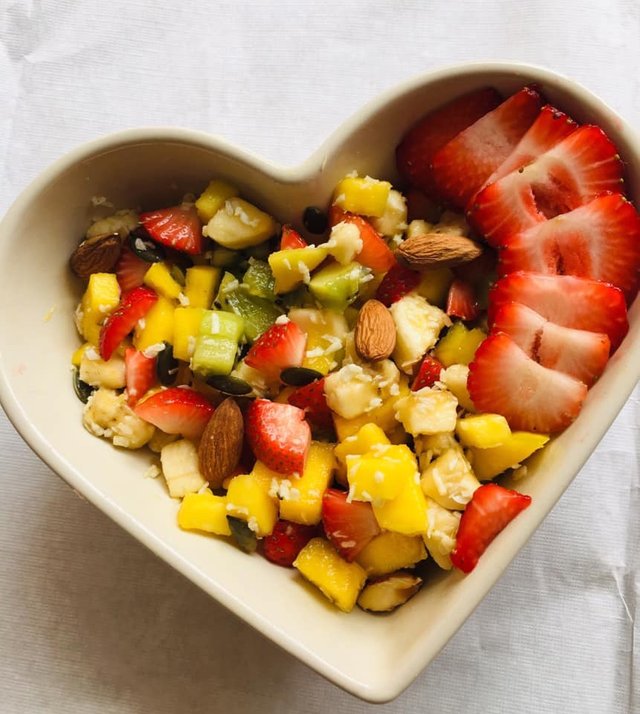 Ingredients
100g chopped mango
100g natural yogurt (add protein powder if you want to)
80 chopped strawberry
80g banana
50g kiwi
10g desiccated coconut
15g almonds or pecans
5g pumpkin seeds
Calories 402
Protein 16g
Carbs 44g
Fat 18g
Fiber 5g👍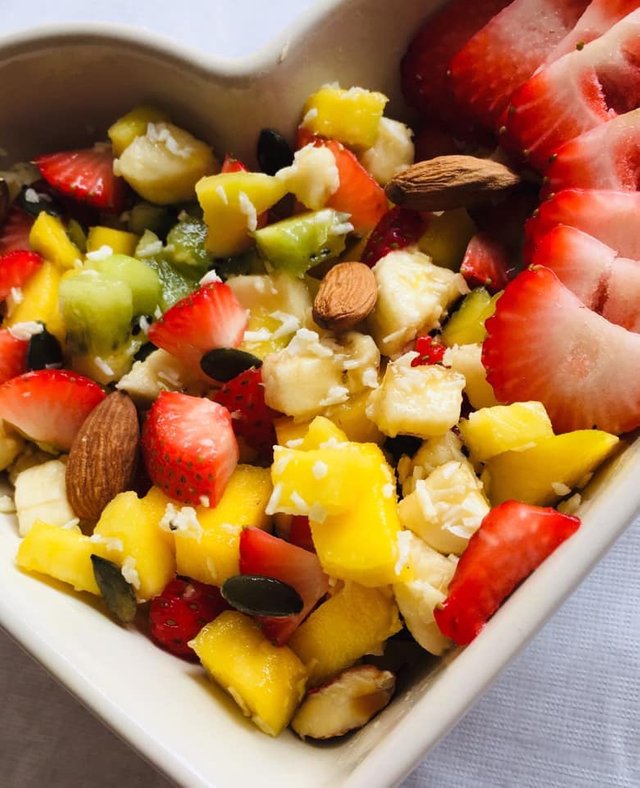 Few interesting facts about pumpkin seeds:
✅Packed full of valuable nutrients
Even small amount can provide you with a substantial quantity of healthy fats, magnesium and zinc.
Our bodies need Magnesium for controlling blood pressure,forming and maintaining healthy bones, regulating blood sugar levels and many more...
✅ Rich in antioxidants like carotenoids and vitamin E which help reduce inflammation
✅ Pumpkin seeds may help keep your heart healthy by reducing blood pressure and increasing good cholesterol.
✅ Good source of fiber which is important for those with heart problems and people with diabetes
✅ Improve energy, mood and immune function
✅ Can be easy added to any meal
✅ Large observational study found that eating them was associated with a reduced risk of breast cancer in postmenopausal women
Source: https://www.ncbi.nlm.nih.gov/m/pubmed/22591208/
............Polish translation.........
Moja dzisiejsza przekąska to po prostu sałatka owocowa, ale taka pyszna i wcale nie nudna!😉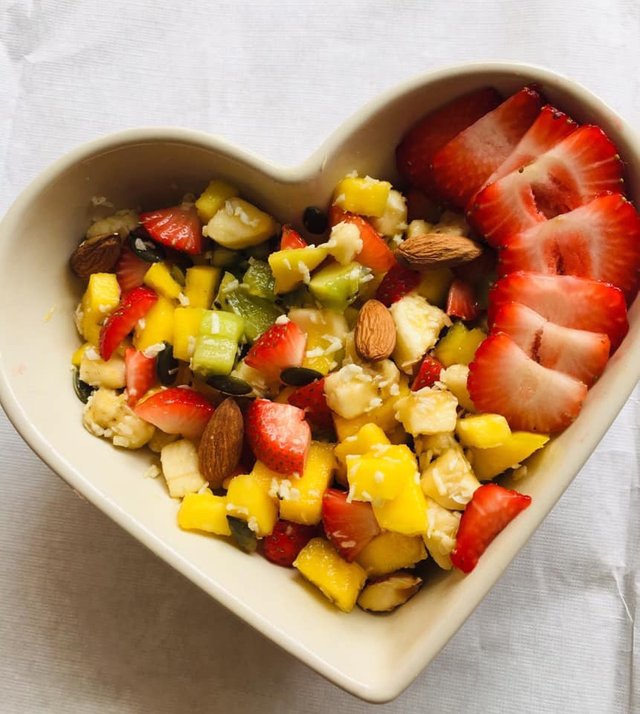 Skladniki
100g posiekanego mango
100g naturalnego jogurtu (dodaj odzywke, jeśli chcesz)
80 posiekanych truskawek
80g banana
50g kiwi
10 g wiorkow kokosowych
15 g migdałów lub pekanów
5 g pestek dyni
Kalorie 402
Białko 16g
Węglowodany 44g
Tłuszcz 18g
Fibre 5g👍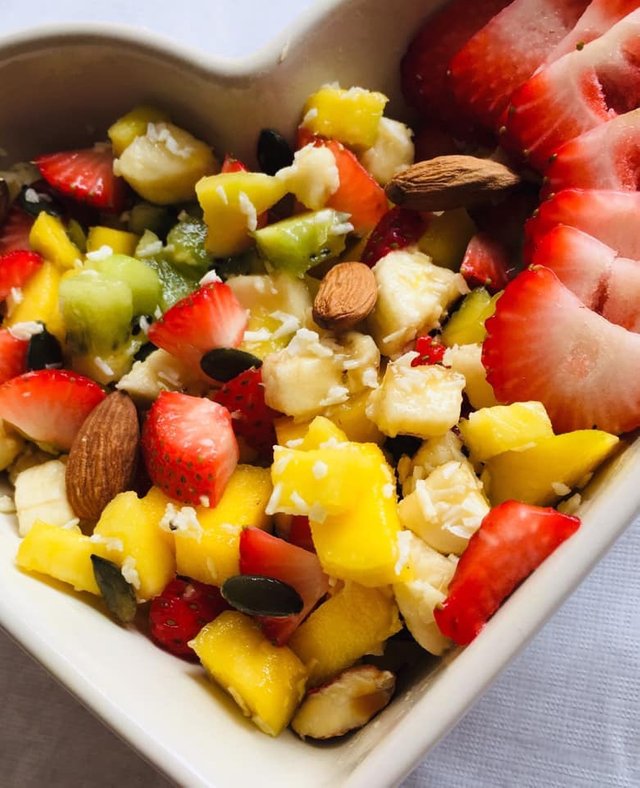 Kilka interesujących faktów na temat pestek dyni:
✅ Zawieraja duzo cennych składników odżywczych
Nawet niewielka ilość może zapewnić znaczną ilość zdrowych tłuszczów, magnezu i cynku.
Nasze ciała potrzebują magnezu do kontrolowania ciśnienia krwi, tworzenia i utrzymywania zdrowych kości, regulacji poziomu cukru we krwi i wielu innych ...
✅ Bogate w przeciwutleniacze, takie jak karotenoidy i witamina E, które pomagają zmniejszyć stan zapalny
Pestki dyni mogą pomóc utrzymać zdrowe serce, obniżając ciśnienie krwi i podnosząc dobry poziom cholesterolu.
✅ Dobre źródło błonnika, które jest ważne dla osób z problemami z sercem i osób z cukrzycą
✅ Poprawia nastrój i funkcje odpornościowe
✅ Latwo mozna dodac do każdego posiłku
✅ Duże badanie obserwacyjne wykazało, że ich spożywanie wiązało się ze zmniejszonym ryzykiem raka piersi u kobiet po menopauzie
Źródło: https://www.ncbi.nlm.nih.gov/m/pubmed/22591208/
Ja je uwielbiam, a wy?