This is a delicious fresh lumpia a Filipino a healthy dish that is easy to prepare
INGREDIENTS:
ready made lumpia wrapper
2 cups pork stock
1/2 cup sugar
1/4 cup soy sauce
2 tablespoons vegetable oil
2 tablespoons garlic chopped
2 tablespoons cornstarch
1/2 cup white onion chopped
1/2 cup ground pork
2 cups sweet potato
2 cups coconut palm (ubod) shredded
2 cups cabbage,shredded
1 cup long beans (sitaw) sliced diagonally
1 block tofu cut into strips
2 cups carrots shredded
1 teaspoon salt
1/2 teaspoon black pepper
peanuts crushed toasted (serve)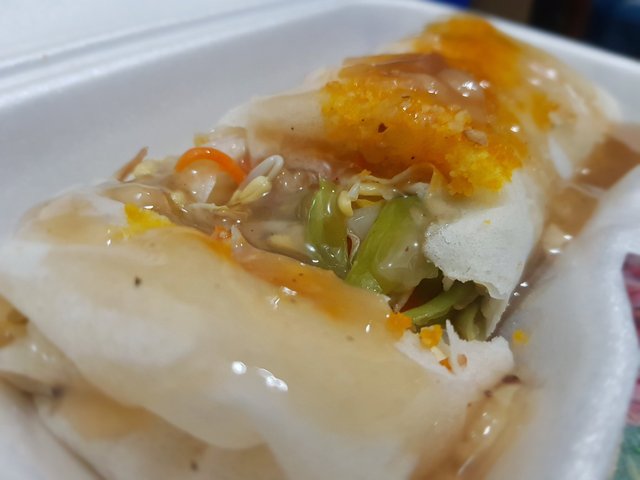 PREPARATION:
Sauce:
To combine in a pan stock,soy sauce,sugar,cornstarch and 1 tablespoon garlic.Bring to boil and stir until it thickens the sauce.Remove in the heat and set aside.
Filling:
Heat oil in a pan.Saute garlic and onions.Add pork until browned.Add beans,ubod,sweet potatoes,carrots,tufo,cabbage.Cook all for 10 minutes.Add seasoning like salt and pepper.Mix 1/4 cup lumpia sauce.
Place a lettuce leaf on one side of lumpia wrapper.Top with 1/4 filling.Fold bottom then roll to secure filling.Serve with lumpia sauce and garlic and garlic on top.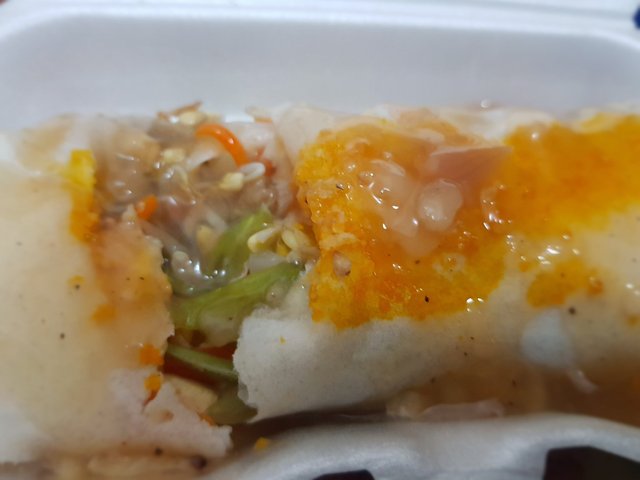 Copyright©--- @jenzy09
Samsung Note 8
This publication was "Cross Posted" from my whaleshares account https://whaleshares.io/@jenzy-wls