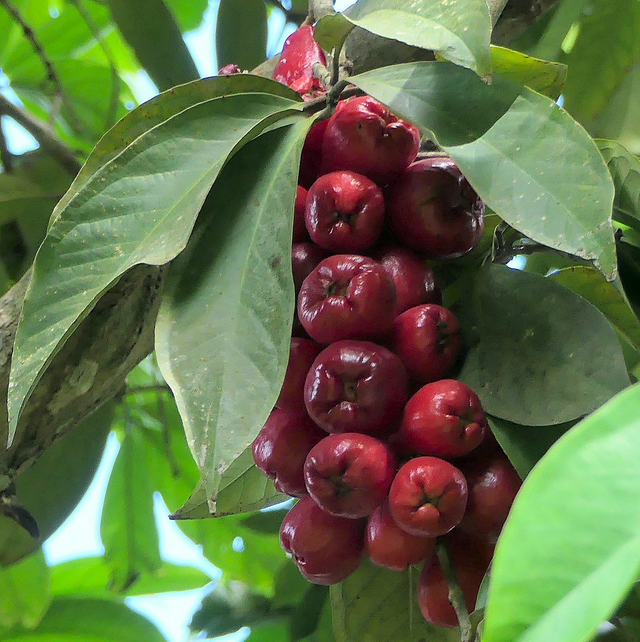 sourse
I-tal food is a natural method of preparing food developed by Rastafarians in support of a healthy lifestyle. It does not include red meat and relies on fresh fruits and vegetables that come directly from the earth. I-tal food is the Jamaican version of vegetarian cuisine. That is why today I want to present you today a delicious fruit originated in the Greater Antilles included in Jamaica ..
La comida I-tal es un método natural de preparación de alimentos desarrollado por rastafaris en apoyo de un estilo de vida saludable. No incluye carnes rojas y se basa en frutas y verduras frescas que provienen directamente de la tierra. La comida I-tal es la versión jamaicana de la cocina vegetariana. Es por eso que hoy quiero presentarles una fruta deliciosa originada en las Antillas Mayores incluida en Jamaica.


Another name with which this fruit is known is Syzygium malaccense is known by several names in other countries. In Jamaica, it is called Otaheite, or simply "apple."
otro nombre con el que se conoce esta fruta es Syzygium malaccense es conocida por varios nombres en otros países. En Jamaica, se llama Otaheite, o simplemente "manzana".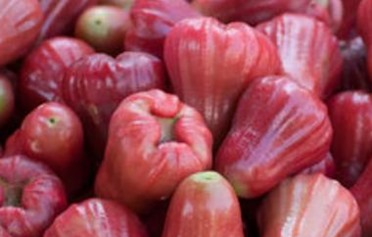 sourse
This fruit is refreshing and delicious because it contains plenty of water and its sweetness is quite balanced. . Some species of this fruit are small round with a firm texture and colors ranging from red stripes to pink. The texture changed from crunchy to fluffy. It has a mild flavor.
Esta fruta es refrescante y delicioso debido contiene abundante agua y su dulzura es bastante equilibrada. . Algunas especies de esta fruta son pequeñas redondas con una textura firme y con colores que van desde rayas rojas hasta rosas. La textura cambiada de crujiente a suave y esponjosa. Tiene un sabor suave.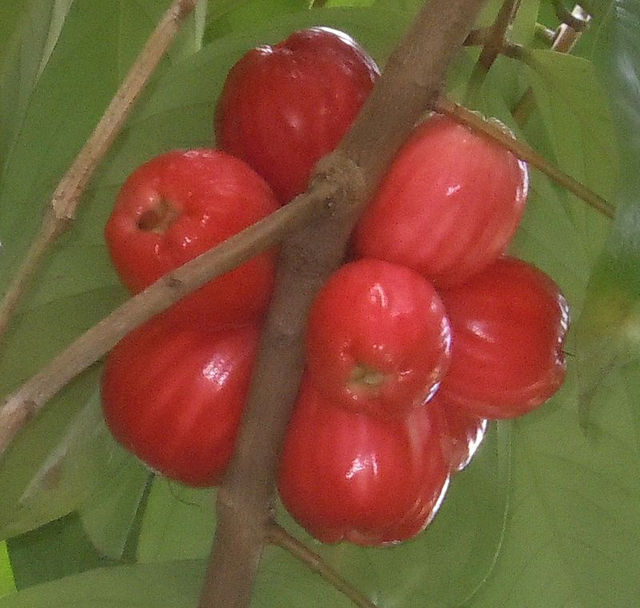 sourse
When cut transversely, the fruit reveals a purple fleshy pulp with pointed black seeds that are easily removed.
Cuando se corta transversalmente, la fruta revela una pulpa carnosa púrpura con semillas negras puntiagudas que se eliminan fácilmente.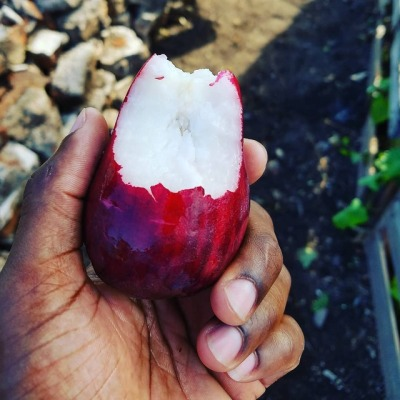 sourse
This fruit is very beneficial for health all this due to its high content of vitamin C, a powerful antioxidant as well as is composed of: calcium, thiamine and riboflavin. This is a fruit that can be consumed in high quantities and does not make you fat. It is also good to have this fruit after exercising, as it provides good hydration and hunger relief.
esta fruta es muy beneficiosa para la salud todo ello debido a su alto contenido de vitamina C, un potente antioxidante como también esta compuesto por: calcio, tiamina y riboflavina. Esta es una fruta que puede consumir en altas cantidades y no engorda También es bueno tener esta fruta después de hacer ejercicio, ya que proporciona una buena hidratación y alivio del hambre.
This fruit has been given diversity of uses is used to make wines, the flowers of the tree are consumed in syrup salads, jams.
esta fruta se le ha dado diversidad de usos se emplea para hacer vinos, se consumen las flores del árbol en ensaladas jarabes, mermeladas.
In 1793, Captain Bligh introduced what we now call Otaheite apples. Its identified name of its island of Tahiti origin, (Pacific Islands) in the 16th and 17th centuries was known as Otaheite.
En 1793, el Capitán Bligh introdujo lo que ahora llamamos manzanas otaheitas. Su nombre identificado de su isla de origen Tahití, (Islas del Pacífico) en los siglos 16 y 17 fue conocido como Otaheite.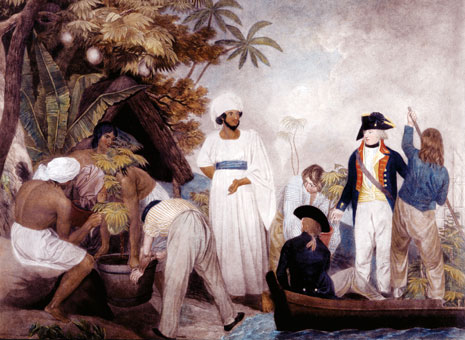 sourse


Otaheite apples are believed to be native to Malaysia, although they now abound in Jamaica.
The flowering season is in the months of May and June, and the fruits ripen in August and September. It can bloom two or three times a year. This fruit can suffer a rapid deterioration due to its high water content but it can be preserved in the refrigerator and lasts approximately two or three days of hugs from Venezuela until a new opportunity ...
Las manzanas Otaheite se cree que son nativas de malasia, aunque ahora abundan en Jamaica.
la epoca de floracion es en los meses de mayo y junio, y los frutos maduran en agosto y septiembre. Puede florecer dos o tres veces al año. Esta fruta puede sufrir un deterioro rápido por su alto contenido de agua pero puede conservarse en el refrigerador y dura aproximadamente dos o tres días abrazos desde Venezuela hasta una nueva oportunidad ...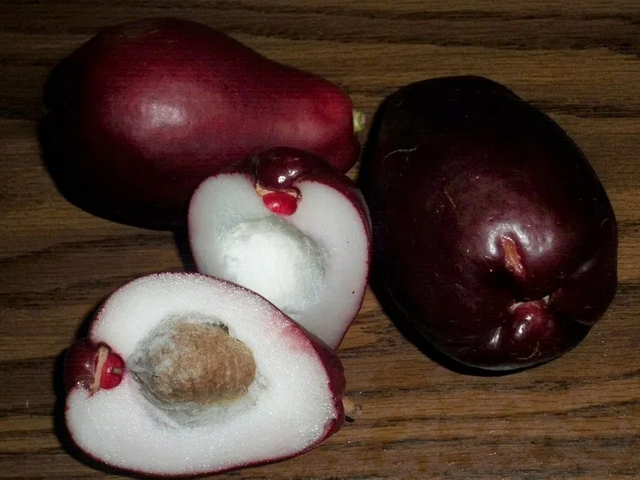 sourse
---
Posted via ReggaeSteem | Reggae Culture Rewarded