A successful experiment with the chayote harvest yesterday. I tried out a brand new recipe, and it turned out to be utterly delicious. I'm even more of a chayote fan now.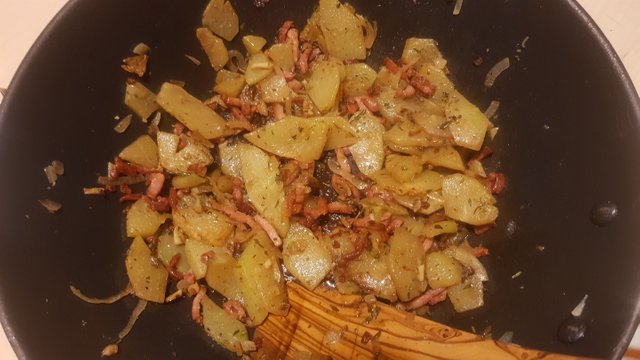 For a long time, it seemed like I wouldn't be able to harvest any chayotes at all. By the end of August, the fruits on the plants were only the size of a grape. I had actually given up already. To my surprise, I was able to harvest some fully grown chayotes last week.
Chayote is not only delicious, it is also rich in vitamins and minerals and high in fiber - which is a nice extra, of course.
Since chayote is everything but a common veggie here in Belgium, I didn't exactly know what to do with them. If I remember correctly, we used the ones I harvested last year raw in salads. It's definitely not bad when eaten raw, but it's not really spectacular either. So, I wanted to experiment a little and try out some other ways to prepare this vegetable.
What I came up with yesterday was definitely a success. Sautéed chayote with bacon and herbs. Delicious!
The part I liked most was that most ingredients I used were harvested in my own garden. Obviously, I don't have bacon or white wine growing there, nor lemons - but everything else I got straight out of the garden.
We used this as a side dish, combined with a yummie pork roast.
The main ingredient: chayote. Don't they look amazing?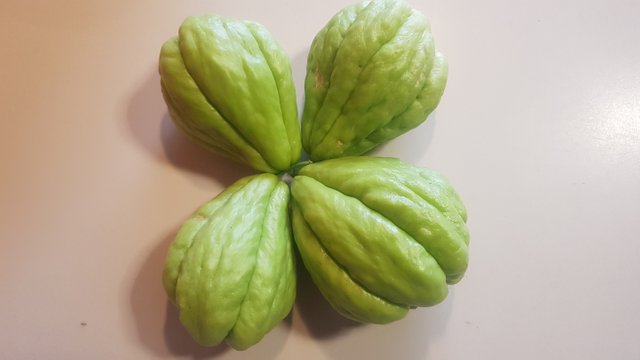 Ingredients: (for 3 people)
2 medium sized chayotes
500 gr (18 oz.) bacon, sliced into small pieces
1 medium sized onion
3 cloves of garlic
1 tsp of chopped thyme
1 tsp of chopped rosemary
15 lemon verbena leaves (chopped)
2 tbs of white wine
2 tsp of fresh lemon juice
salt and pepper


Preparation:
Peel the chayotes, cut it in quarters and remove the stone. Cut the quarters in 0.5 cm (0.25 inch) slices.


Peel the onion, cut it in half and slice it in thin half moons.


Peel the garlic and press or mince it.


Bake the bacon until it's crispy. Put it aside, but leave the bacon fat in your frying pan.


Add the onion, garlic and chayote to the bacon fat. Toss it, so it is covered with the fat. Put a lid on the pan and let it bake until the onion and chayote turn brownish. Don't forget to stir every once in a while. This takes about 10 minutes.


Add the fresh herbs and the wine. Let it cook for about 5 more minutes until the chayote is tender.


Finish the dish by adding the bacon and seasoning it with salt, pepper and lemon juice.
Bon Appétit
Adaptation of this recipe - All images are my own

Graphic created with The Logo Creator Software
Subscribe To RSS Feed | Subscribe To Newsletter