Poha is a very popular Maharashtrian breakfast dish. I make Poha a lot. But it was one day that I had a strong craving for poha but didn't have flattened rice available at home and it was too late to step out and get it from the market. That is when I invented my Recipe of Bread Poha. So instead of Poha, I tried breadcrumbs and it actually turned out to be a great recipe.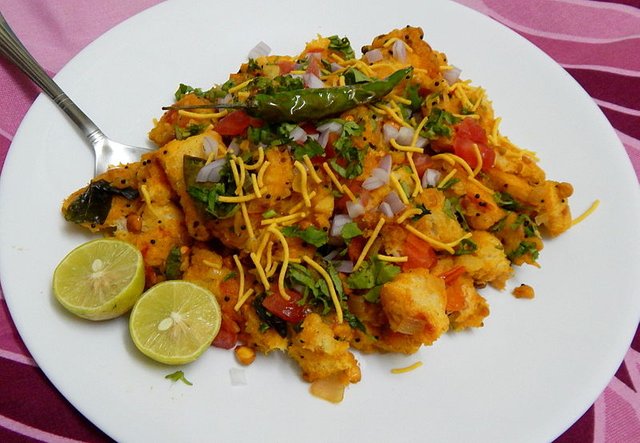 You can add a variety of vegetables as per your taste. Popularly used vegetables are Onion and Potato but I prefer to more like capsicum, carrot, beans and tomatoes. Crispy peanuts in bread poha make it even tastier. It's a light, healthy and tummy breakfast option and takes only 15 minutes for preparation. You can use any bread as per your taste; white/brown/wheat/multigrain. It is also a way of consuming bread that is going unconsumed otherwise.
Let's look at my bread poha recipe now.
Cooking Time
15 minutes
Kitchen Standing Time
15 minutes
Servings
2 Servings
Accompaniments
Mint Chutney, Aloo bhujiya
Ingredients
• 8 bread slices
• Peanuts
• Mustard Seeds
• 8-10 curry leaves
• Finely Chopped Onion
• Small Pieces of Potato
• Finely chopped carrot
• Finely chopped capsicum
• Finely chopped beans
• Finely chopped tomato
• Finely chopped Green chilli
• ¼ tablespoon red chilli powder
• ¼ tablespoon turmeric powder
• 1tablespoon sugar
• 1 Lemon
• Coriander leaves
• Salt as per taste
• Oil
Step 1: Take the bread slices and cut them into small pieces. Each bread slice should be cut in 16 equal pieces. Keep it aside.
Step 2: Heat oil in a pan. Add Mustard Seeds.
Step 3: Once they start to crackle, add peanuts and let them cook until brown. Then add curry leaves and red chillies.
Step 4: Now add onions. Saute till they become translucent.
Step 5: Now add the remaining chopped vegetables.
Step 6: Let the vegetables cook for about 5-7 minutes till them become soft. Ensure that the potato cooks well. Cover the vegetables for better and quick cooking.
Step 7: Add salt and red chilli powder.
Step 8: Now add the bread pieces to the vegetable mix. Mix well.
Step 9: Take 3-4 spoons of water and pour it over the bread. Cover with a plate and let it cook. After about a minute, switch off the flame but keep the poha covered for next 5 minutes.
Step 10: Squeeze a lemon on the bread poha and mix well.
Step 11: Garnish with coriander leaves and serve hot with mint chutney.
Try this recipe and home and have a healthy breakfast!
---
Image has been taken from Wikimedia