One of the best things to eat in winters is parantha. Hot, sizzling paranthas, just out of the pan, with butter and tasty pickle. One of the best paranthas to have in winters is Gobhi parantha. It's not like you cannot have gobhi ka parantha in summers but usually gobhi is not considered a summer vegetable and hence it is best consumed in winters. In winters the vegetable grows really well in parts of india and is used in variety of dishes the best one being parantha.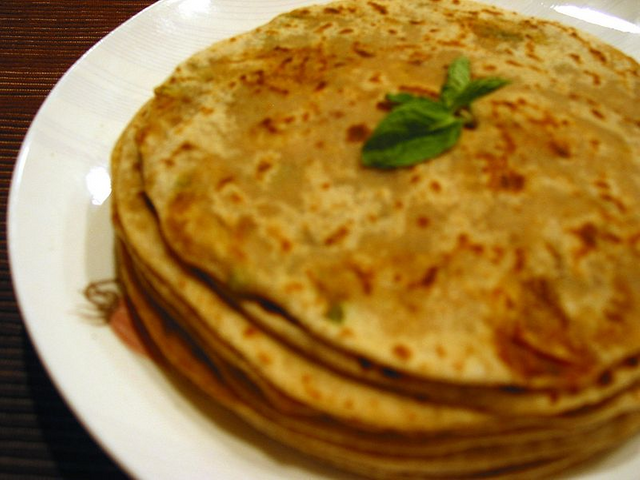 It is very easy to cook it but needs some talent for sure. It has taken me a lot of time to skill this art but once learned it becomes very easy and less time taking. It is very healthy too.
Servings
6 Paranthas
Prep & Cooking Time
30 Mins
Ingredients
1 cauliflower small
1 Spoon Grated Ginger
2 Sliced Green Chillies
½ table soon red chilli powder
½ table spoon amchoor powder (dry mango)
¼ table spoon ajwain
Salt as per your taste
Kneaded Wheat
Steps To Follow
Step 1: Wash the cauliflower well at least 4-5 hours before consumption. Ensure the gobhi is completely dry when you pick it for consumption.
Step 2: Now grate the gobhi in a bowl. Add ginger green chillies and all the spices. Mix well.
Step 3: Take a small amount of kneaded flour. Flatten it. Now take a small amount of the mixture. Place it in the middle of the bread. Now fold the bread gently. Ensure that the mix is completely inside the bread and doesn't come out of it.
Step 4: Flatten the bread into a thin bread. It should not be thick.
Step 5: Place the bread on a pan and cook well with ghee.
Serve hot with butter and pickle.
Try this recipe and let me know if you like it or not. In India, every alternate day, we are making this parantha either in the breakfast or in lunch. You can even have it as a past-time snack in the evening with a cup of hot tea. Amazing!!!
---
Image has been taken from Wikimedia.