Kada prashad is a velvety feel, smooth and rich halwa made with whole wheat flour (atta). It is one of the delicacies that is served in gurudwaras (Sikh Temples) as prashad. Kada Prashad is offered to the devotees as God's sweet blessings. It is extremely tasty and irresistible.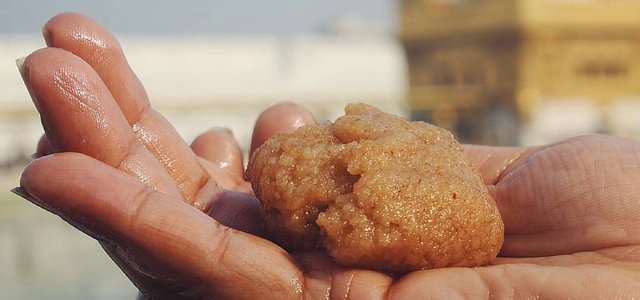 I remember when I used to go the gurudwaras as a child, I loved going because I knew at the end I would get this prashad. Being a holy food, this has a unique taste which cannot be prepared at home for sure. But I tried some recipe which made it real close. So I'm going to share this recipe with you all now.
Preparing this recipe requires constant attention. The moment you take your eyes off is when you will end up spoiling it for yourself. So make sure you make it when you have enough leisure time to stand in the kitchen. Also, it is very important to maintain the ratio of different ingredients used else it won't give you that flour.
Cooking Time
20 minutes
Kitchen Standing Time
20 minutes
Servings
4 people
Accompaniments
Nothing, it is enough in itself.
Ingredients
1 small bowl Whole Wheat Flour
1 small bowl Sugar or as per taste
1 small bowl Desi Ghee
1.5 bowls of water
Some dry fruits (Raisins and Almonds) as per taste
Step 1: Take the water in a pan. Add Sugar. Boil it till the sugar gets completely dissolved.
Step 2: Take the ghee in a pan. Heat the ghee well.
Step 3: Add the wheat flour and stir continuously on low flame. Note that stirring is a very important factor. You need to stir continuously so that it doesn't get burnt. Stir until it turns brown.
Step 4: Once the wheat flour turns brown, add slowly the sugar syrup prepared. Keep stirring continuously to ensure there are no lumps.
Step 5: Once all the water evaporates, turn off the flame.
Step 6: Add slices dry fruits on the to and serve hot.
Try this recipe at home and enjoy the winters! Happy Cooking!
---
Image has been taken from binge.co.in