Bhaji is a rich mixture of all the good vegetables that people do not like to eat otherwise. And it is served with a bread called PAV hence, Pav Bhaji. The origin is Mumbai where you get the best pav bhaji. But these days, it is available almost at every nook and corner of the country. You can have it at good restaurants or thelas.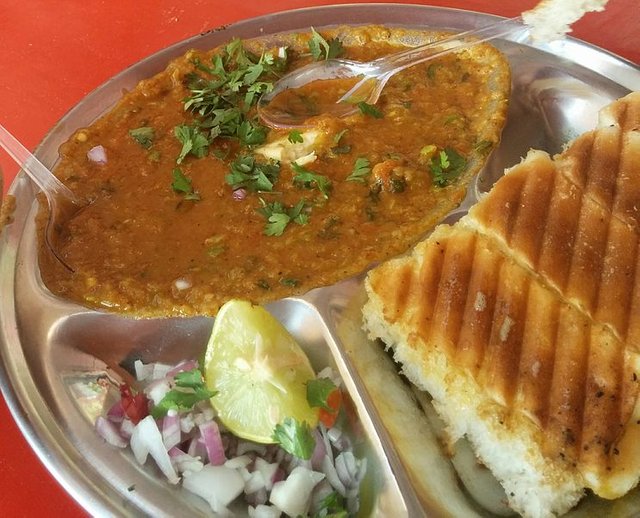 Source: Wikimedia
It is a readily available dish. I like it very much owing to the fact the it is made of vegetables that I usually prefer to avoid but are extremely healthy to consume. I will provide the recipe with my choice of vegetables but you can customise this recipe with other vegetables of your own choice.
Cooking Time
45 MINs
Kitchen Standing Time
15 minutes
Servings
4 people
Accompaniments
Sliced Onion, Mint Chutney
Ingredients:
• 4 Potatoes
• 2 Carrots
• 1 Small Bottle Gourd
• 1 Small Cabbage
• 2 Sliced Onion
• 2 Chopped Tomatoes
• Salt
• ½ table spoon Red Chilli
• ½ Degi Mirch
• 2 Table Spoon Pav Bhaji Masala
• Cheese (Paneer) for garnishing
• Coriander leaves for garnishing
• Butter
Step 1: Cut the vegetables (Potato, Carrot, Bottle Gourd and Cabbage) into small pieces. Add water to a pressure cooker and boil for about 15 minutes.
Step 2: Parallel to this, take a pan. Heat small amount of oil in it. Now add the slices onion and cook until light brown. Add tomatoes and let it cook for a while.
Step 3: Now add salt, Red Chilli, Degimirch and pav bhaji masala to the mixture. Let it mix well till the mixture leaves all on it sides.
Step 4: Strain the water of the boiled vegetables and mash these well. Ensure there are now big pieces left.
Step 5: Add the mashed vegetables to the onion tomato mixture and cook for about 15 minutes. Add little water if required.
Step 6: Add butter (I add about 70gms of butter; you can add as per your choice). Let the butter melt and mix well.
Step 7: Head butter on another pan. Can the pavs into 2 equal halves and heat them well on the pan.
Step 8: Garnish the bhaji with small cut cheese and coriander leaves.
Step 9: Serve hot with sliced onion and mint chutney.
Try it yourself and let me know if you like it or not. ;)