Today I am going to share Rava (Sooji/Semolina) Uttapam Recipe with you all. Traditionally, Uttapam is made of a batter of soaked rice fermented for good 4-5 hours. They are very tasty but require a lot of pre planning phase. You need to plan in advance if you have to eat them and prepare the mixture well. But my recipe is going to give you a similar taste without having to plan in advance. This recipe of Rava Uttapam is not only healthy and tasty but is also instant as compared to Rice uttapams.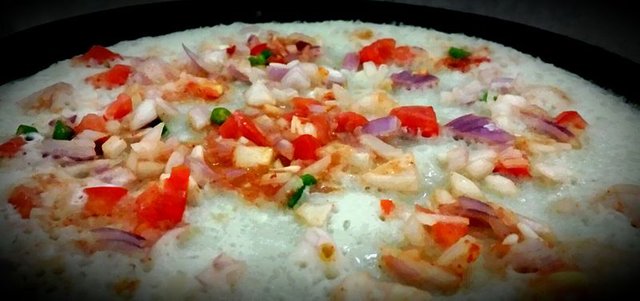 If you want to go even healthier, you can replace Semolina in this recipe with Oats. But for me, its RavaUttapam always since I've grown up eating this. It has a unique aroma which comes with the sour curd that goes into making the batter.
Cooking Time
5 minutes for each Uttapam
Kitchen Standing Time
5 minutes for each Uttapam
Servings
4 people
Accompaniments
Mint Chutney, Tomato Ketchup
Ingredients
• ½ cup Rava
• ½ cup water
• ½ cup sour curd
• 1 chopped onion
• 1 chopped tomato
• 1 chopped capsicum
• 1 chopped green chilly
• Chopped Coriander leaves
• Salt to taste
• Oregano for flavour
• Butter for frying
Step 1: Soak the Rava in water for about 15-20 minutes until the entire water is soaked.
Step 2: Mix the Rava with curd and add salt. Mix well and add more water if require. The mixture should have a constant consistency, not too watery and not too thick wither.
Step 3: Add Salt to the mixture.
Step 4: Heat the pan on a medium flame. Add butter to it. Spread it gently over the pan.
Step 5: Now pour the batter on to the pan and spread well.
Step 6: Add the chopped vegetables on top of the mixture and spread evenly.
Step 7: Add oil around the edges so that it doesn't stick to the pan.
Step 8: Once the uttapam is from top, flip it and let it cook.
Step 9: Cook until the vegetables are done.
Step 10: Serve hot with mint chutney or ketchup.
Try this recipe and home and enjoy the winters! Happy Cooking!
---
Image has been taken from Wikimedia