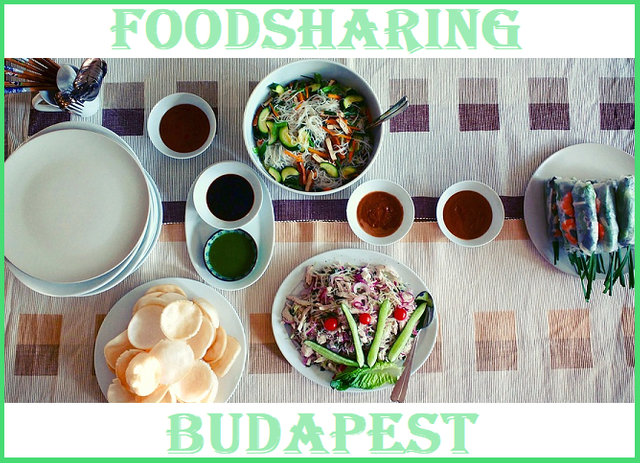 Source
---
I made some drastic changes in my lifestyle recently
After noticing that I threw away too much food to my liking, I decided it was time to do something about food waste. I've been walking around with the idea of creating this group on Facebook for over a year now, but it never happened, until now. Lately I've been focussing on trying to be healthier (like quitting smoking) and walk a bit more instead of taking public transport. Eating more vegetables is also one of them. While these things are all positive, I also noticed that too much food gets thrown away, sometimes even before I could prepare it because I simply bought too much vegetables for us to consume, or other times because I prepared too much dinner.
---
Introducing "Foodsharing Budapest: Zero Waste" Facebook group
Below you can see a screenshot of the introduction I published in the Foodsharing Budapest Facebook group a few days ago.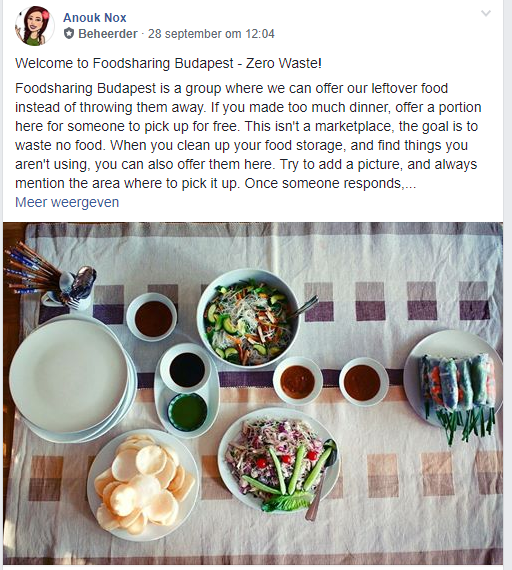 So the idea is, whenever you prepare too much food (it can be anything from breakfast to dinner or even a snack), and you know you aren't going to consume it, you take a picture of it and offer it in the group. With that you provide some basic information like pick up area (of course you aren't expected to show your exact location in there), and then you wait for someone to respond. After that you can make arrangements in a private message. After it's been picked up, you can leave a comment that it's taken so others know it's gone. Simple as that..
---
How did this idea for the group come to life?
Together with my boyfriend, I personally experienced the importance of the existence of these kind of groups. We were left without any money for 6 full months, the story isn't important here, we were entitled to getting it and were expecting a "sorry, you were right" note any day, but that happened after 6 months of struggling. Until then we were in full survival mode, and even though some friends gave some food every now and then, most of the things we ate came from our own creative ways of getting food. One of them was the group on Facebook that offered leftovers. This group was insanely active, and I'm not lying if I tell you that some days I could pick up 4 smaller portions of leftovers, making 2 normal portions of dinner for a couple. Together with other ways of getting free food (legally!) this was our life saviour. We survived thanks to all these people not throwing away their food, but sharing. Often when we picked up things, and talked for a while, people gave another bag with other food items as well.
While we were being treated like garbage by the government supposing to help us back then, the human kindness of random strangers was showing us that people are kind and loving. It's still heartwarming to think back about that time, even though those 6 months were super rough emotionally.
I rarely used Facebook since I left Holland, but I felt that the time had come to share this positive experience I had in Holland with the locals and expats in Budapest as well. So many people are living in poverty while others just throw away food like it's nothing. Maybe we can come together by offering our leftovers or food that's been laying around in our kitchen for too long and will probably never be consumed.
---
Facebook group stats
I created this group on Saturday September 28th around noon and within a few hours I had 65 members. I asked permission to share the group in a big group with women living in Budapest, soon the requests to join started flowing in, and within only 8 hours I crossed the 150 members.
At the time of this writing, the group had 165 members and I've seen 106 others are invited by the current group members as well. I think it's a good start.
---
The main goal is: Not to waste any food, but offer it to someone else instead
I'm so far the only one that offered food in the group, and this will be picked up tonight. Someone brought to my attention that a lot of people still connect free food to poverty, even without realizing this. I never even thought about this, and I decided to spend some time to write my own experiences with similar groups in Holland. Although at the time we really needed this to survive, it has also taught me how to be creative with little money and try out new food combinations that I otherwise probably never would have tried.
I also learned that small leftover portions may seem like it's not enough to offer someone, and best to throw away. This is not correct, there are so many people out there that only eat small portions for several reasons, not everyone needs full plates of food. It's amazingly surprising to find out that some leftover portions can also make a nice complete 2 person meal when you add them together. Don't assume someone else won't be very happy with the little leftover you have from tonight's dinner. Throwing food away should be the very last option, and with this group I hope to inspire others to offer the food they won't eat, and also make them aware of how much we normally throw away as if it's nothing. Imagine the money you will save as well, once you find out that these small leftover portions can all have a purpose.
I hope to inspire more people to share leftovers, and not to waste food... Thank you for reading!
~Anouk