I am wondering who can make more news than AB.
Actually when you know you are really good,
it gets to your head and start giving problems.
I think they are inevitable but AB is AB.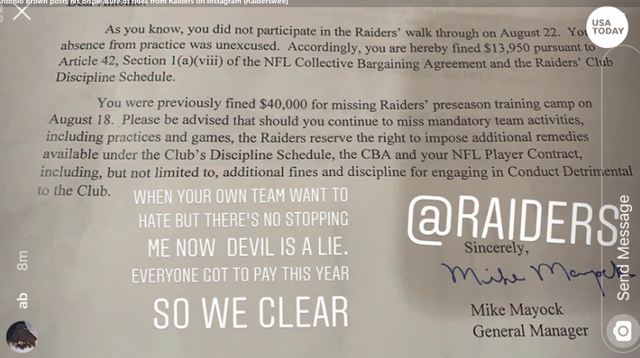 link
I guess the Raiders front office was tired of AB.
He received the note and to blast them, he posted
this picture on social media.
AB loves attention.
At the end of the day, he thrives to be in the middle of the action.
Football season is upon us.
Raiders will play Monday night against Broncos.
I guess @broncnutz will be watching.
Last match Bronco lost to the Raiders 27:14
Raiders are getting better this season
We will see if Antonio Brown will make a difference with Carr.
Hopefully it will be all football highlights related to AB.
Raiders will move to Vegas.
@stackin, are you ready for MNF?
This season will be something out of ordinary.
This league is all about winning.
Every match is about getting ahead for playoffs.
You have 16 games for the season and depend where
you are in your division, you need more than 10 games
to advance.
It is really hard for a team in the NFL to stay put from years to years.
So much to look after this season
Less than a day to start everything.
Stay put.