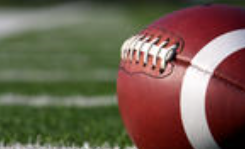 This Thursday is the opening day for the NFL.
And all fans will be happy to watch the first match of the season
It will be Packers vs Bears.
It will set the tone for this year football season.


The game will start at 8:20 pm great time to cool off and watch it.
Somehow Antonio Brown is still showing in the news.
Seventeen hours ago I posted about a picture of the fine he received from the Raiders GM.
Sincerely I thought everything was over and we can move on from AB.
To the contrary, everything went sour.
AB was detrimental to the team and Raiders are planning to suspend him for the first game.
AB DRAMA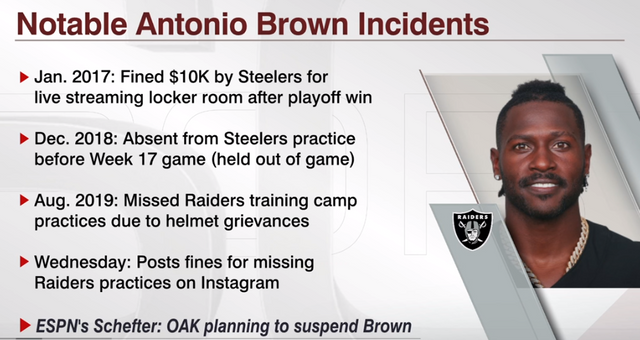 AB was set to earn $17 million with Pittsburgh with his new contract but left
the team to join Oakland.
We all knew frostbite and helmet, the saga continues...
I am asking myself.
Does he want to play for the Raiders going forward?
The guy had issue with the GM.
The guy that can make or break the contract.
I blame the Raiders for acquiring his service knowing how difficult AB is.
As a fan I want to watch football, that's it!
I can take on some drama but not this caliber of drama.
So far Gruden has been silent.
Back for his second year and AB is messing with the flow of his team.
Raiders has been bad for a while and right before they move to Vegas
drama is right they are playing with.
At the same time I understand why the Raiders want him on their team.
AB is a show stopper.
AB is a great receiver.
AB can help you win games if AB will play for the Raiders
For my point of view it is catastrophic.
I do not know all the details but the few I got
are not helping AB.
The elephant in the room never talks.
A contract is a contract.
Raiders will pay you accordingly if you did everything according
to the book.
I think it is fair the way GM acts.
Patience only will get you thus far.
AB puts himself above everyone
and got served appropriately for his actions.
I am a guy that understand situations.
Time to be loud.
Time to be quiet and move on.
Ego has no place in this.
AB soundly does not understand his place on the field.
Everyone is looking up to him.
Yes you want to do things your way but ...
think of the team and other players on the league.
YOUR FAMILY
AB's actions only speaks for him, I may say but it is detrimental
for any players that look like him.
Now if AB get cut by Raiders
only one team will pick him up.
This team wants to win and this team will do whatever
in their power to continue winning.
The culture in this team is not the best for AB
but it is the best for the NFL.
The only problem I have with this team
they are loaded and the way they behave
is all business.
This team will cut you if you sneeze the wrong way.
The coach on this team will challenge you.
Now will they be able to afford AB
I am not sure.
If any team stays away from the drama
AB may have to play for them
for less money.
I am pretty sure he will get pay for what may happen
but at least he might get a ring with them.
Do you know what team it is.
Actually if you are a football fan
you knew it from the get go.
Now can AB salvage if he cares the contract he has now ?
Since Gruden is quiet
this could be the last drop to keep AB in Raiders uniforms.
So far let us enjoy the first game on this season
Hope AB does not bring another highlight
before midnight.
Stay put