All I want is you will undergo awakening. I know something isn't right. I told you everything. I gave you an advice, but you don't seem to care.
I can feel the intensity of your love for her. But she doesn't love you the same. Is she just shy to tell you the truth? Or hiding it from you. Whatever it is, she is not interested with you.
I don't think she has the right to deceive you. You gave everything. She took advantage of it. She should have told you that she does not love you anymore than prolong the suffering you will face.
Wake up! Don't let your girlfriend play you like a fool. You deserve to be loved.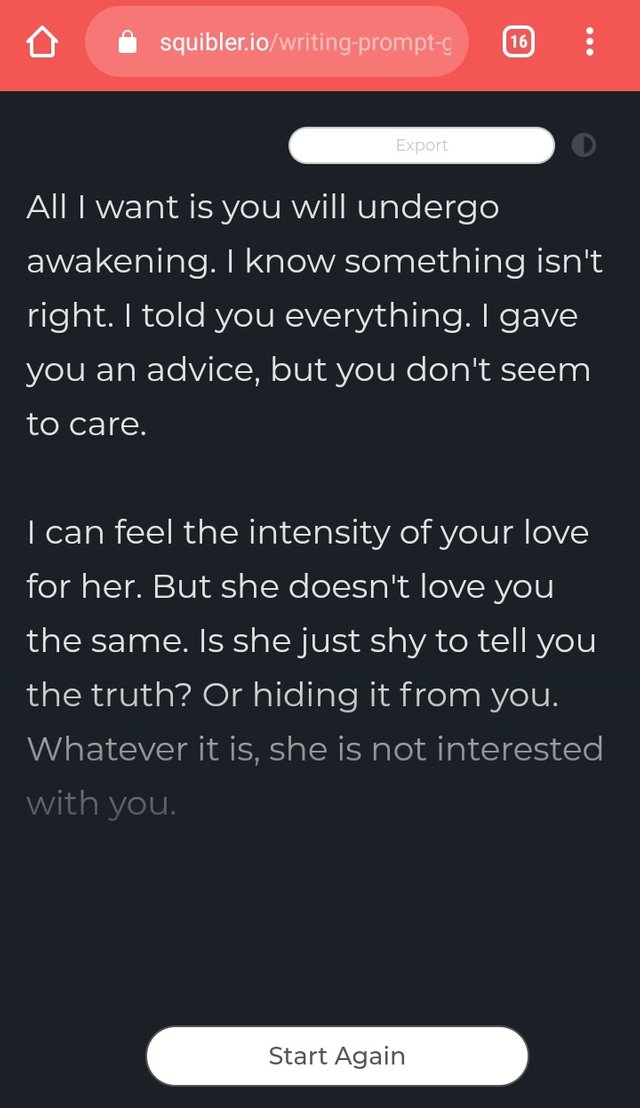 Written using squibler.io
---
---
In this freewrite, I used three past prompts altogether. Today, I had chosen awakening, intensity, and deceive.


Please support @surpassinggoogle as a witness by voting him at https://steemit.com/~witnesses and type in "steemgigs" at the first search box.

You can also give him witness voting decisions on your behalf, visit https://steemit.com/~witnesses again and type in "surpassinggoogle" in the second box as a proxy.

Please support his project as well, which is @teardrops Smart Media Token.
---
Huge thanks to sir @bobbylee.

Do you use eSteem?
eSteem is a Mobile📱& PC💻 app. for Steem with great features. Also, you get Incentives posting through eSteem apps.
eSteem Spotlight; eSteem provides rewards for it top users in Leader Board with most Posts, Comments and Highest Earners.
---

Please vote
for @good-karma as a witness.