Movies are getting intense. With so much violence, one couldn't easily find what suits for younger audience. Horror movies has gone very scary and extremely dark. So much gore in action movies. The kind of movies we used to enjoy then has changed a lot.
There goes movies about serial killers and cannibals. They sure did exist before, but they're getting more visual now. Zombies are getting popular. It can affect your thinking in your daily life.
Of course, there are love stories. But it shows the other character dying, and that's not too happy ending. Movie adaptations often has the same plot. They can become tiring.
Superhero movies are there. They may usually have the same themes, but I do love them. In fact, I never watched a movie for a long time that are not based from comic books.
Still, we need to have wholesome movies too. That's what's lacking on entertainment industry now. We sure do have those animated movies, but we wanted to see something different.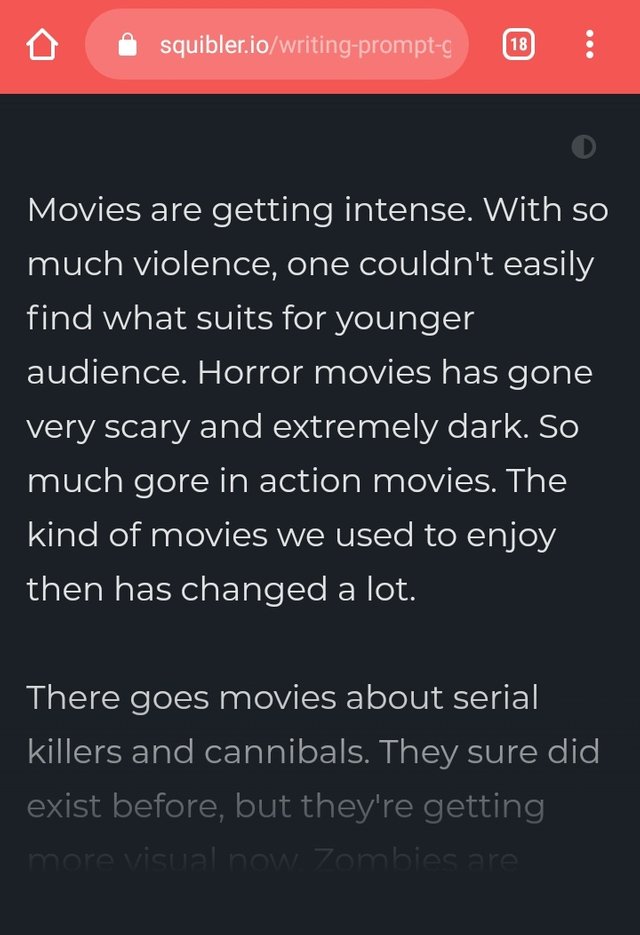 Written using squibler.io


Please support @surpassinggoogle as a witness by voting him at https://steemit.com/~witnesses and type in "steemgigs" at the first search box.

You can also give him witness voting decisions on your behalf, visit https://steemit.com/~witnesses again and type in "surpassinggoogle" in the second box as a proxy.

Please support his project as well, which is @teardrops Smart Media Token.
---
Huge thanks to sir @bobbylee.

Do you use eSteem?
eSteem is a Mobile📱& PC💻 app. for Steem with great features. Also, you get Incentives posting through eSteem apps.
eSteem Spotlight; eSteem provides rewards for it top users in Leader Board with most Posts, Comments and Highest Earners.
---

Please vote
for @good-karma as a witness.