Sam and Kaye met in an unexpected time. They're both tourists in a certain place, and bikers exploring the beautiful place of Sagada. It was the time when Kaye was carrying her tray while in an eatery, but slip and her food smashed on Sam. It's just a mere casual incident, however, the two had encounter again. The second time, in another eatery, which Sam is the one who slipped, and the food with a soup spilled on Kaye.
Thinking Sam is avenging for himself, Kaye got mad at Sam. The third time, they found out they're accommodating in the same hotel building. Sam has been explaining himself, while Kaye declined to accept his apology, and closed down her hotel room. Realizing she'd been so mean to him, she opened her door to catch up on him, but he isn't in the hallway anymore.
She then decided to buy a cake with an apology note, and left on his door. As he opened the door, he saw the cake and smiled. Took it inside the room, while Kaye is hiding watching his reaction. As she is about to go out of her room, there's another cake with a 'thank you' note from Sam.
Since Kaye is a biker, and loves to explore and capture scenic landscapes, there is a moment she gets tired easily. She has rehydrating drinks when she feels she's about to dehydrate. While taking pictures, Sam caught sight of her. Approached her, and eventually they had conversations, and get to know each other.
The two eventually get to have feelings towards each other. Sam decided to confess on how he feels for Kaye. They met up on a deck where they usually meet. He finally told Kaye that he loves her. With skepticism, Kaye told Sam not to love him. Besides they just met in a certain place, and she's about to leave Sagada in two days. But there's other reason why she doesn't want to pursue with the relationship.
The day when she is about to leave the place, Sam has been outside waiting for Kaye to go out. However, it's already afternoon but she didn't go out of her room. Worried aboute her, he called on one of the hotel employees. Their calls being ignored, they decided to open the door. There they saw Kaye lying on the floor unconscious.
They rushed her to the hospital, there Sam has learned she has leukemia. He was shocked, and crying when he learned about her condition. He watched for Kaye in the hospital until her consciousness is back. She told him that the reason why she declined Sam courting her because of her condition. She doesn't want to be pitied.
Sam insisted he will be there for her whatever it takes. They became officially sweethearts, and Sam immediately proposed to her. But the supposed day of their wedding, Kaye passed away. It broke Sam's heart so much, but in spite of her death, he decided to go on with the wedding, as a sign of his love for her.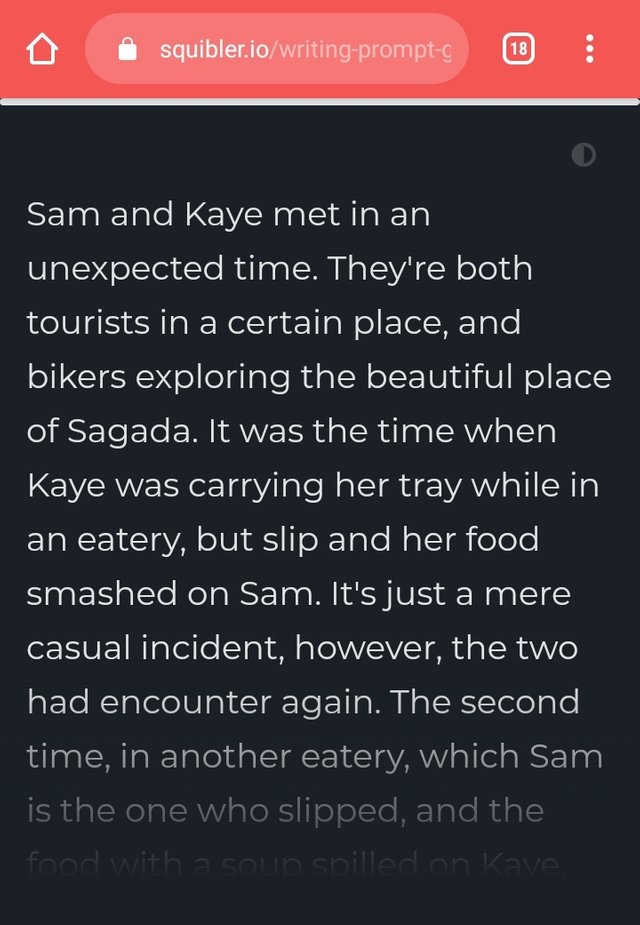 Written using squibler.io


Please support @surpassinggoogle as a witness by voting him at https://steemit.com/~witnesses and type in "steemgigs" at the first search box.

You can also give him witness voting decisions on your behalf, visit https://steemit.com/~witnesses again and type in "surpassinggoogle" in the second box as a proxy.

Please support his project as well, which is @teardrops Smart Media Token.
---
Huge thanks to sir @bobbylee.

Do you use eSteem?
eSteem is a Mobile📱& PC💻 app. for Steem with great features. Also, you get Incentives posting through eSteem apps.
eSteem Spotlight; eSteem provides rewards for it top users in Leader Board with most Posts, Comments and Highest Earners.
---

Please vote
for @good-karma as a witness.