In a dark night, went outside to have some fresh air. With my friends staring at the beautiful skies with sparkling creatures that looks tiny through the naked eye. But those are really huge and powerful creatures by God.
It will make you wonder, how they do exist by themselves as people claims? I just have the belief that they were created.
They won't collide towards each other as there are laws in the heavenly bodies, that they stuck to their movements. What a wonderful universe, isn't it?
After a while a lazy wind striking straight on me. So I told my friends to go inside the house because it is getting colder. Imagine a December evening being outside. It's just one of the cold months in many countries. In the Philippines, there might be no winter, but December used to be cold. It's a great thing having different seasons each year, and we are not stuck in a single season. It's another wonderful thing about the earth.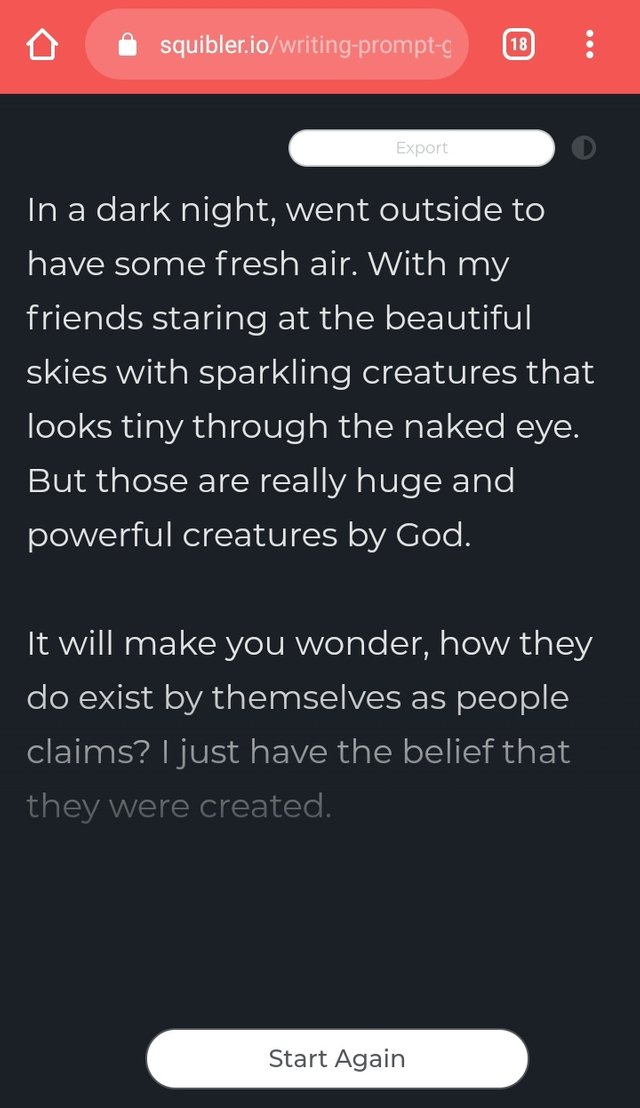 Written using The Most Dangerous Writing App.

Please support @surpassinggoogle as a witness by voting him at https://steemit.com/~witnesses and type in "steemgigs" at the first search box.
You can also give him witness voting decisions on your behalf, visit https://steemit.com/~witnesses again and type in "surpassinggoogle" in the second box as a proxy.
Please support his project as well, which is @teardrops Smart Media Token.
---
Do support @steemph, @bayanihan, and @sawasdeethailand curation teams. Huge thanks to sir @bobbylee, and @hr1.

Do you use eSteem?
eSteem is a Mobile📱& PC💻 app. for Steem with great features. Also, you get Incentives posting through eSteem apps.
eSteem Spotlight; eSteem provides rewards for it top users in Leader Board with most Posts, Comments and Highest Earners.
Download eSteem for your Mobile📱
Android devices Google Play Store
IOS devices Apple Store
Download eSteem Surfer for your PC💻
Available for all OS Github
---

Please vote
for @good-karma as a witness.