Days aren't always good. Waking up in the morning to start your long day ahead. Cook foods for everyone, and prepare yourself to go to your work. You don't have your own car, so you have to take the bus. It's rush hour so expect that you won't have a seat, and stand up until you reached your destination.
As you reached your workplace, there are tons of work that needs to be rushed. As lunch time comes, you also need to fall in line so you can order for food. Take a nap for 15 minutes after lunch. That seemed not enough. At 1pm, you will start to work again.
The dismissal time is nearing yet you haven't finished your work yet. It's as if the time in a day is not enough. Time out of work. You have to do walking again. Thinking about the work you have to do is already tiring. At the bus stop, you have to wait for the ride. Not only you, but others are waiting too.
There goes the bus, but people are chasing that you are unable to have a space. Wait for another bus ride. There goes the other bus. You made it! However, you have to stand because it's already overloaded.
You reached your home, but you have to cook for dinner again. After dinner, you need to wash dishes, and clean up some mess at home. It's already 9pm, you are unable to watch your favorite TV show because you're unable to catch it. You decided to watch on Netflix. Went to the terrace where the breeze is refreshing.
As you sat down, you saw the night sky. How beautiful it is! Instead of watching Netflix, you just looked up at the sky. Marvel and meditate on the wonderful works of God. Despite a day of work, you found refreshment and joy at night. You came to have a better outlook. Feeling like the next day will be better.
Just like the person in this story, we are catching up on the pace. It is hard to chase. But if you come to reflect and watch the beautiful creations, it will lighten what we feel, and may have a positive view on life.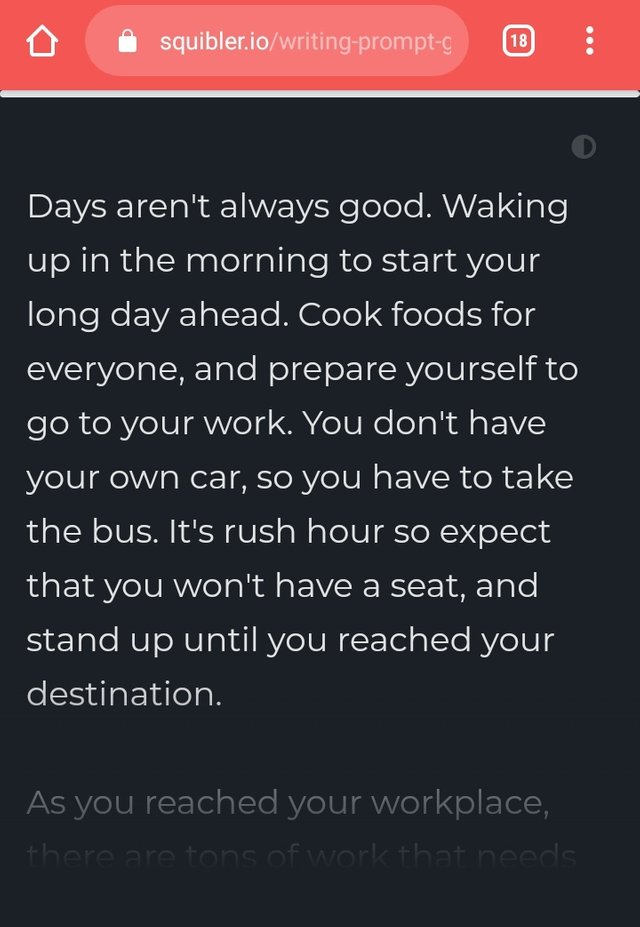 Written using squibler.io


Please support @surpassinggoogle as a witness by voting him at https://steemit.com/~witnesses and type in "steemgigs" at the first search box.

You can also give him witness voting decisions on your behalf, visit https://steemit.com/~witnesses again and type in "surpassinggoogle" in the second box as a proxy.

Please support his project as well, which is @teardrops Smart Media Token.
---
Huge thanks to sir @bobbylee.

Do you use eSteem?
eSteem is a Mobile📱& PC💻 app. for Steem with great features. Also, you get Incentives posting through eSteem apps.
eSteem Spotlight; eSteem provides rewards for it top users in Leader Board with most Posts, Comments and Highest Earners.
---

Please vote
for @good-karma as a witness.