Hello lovely Steemians !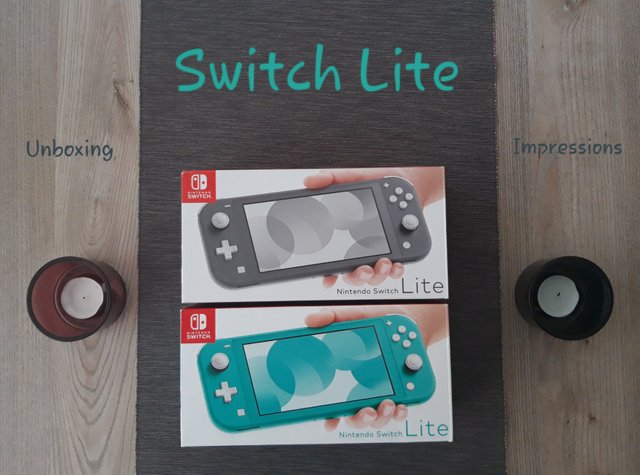 Today I want to show to you the new Switch Lite. It is still one month to go until my wifes and mine birthday, but we both agreed to buy us this nice birthday present a bit earlier.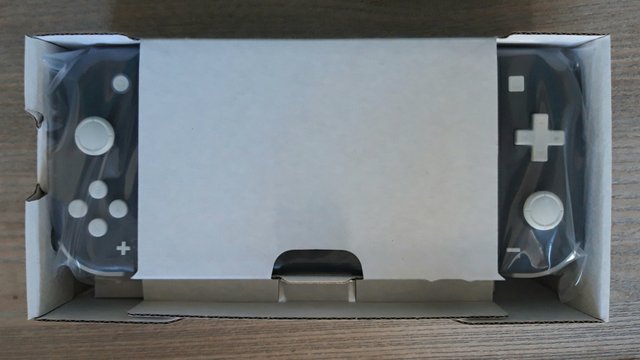 Heute möchte ich euch die neue Switch Lite zeigen. Bis zum Geburtag von meiner Frau und mir sind es noch einen Monat hin, aber wir waren uns einig, uns dieses schöne Geburtstagsgeschenk etwas früher zu überreichen.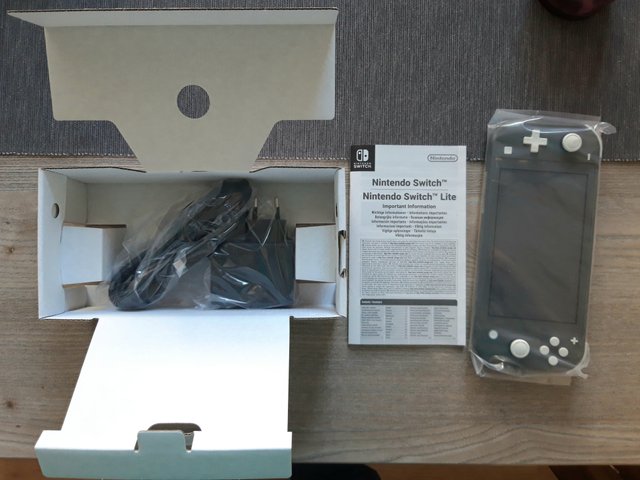 The Switch lite comes packed properly in a this nice optical appealing box. On the first layer you can find the bagged console itself. In the second layer you can find the bagged power adapter. The overall content of the box is the console, the power adapter and a very short information manual.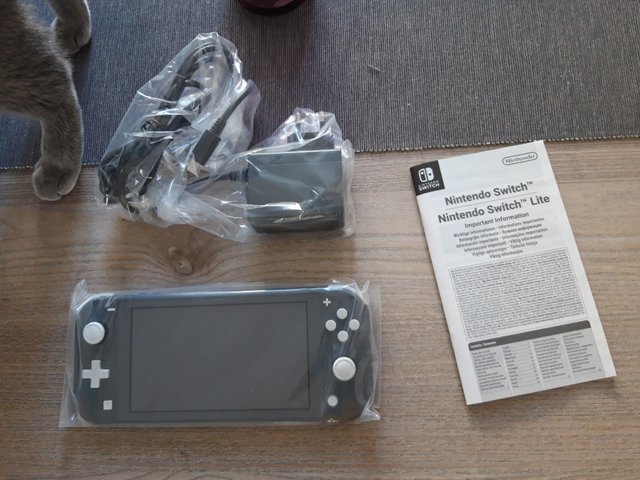 Der Switch lite wird in einer optische ansprechenden Box geliefert. Auf der ersten Ebene befindet sich die eingtütete Konsole. In der zweiten Ebene befindet sich das mitgelieferte Netzteil. Der Gesamtinhalt der Box sind die Konsole, das Netzteil und ein sehr kurzes Informationshandbuch.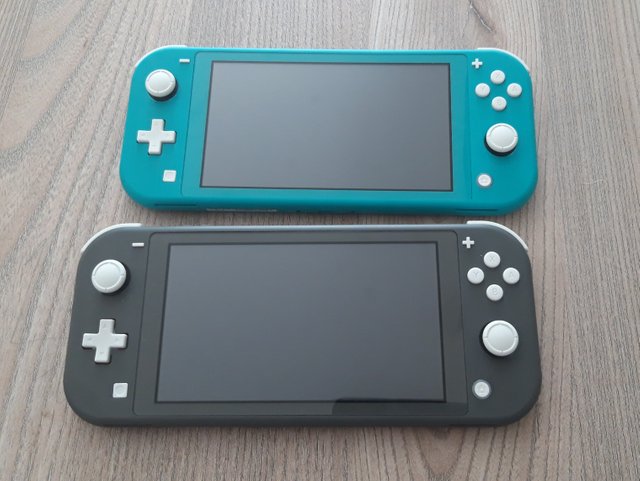 The Switch lite comes in three colours, yellow, gray, and turquoise. Apart from just two really unnecessary games all Switch games can be played on this handheld version too. Contrary to the normal Switch, the Switch Lite can not be coupled with a TV, has nor IR motion sensor and no HD vibration. But to be honest, if you are planning to play the Switch as a handheld console anyway, those are really not necessary at all. Regardind the feeling while holding the console I can say that it fits really nicely in both hands and all buttons can be reached easily and comfortable.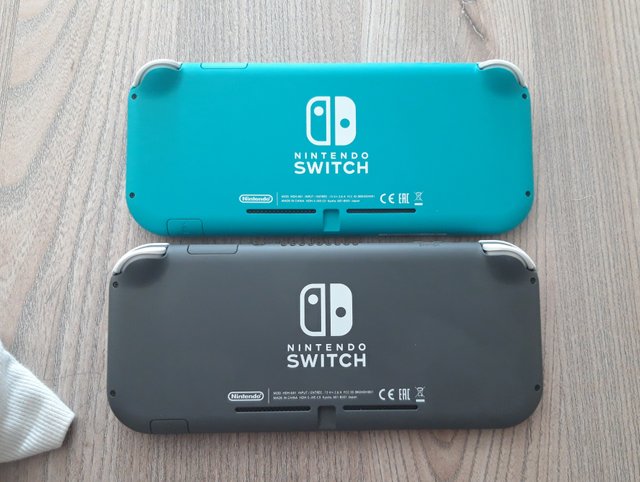 Die Switch Lite ist in drei Farben erhältlich: Gelb, Grau und Türkis. Abgesehen von nur zwei wirklich unnötigen Spielen können alle Switch-Spiele auch auf dieser Handheld-Version gespielt werden. Im Gegensatz zur normalen Switch kann die Switch Lite nicht mit einem Fernseher gekoppelt werden, hat keinen IR-Bewegungssensor und keine HD-Vibration. Aber um ehrlich zu sein, wenn Ihr die Switch sowieso nur als Handheld-Konsole spielen möchten, sind diese überhaupt nicht erforderlich. In Bezug auf das Gefühl beim Halten der Konsole kann ich sagen, dass sie sehr gut in beide Hände passt und alle Tasten einfach und bequem zu erreichen sind.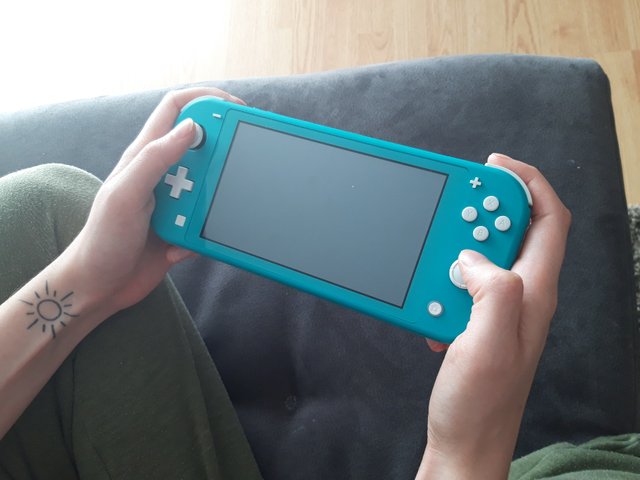 Size / Größe :
91,1 mm x 208 mm x 13,9 mm
Weight / Gewicht :
275 g
Screen / Bildschirm :
5,5-Zoll-LCD
Resolution / Auflösung :
1280 x 720
Power Time / Akkuzeit
3 to 7 hours
Contrary to the Switch, the Switch lite is just a tiny bit smaller, which has a size of 102 mm x 239 mm x 13,9 mm. The size of the display on the other hand decreases from 6,2 to 5,5 , but therefore the weight is hightly reduced from 275 g from the previous 398 g.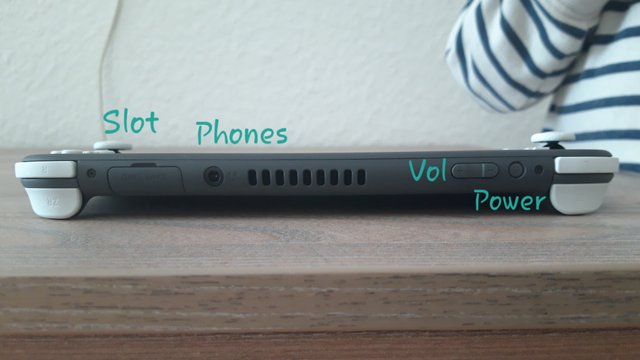 Im Gegensatz zut Switch ist die Switch Lite nur ein kleines bisschen kleiner als die vorherigen 102 mm x 239 mm x 13,9 mm. Die Größe des Displays hingegen verringert sich von 6,2 auf 5,5, sodass das Gewicht ist von wird von den bisherigen 398 g auf 275 g reduziert.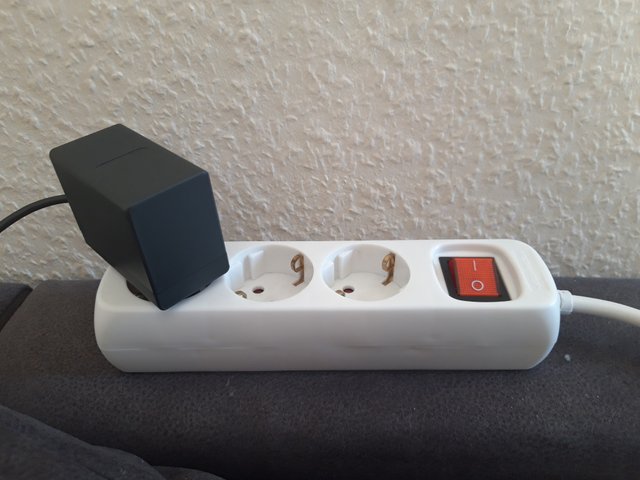 So far I am really happy with the Switch Lite. It fits perfectly in the hands, weights not too much, the buttons are ordered properly. The volume and power buttons are put well out of reach and the headphone plugin is located in the perfect place. I also really like the new colours. You have no problems with the joy-cons anymore, a problem that a lot of Switch users were complaining about. And you also do not have this unpractical docking station any longer, which scratched the display really badly and was a not thoughtful solution in the first place. Only the power supply is too big in my opinion and not so easy transportable.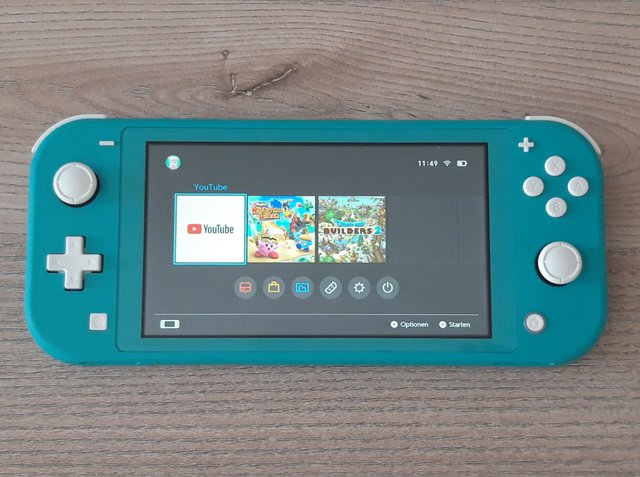 Bisher bin ich sehr zufrieden mit der Switch Lite. Sie passt perfekt in die Hände, wiegt echt nicht zu viel, die Knöpfe sind ordentlich angeordnet. Die Lautstärketasten und die Ein/Aus-Taste sind nicht in Fingereichweite und das Kopfhörer-Plugin befindet sich an der richtigen Stelle. Die neuen Farben gefallen mir auch sehr gut. Es gibt auch keine Probleme mehr mit den joy-cons, ein Problem, über das sich viele Switch-Benutzer beschwert haben. Und es gibt auch diese unpraktische Dockingstation nicht mehr, die das Display sehr stark zerkratzt hat und in erster Linie keine durchdachte Lösung war. Lediglich das Netzteil ist meiner Meinung nach zu groß und nicht so einfach zu transportieren.
---
---

---

---

---

---

---

---
---
If you want to know more about me, just look up my Introduceyourself post or follow my blog ^^
Wenn Ihr mehr über mich erfahren wollt, dann schaut euch doch meinen Introduceyourself Post an oder folgt meinem Blog ^^
https://steemit.com/introduceyourself/@adalger/introduce-yourself-get-to-know-adalger-lernt-adalger-kennen
---
Best wishes
Adalger