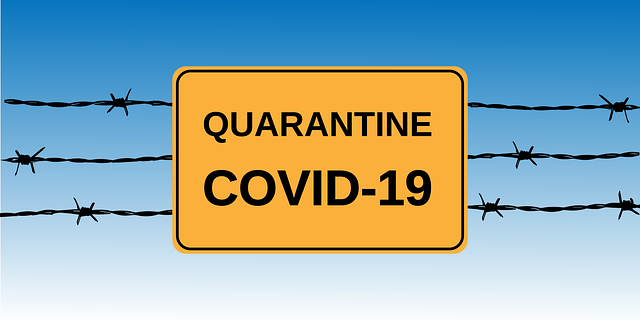 Imagen de Alexey Hulsov en Pixabay
Hola... Este es el tercer poema que publico, relacionado con esta pandemia que actualmente se encuentra azotando al mundo... Es necesario que todos y cada uno de nosotros tome conciencia sobre la difícil situación que vivimos y actuar con prevención... Espero que esta receta literaria sea de tu agrado... 💖
Hello ... This is the third poem that I publish, related to this pandemic that is currently plaguing the world ... It is necessary that each and every one of us become aware of the difficult situation we are living in and act with prevention ... I hope this literary recipe is to your liking ... 💖

Cuarentena / Quarantine

Esta es una invitación,
a cumplir la cuarentena;
actúe usted con discreción,
ya que es una medida buena.
This is an invitation,
to quarantine;
act with discretion,
since it is a good measure.
Evita la infección,
para ti y tu familia;
no estés en rebelión,
más bien mantén vigilia.
Avoid infection,
for you and your family;
don't be in rebellion,
rather keep vigil.
Respeta todas las normas,
de carácter sanitario;
respeta todas las formas,
aunque te mantengas solitario.
Respect all the rules,
of a sanitary nature;
respect all forms,
even if you stay lonely.
Cuando todo esto pase,
y vuelva la normalidad;
vendrá una nueva fase,
para toda la humanidad.
When all this happens,
and return to normality;
a new phase will come,
for all humanity.

Este poema es de mi propia inspiración, contando así con todos los Derechos de Autor, Registrados ante la Sociedad de Autores y Compositores de Venezuela (SACVEN), bajo el número de Socio: 8.115
Si te ha gustado esta poesía, te invito a que me sigas y me des tu voto... Bienvenidos sean todos los aportes de valor... Nos vemos en una próxima publicación con nuevas Recetas y algo más... Saludos