I think that all humankind shares a desire for greater things. We all want meaningful connections, greater senses of purpose, fulfilling careers, opportunities to express ourselves and the list goes on. We hope and dream for things that are greater than our current realities.
As I watch my 11-month-old son experience the world, I can already see his desire to pursue greater things!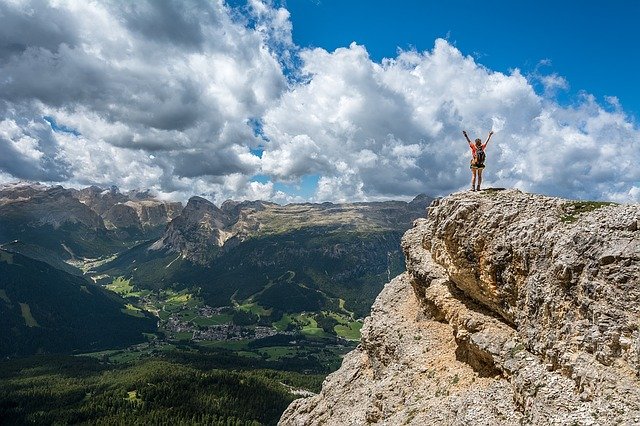 image source
Little Guy Versus The Bunk Bed
Even before Little Guy could walk, he was fascinated with his sisters' bunk bed ladder. He only stands a few feet off the ground, but he believes with his whole being that something great awaits him up there on the top bunk.
How do I know? Because of his tenacious pursuit to climb the bunk bed stairs. Everyone but Little Guy understands that a toddler should not climb those stairs, but no matter how often I say "no" his eyes and heart are drawn to what awaits at the top of the bunk bed. And those stairs, they are the key.
When The Pursuit Leads To The Unknown
It all started one day when Little Guy saw one of his sisters pop her head over the railing. Her giggle and big smile created in him a sense of wonder. That place high up in the sky must be a happy place. It must be a good place because in his eyes it was good for his sister.
While my daughter does enjoy her bed, I don't enjoy the top bunk anymore. My body is too big and too old and a top bunk (with a single mattress) is no place for a married couple to sleep. What brings joy to some brings discomfort to others. the fact of the matter is that Little Guy has no idea what awaits him. Not only does he not have any experience, but he is also not equipped to handle the experience.
When the pursuit leads into the unknown, we usually respond in one of three ways:
We over-romanticize the pursuit. In this scenario, the mountains look like molehills and the obstacles are always beatable because we do not take a realistic look at the task at hand. Little Guy does not see the danger of climbing to the top and he has no idea how to be safe if/when he reaches his goal.
We over-exaggerate the hurdles. Some people never pursue greater things, because life is too hard and dangerous. These people are begrudgingly content with the status quo because change equals danger and danger must be avoided.
A balanced approach. When people take a balanced approach to facing the unknown, they honestly evaluate the risks and rewards of the pursuit so that they can make a calculated decision.

yes, we are ready
no, we need to move on
now is not the time, but it may be possible in the future
Being Equipped For The Pursuit
Little Guy does not lack in drive and passion. Unfortunately for him, there are some skills he needs before he can scale his Mount Everest. Two of the most important being balance and depth perception. As a Dad, I am not declaring that bunk beds are bad. On the contrary, I will be a proud Papa when he successfully climbs up and down for the first time. I will celebrate his achievement on that day, but for the time being we are in preparation mode, not celebration mode.
This is the part that most of us hate. We live in an instant world and we expect instant gratification. We get frustrated when people tell us to put in the required time and effort. We get mad when people delay our progress. We complain when the lines are too long or the service is too slow. We want everything now.
The beauty of waiting is that it instills patience and endurance as well as gives us time to prepare for the pursuit. Being equipped for a great task is both an admission that we were not yet ready and sign of commitment that we will do anything necessary to reach our goals.
Preparing for the pursuit often creates changes in character that are far more valuable than the goal we originally wanted to achieve.
A Time To Celebrate
There are people around us every day that are in pursuit of great things - restored relationships, new job opportunities, freedom from a 9 to 5, volunteerism, activism, etc.
Just because someone is in preparation mode does not mean that celebration should not take place. On the contrary, we need to find moments in the seemingly mundane aspect of life to celebrate. Each day at work, I strive for a quick "victory" that will start my day. This is usually a simple task that I need to accomplish that starts my day on the right foot.
The people in your life need you to help celebrate the mundane activities accomplished during preparation as well as larger acts of celebration once they achieve great things.
Someday I expect a rush of feet to greet me as I enter the door to our home. There will be a buzz in the air and shouts that Little Guy made it to the top. I am not sure if the top bunk will be everything that he hopes it to be, but I await the opportunity to celebrate with my son and family.
Final Thoughts
As we all pursue greater things, let us not forget the need to prepare for the journey nor forget the blessing of celebrating the accomplishment.
I want to hear from you.
What are you currently pursuing?
What obstacles are you facing?
In what areas do you need to be equipped to accomplish your goal?
See you in the comments section.