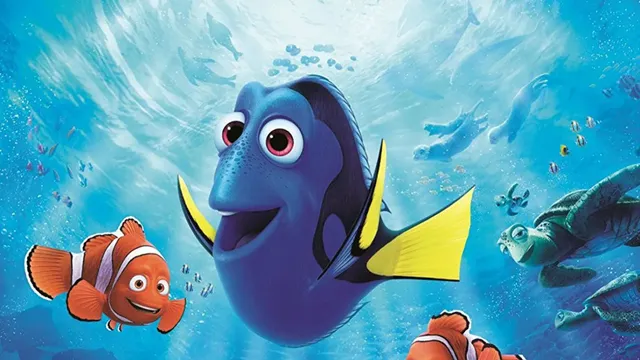 This famous line, is from the movie, Finding Nemo. It was an incredibly fun, family movie about a little orange and white fish, who gets caught in the net of a fishing boat and ends up many miles away from his family.
The poor, little guy, ends up in a fish tank in a dentist's office. With the help of his new, aquarium bound friends, he escapes and is flushed down into the sewers. The terrified clownfish is sucked through the sewer system and eventually spit back into the ocean, where he spends the rest of the movie on a journey to find his family.
I sometimes, feel like that little fish. Life has, for me, had a way of presenting me with seemingly insurmountable challenges. I am sure, that most of us have all felt that way, from time to time. It is natural. It is also, necessary, for change. I choose, now, to look at these circumstances, as opportunities.
They are opportunities to grow, and to learn about ourselves. Through them, we can find out what we are really made of. When we find ourselves, captured in the fish net, we struggle to get free. Sometimes, we can't, and we end up trapped in our own sort of, metaphorical aquarium. For some of us, aquarium life, is not enough. We need to find a way out of that tiny space that we find ourselves caught in.
That is because, we all have great potential. We are humans, and that makes us extremely versatile. Tiny humans, are powerful beings. Look at the skyscrapers that we build. Vast and commanding cities, full of them. Take notice of our incredible technology.
Along the clownfish, Nemo's, journey, he meets a blue friend, named, Dory. Nemo and Dory lose each other in the deep, at some point and Dory searches for him. She keeps repeating the same line, to keep herself motivated. "...Just keep swimming, just keep swimming...." She repeats this to herself, until she accomplishes her goal, finding Nemo.
As people, our success has been hinged upon this concept, throughout our entire ancestry. We started, barely able to communicate complex thoughts to one another, and in 2020, we are trying to colonize other planets. We have a rocket, that flies straight up into the sky, by itself, and injects satellites into orbit. It then comes down, on an automated course, and lands itself, standing upright.
We have gone from bilinear computers (1-0-1-0-1-0 Binary format), to creating the first quantum computers to run quantum functions. Microsoft has even made claims of completing a full-stack, quantum computing solution. These machines read algorithmic code that transfers atomic information, based on three dimensions rather than two.
Instead of binary, they use subfreezing temperatures to analyze atomic information. The dimensions of which are mass, volume, and color. Incredible.
I am so, very greatful, for the changes in my life. I have not been posting as often on STEEM, but that is because I have begun writing my first novel. I do not think that this would have ever happened, without STEEM!
Though, the force that drives my new actions (as my good friend @galenkp, has reminded me), is actually me, I cannot utter this one piece of truth, enough: STEEM, and it's wonderful community has been a Godsend!
I wanted to write something on here earlier, but I was busy writing for my book. I ended up writing about 4,100 words in it today. The story-line, keeps me constantly excited to write the next piece. I'm like, McDonald's... I'm lovin it...
It's a little hard to manage my time, as it doesn't seem like there is much of it, lately. I'm sure I will get the hang of it eventually. Another thing that I read, from a pretty smart guy on here, was about perseverance.
The post talked about how, there is plenty of raw talent in the world, but what really gets us somewhere, is perseverance. I agree with this mindset, completely....
... And that is the reason, behind this post...
You see, I worry, sometimes. I worry, that I will not persevere and complete my goals, because that is a behavior that I have shown in the past. HOWEVER, what I realize (and this is the encouraging part for me,) is that, I am not the same guy as I was in the past.
Because... I am HUMAN...
Because, I am one of those powerful, adaptable little creatures, that confounds the very universe in which he lives. Because, I can learn, change and develop myself, into a new and more versatile creature each day... and because...
I'm gonna just keep swimming...
...and so are YOU!
-by Jonathan Caleb Williams @badseedalchemist