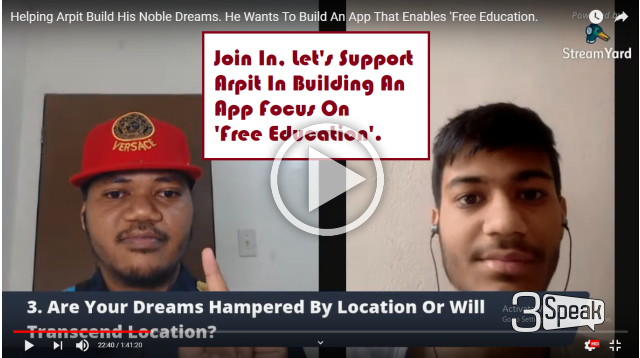 ---
In this ulog, i discuss with @iamarpit who hails from the location of India about how we can build his noble dreams. Being a ulog, nothing of it was pre-rehearsed. I developed my questions-series in the course of the livestream based on the evolution of the discussion and Arpit looked to answer each of my questions on the spot, without reservations or boundaries. This turns out a very powerful, inspirational and directional conversation, providing further valuable insight into the true state of the world.
Arpit talks of his dreams, that of creating an app that provides 'free education to people' starting with the location 'India'. This app will make use of a 'real life' paradigm, providing an entire module dedicated to providing users with 'internal motivation', a key ingredient tangible in inciting people to get educated.
After analyzing a case-study 'that found only 30,000 people passing an examination that was taken by some 1.5 million people in India', Arpit along 27 team members (ranging for age 17 to 24) set on to creating an app that caters to enabling many more people pass their school examinations. The application will also make use of AI.
In a subsequent video, we will discuss how he can integrate blockchain technology especially steem in the evolution of their enterprise model.
Contact Arpit:
admin@arpitpatidar.com
Contact Me: comsilbronze4@gmail.com
Kindly support my 4 start-ups here: https://patreon.com/surpassinggoogle
You can also subscribe to UloggersTV on YouTube:

https://www.youtube.com/channel/UCzI3Rjamg7zSe_o0BwSeIQQ

Please vote on the 'steemgigs' witness too! It ranked 93. Vote here: https://steemitwallet.com/~witnesses
---
▶️ 3Speak