---
Thoughts on soft fork 0.22.2
---
In soft fork 0.22.2 announcement, the majority of the STEEM main witnesses (18 out of 20) declared their support for this soft fork and claimed that it was the majority opinion of the STEEM community.

The 0.22.2 soft fork was determined by an internal discussion of STEEM Main Witnesses (https://www.steemcoinpan.com/hive-101145/@clayop/q67bk3), and the @PROXY.TOKEN account was not even given the opportunity to deliver community comments regarding this soft fork.

Therefore, it is deeply regretted that this soft fork was expressed as if the majority of the community had agreed via those witnesses.
---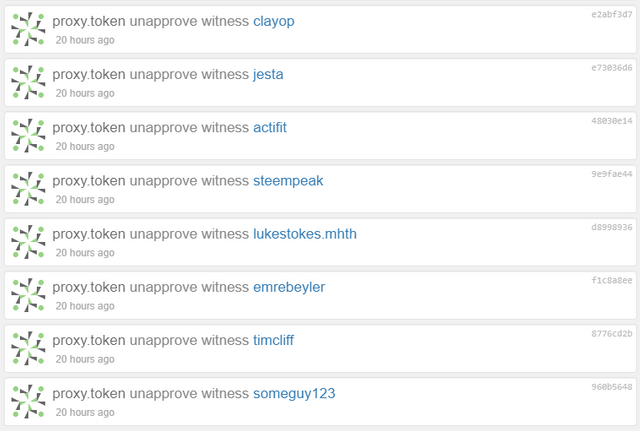 ---
The @PROXY.TOKEN revoked all votes on the witnesses that @PROXY.TOKEN supported to clarify its opposition to the 0.22.2 soft fork.
---
Operation Plan of witness server of @PROXY.TOKEN
---
@PROXY.TOKEN is the largest single witness voter in the community with 6.6 million STEEM power, and is a preliminary witness in the top 60th.

Nevertheless, @PROXY.TOKEN was unable to give any comments on this soft fork decision.

@PROXY.TOKEN feels devastated by the fact that the collusion between main witnesses has led to a major decision and that there is no way to change this action.

One of main witnesses, @smooth has expressed opposition to this claim by giving up the witness rights (https://steemit.com/witness-category/@smooth.witness/resigning-as-a-witness), @clayop has expressed opposition by suspending witness server operations, and @timcliffe has expressed opposition through a denial of update to 0.22.2.

@PROXY.TOKEN has run for main witness to carry out the core value of "Fully reflect the community's opinion on decision-making that determines the direction of STEEM Policy," but considering the STEEM Governance system shown on the 0.22.2 soft fork, @PROXYTOKEN is unlikely to be the main witness for the time being.

Therefore, @PROXY.TOKEN will not directly operate the witness server and be reorganized with a system that only participate in witness voting(like the proxy model of the EOS community)

Despite the support and cheers of many members, we've got failed to reflect the opinions of community members in the key decision of STEEM.

@PROXY.TOKEN will keep the effort to contribute to develop the STEEM community through continuous voting participation.
Thanks to all supporters.