This post can also be read in Portuguese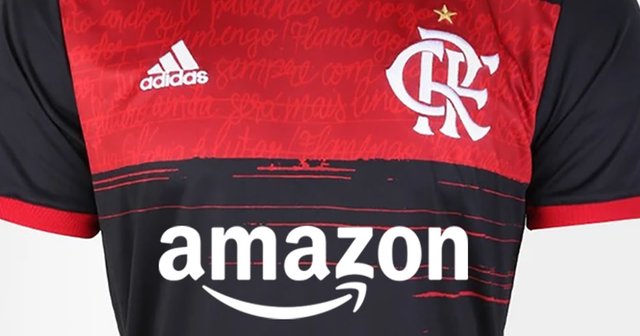 Source
With the recent decision by Banco BS2 to be the master sponsor of Flamengo, expectations increased where it is speculated that the giant Amazon would be interested in closing a deal with the Rio club. There are even indications that the two parties already speculate values, the exposure that the American company would have on the shirt and what drew more attention was the possibility of purchasing the broadcasting rights of professional football games. Today, Globo has the rights.
It would be natural for Amazon to be responsible for transmitting Flamengo's games, because with the evolution of digital platforms, this possibility becomes closer to being realized. Amazon would give worldwide visibility to FLamengo where the club already has this goal of being recognized worldwide.
In a few days we may have positive news for the end of the partnership. It is worth remembering that this approach of the North American company is due to the sports and also commercial results of last season. So the chances can be great for Amazon to occupy the position of master sponsor.
Versão em português
Com a recente recisão do Banco BS2 de ser o patrocinador master do Flamengo, aumentou as expectativas onde especula-se que a gigante Amazon estaria interessada em fechar um acordo com o clube carioca. Já tem até indícios de que as duas partes já especulam valores, a exposição que a empresa americana teria na camisa e o que chamou mais atenção foi a possibilidade da compra dos direitos de transmissão dos jogos do futebol profissional. Hoje quem tem os direitos é a emissora da Globo.
Seria algo natural para Amazon ser responsável pelas transmissões dos jogos do Flamengo, pois com a evolução das plataformas digitais, essa possibilidade se torna mais perto de concretizar. Amazon daria a visibilidade a nível mundial para o FLamengo onde o clube já tem esse objetivo de ser reconhecimendo mundialmente.
Em alguns dias poderemos ter novidades positivas para o fim do desfecho dessa parceria. Vale lembrar que essa aproximação da empresa norte-americana se deve aos resultados esportivos e também comerciais da última temporada. Sendo assim as chances podem ser grandes para Amazon ocupar o cargo de patrocinador master.

Thanks for reading so far. If you liked it, give that strength with your upvote and rate me. Feel free to leave a comment .Thanks guys!



Lusophone Community Projects