This post can also be read in Portuguese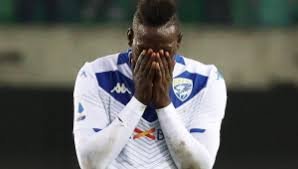 Source
After days of trying to settle a contract and even though he had rejected Flamengo's offer of the Italian for his season, Balotelli had agreed to play for the club where he grew up. What became news was that the player had been barred on the way to his club when he went to introduce himself. It may be an indication of yet another termination on the athlete's resume.
We know that the player lives on controversy and this time, according to some sources the Italian club said that he did not let the player enter to train at the club because he did not bring any medical documentation proving the health of Balotelli. So far Brescia has not officially commented on what happened.
What is known so far by the media is that Brescia intends to dismiss the player for cause because Balotelli, in addition to not having fully respected the confinement and that he missed several training sessions and the club never received the medical certificates. Well, I think it was good that Flamengo didn't have a contract with Balotelli because like Adriano Imperador, players who had everything to have a brilliant football career, they waste what thousands don't have that opportunity.
Versão em português
Depois de dias tentando acertar um contrato e mesmo assim de ter recusado a proposta do Flamengo que contava com o italiano para sua temporada, Balotelli havia aceitado jogar no Brescia clube onde cresceu. O que virou notícia foi que o jogador tinha sido barrado na ida de seu clube quando foi se reapresentar. Pode ser um indício de mais uma rescisão no currículo do atleta.
Sabemos que o jogador vive de polêmicas e dessa vez, segundo algumas fontes o clube italiano disse que não deixou o jogador entrar para treinar no clube por não ter levado nenhuma documentação médica comprovando a saúde de Balotelli. Até agora o Brescia não se pronunciou oficialmente pelo ocorrido.
O que se sabe até agora pelas mídias é que Brescia pretende demitir o jogador por justa causa pois Balotelli além de não ter respeitado o confinamento totalmente e que faltou a diversos treinamentos e o clube nunca recebeu os atestados médicos. Bem, creio que foi bom o Flamengo não ter feito um contrato com o Balotelli pois assim como o Adriano Imperador, jogadores que tinham tudo para ter uma brilhante carreira no futebol, chegam a desperdiçar o que milhares não tem essa oportunidade.

Thanks for reading so far. If you liked it, give that strength with your upvote and rate me. Feel free to leave a comment .Thanks guys!



Lusophone Community Projects