This post can also be read in Portuguese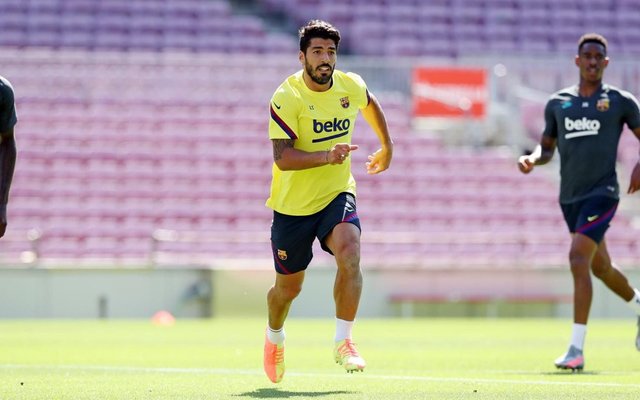 Source
Spain will be another European country that will put the return of football to the dispute of the national championship and without wasting time Barcelona put their team to train this Saturday, on the lawn of the Camp Nou, what drew attention was the presence of the ace Messi, the Argentine had been working for two days dedicated to treating an injury to his right thigh.
Also present was striker Suárez and it is worth remembering that he was practically 150 days off the pitch as he had to undergo surgery. The medical department of the club released the Uruguayan to be an option on the bench for coach Quique Setien for the match against Mallorca.
Suárez has not played an official game since January 9, at the time his last game was in the semifinal of the Spanish Super Cup against Atlético de Madrid. Until the championship was canceled due to the pandemic there were 14 games that the attacker was unable to play.
Barcelona's return in the Spanish Championship will be against Mallhorca away from home on June 13, Messi's team is leader with 58 points and the expectations for the two stars to be in the match will be very high.
Versão em português
A Espanha será mais um país europeu que irá colocar a volta do futebol para a disputa do campeonato nacional e sem perder tempo o Barcelona colocou seu time para treinar neste sábado, no gramado do Camp Nou, o que chamou a atenção foi a presença do craque Messi, o argentino estava há dois dias de trabalho dedicados ao tratamento de uma lesão na coxa direita.
Também marcou presença foi o atacante Suárez e vale lembrar que ele ficou praticamente 150 dias fora de campo pois teve que passar por uma cirurgia. O departamento médico do clube liberou o uruguaio para ser opção no banco de reservas para o técnico Quique Setien já para o jogo contra o Mallorca.
Suárez não joga uma partida oficial desde o dia 9 de janeiro, na época o seu último jogo foi na disputa da semifinal da Supercopa da Espanha, contra o Atlético de Madrid. Até o cancelamento do campeonato por conta da pandemia foram 14 jogos que o atacante não pôde jogar.
A volta do Barcelona no Campeonato Espanhol será contra o Mallhorca fora de casa no dia 13 de junho, a equipe de Messi é líder com 58 pontos e as expectativas para os dois craques estarem na partida será muito grande.

Thanks for reading so far. If you liked it, give that strength with your upvote and rate me. Feel free to leave a comment .Thanks guys!



Lusophone Community Projects