This post can also be read in Portuguese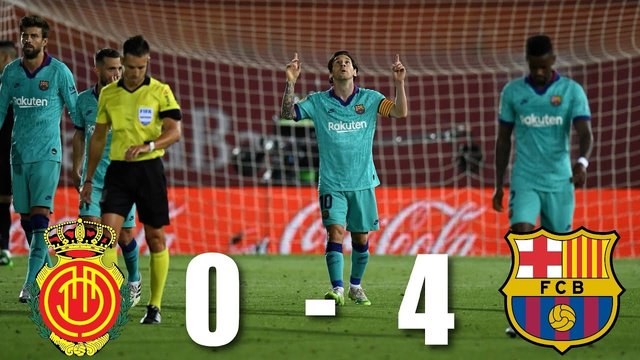 Source
With gates closed due to the pandemic, the Spanish Championship returned and in the 28th round we had a Barcelona without many surprises and on Saturday afternoon the visitors beat Mallorca by 4 to 0. Messi was without a doubt the best on the field. He left with just one goal, two assists and saw Vidal, Braithwaite and Alba extend the score.
The match barely started and at 2 minutes of the first half, Jordi Alba lifted the ball in the area on the left and in the dispute Arturo Vidal was more agile to head and open the score of the game. The way the goals were made it seemed that the team did not experience many difficulties against Mallorca despite being an away game.
Another good news for the Catalan team is the return of Suárez, who had not played an official game in five months and after that game he found that the Uruguayan player can help his team in the season.
Something unusual happened during the game and despite the stadium having closed gates so that there was no crowd due to the pandemic. At 8 min a fan invaded the field towards Messi, but was quickly stopped by security and taken out of the match.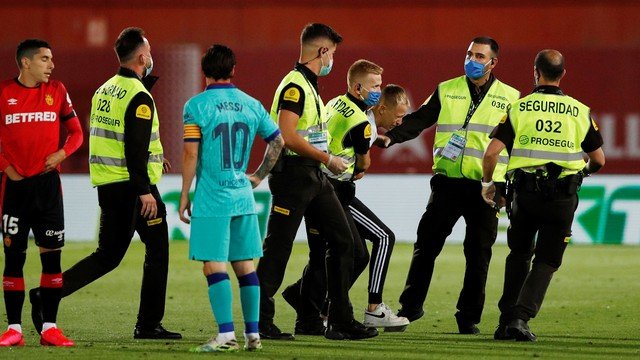 Source
With this victory, Barcelona guarantees 3 more points and consolidates as leader of La Liga with 61 points, against 56 of Real Madrid, which enters this Sunday against Eibar. Barcelona's next appointment will be with Leganés at the Camp Nou.
Versão em português
Com portões fechados por conta da pandemia, o Campeonato Espanhol retornou e na 28ª rodada tivemos um Barcelona sem muitas surpresas e na tarde deste sábado os visitantes venceram o Mallorca por 4 a 0. Messi foi sem dúvidas o melhor em campo. Saiu com apenas um gol, duas assistências e viu Vidal, Braithwaite e Alba ampliarem o placar.
A partida mal começou e aos 2 min do primeiro tempo, Jordi Alba levantou a bola na área pela esquerda e na disputa Arturo Vidal foi mais ágil para cabecear e abrir o placar do jogo. A forma como foram os gols pareceu que o time não sentiu muitas dificuldades contra o Mallorca apesar de ter sido um jogo fora de casa.
Outra boa notícia para a equipe catalã é o retorno de Suárez que fazia 5 meses que não jogava uma partida oficial e depois desse jogo constatou que o jogador uruguaio pode ajudar a sua equipe na temporada.
Algo inusitado aconteceu durante o jogo e apesar do estádio ter sido de portões fechados para não haver aglomeração de pessoas devido a pandemia. Aos 8 min um torcedor invadiu o campo em direção ao Messi, mas rapitamente foi contido pelos seguranças e levado para fora da partida.
Com essa vitória, Barcelona garante mais 3 pontos e consolida como líder da La Liga com 61 pontos, contra 56 do Real Madrid, que entra neste domingo contra Eibar. O próximo compromisso do Barcelona será diante do Leganés no Camp Nou.

Thanks for reading so far. If you liked it, give that strength with your upvote and rate me. Feel free to leave a comment .Thanks guys!



Lusophone Community Projects