This post can also be read in Portuguese
Source
It is difficult to stop Barcelona and with another goal from Messi, the Catalan team won 2-0 against lantern Leganés. The victory also marks the return of the Camp Nou after months without a home game. In addition to the Argentine star, young Ansu Fati scored his goal that opened the scoring.
Although Leganés is in the last place, don't think it was a super easy match where Barcelona would beat their opponents, the first half was well below the championship leader could show. Barça reached 80% possession of the ball but no kick to the goal. The visiting team gave some scares but nothing to bother the defense of Barcelona.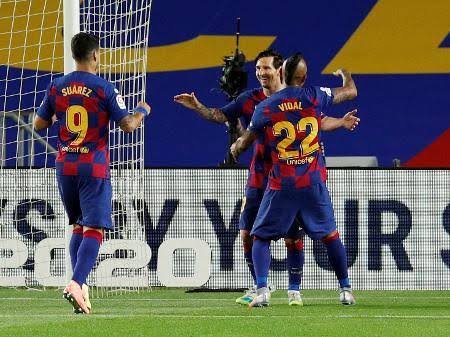 Source
The second stage was more lively and even had Griezmann's goal canceled by VAR at the beginning of the match. Leganés was still trying to do something but it was not enough.
With this victory, Barcelona guarantees 3 more points and remains firm in the leadership of La Liga with 64 points and is now 5 points apart from its rival Real Madrid. The next appointment for the Messi team will be against Valencia in the 29th round.
Versão em português
Está difícil parar o Barcelona e com mais um gol de Messi, a equipe catalã venceu por 2 a 0 o lanterna Leganés. A vitória também marca o retorno do Camp Nou após meses sem uma partida dos donos da casa. Além do craque argentino, o jovem Ansu Fati fez seu gol que abriu o placar.
Apesar do Leganés está na última colocação, não pensem que foi uma partida super fácil onde o Barcelona iria golear seu adversário, o primeiro tempo foi bastante aquém do líder do campeonato podia mostrar. O Barça chegou a ficar 80% de posse de bola mas nada de chute para o gol. O time visitante deu alguns sustos mas nada que incomodasse a defesa do Barcelona.
Já a segunda etapa foi mais animada e teve até gol do Griezmann anulado pelo VAR no início da partida. Leganés ainda tentava fazer alguma coisa mas não foi o suficiente.
Com essa vitória, Barcelona garante mais 3 pontos e segue firme na liderança da La Liga com 64 pontos e agora está a 5 pontos de diferença do seu rival Real Madrid. O próximo compromisso do time do Messi será diante do Valencia na 29ª rodada.

Thanks for reading so far. If you liked it, give that strength with your upvote and rate me. Feel free to leave a comment .Thanks guys!


Lusophone Community Projects