Successful people don't make excuses that prevent them from achieving their goals, rather, they turn the excuses to motivating reasons. April 2020 was the high point of covid induced lockdown in my country. While many were complaining on how life became miserable, I made the most of those days when movement were restricted. It was all fun in my yard with cycling.

Photo of myself Cycling at my yard 1
This happened on the 11th of April, 2020. That's about six months and about 16 days ago. The outbreak of Corona virus led to the inducement of lockdown in many nations of the world to help the government contain the spread of the novel virus. April 2020 was my first month in the last 20 years or more that I had not surfaced the street.
Within those lockdown days, all my activities were done in my room or outside the yard. Thank God that the yard is as large as half of a football field so we could merry as much as we can at home. Sometimes, we do street football with monkey post.
I was already growing a pot belly after staying for two weeks indoors and so I decided to start-up a daily cycling sports to trim off some calories since I had no gym indoors. It started out as fun but along the line, there was a tremendous effect and I so profiteth from the sports.

Photo of myself Cycling at my yard 2
I wasn't actually competing with anyone than myself. Each day, I strife top spend some more time than the previous as well as measure my improvement with the "stunts" like hands-off. Since work had begun, I'm missing those awesome time I had with myself during the lockcdown period. Cycling is one of those awesome memories that still linger.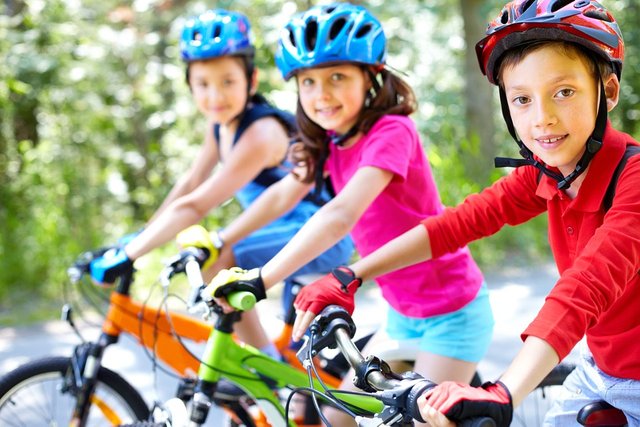 source
According to Better Health, cycling is a "low impact" sport as it causes less strain and injuries than most other forms of exercise. During cycling, there is a good muscle workout. This is so because pedaling the bicycle uses all of the major muscle groups.
In comparison with running, cycling burns less calories. However, cycling is gentler on the body, and one may be able to do it longer or faster than running. Cycling does not require high levels of physical skill, that's why those lads in the village can sometimes do better with cycling.
When was the last time you cycled?