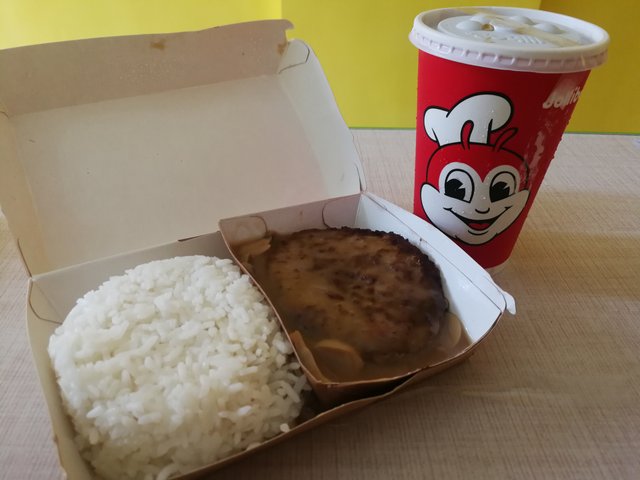 Double Burger Steak for Lunch
It's my fifth day that I woke up early at a quarter to seven in the morning. And as usual, I wanted to sleep again. I was able to sleep but the sun was shining so bright that I kept on waking up. So I grabbed my phone and checked the messages until I collected the right amount of energy to stand and start my day.
I opened the fridge and grabbed my Goya spread. When I opened it, I was very sure it's the last day of my Goya spread. I paired it with the sliced bread that I bought the other day and finished three pairs of bread. No more Goya spread for me and I just hope the mall in front of my apartment has an available stock. Else, I need to buy it in the big malls.
After that sweet breakfast, I started working. I was confused about my work because of the new format but of course, I had to adjust and just do my job. It was still past ten when I knew I don't feel like cooking. I was craving for Jollibee Burger Steak. I ordered online thru the FoodPanda application. While waiting for the food to be delivered, I cooked rice since single rice for a double burger steak is not enough. When the food arrived, the rice was yet uncooked. So we waited for about 15 minutes before we can start eating.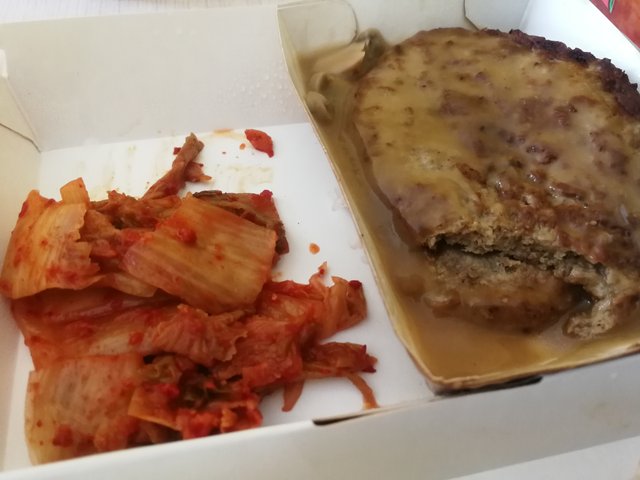 Paired my Burger Steak with Kimchi
My tummy was so full. My craving for burger steak was satisfied, and I was so happy for the rest of the day. I even finished my work before three in the afternoon. Then, I decided to take a rest and lie down. It was around five when my housemate was planning to go outside to buy something for our dinner. I immediately asked for Braddex since I missed their steamed rice and their siomai with egg and the bacon siomai. And if the store is yet unopened, the Japanese siomai of T'Myrns will do. Surprisingly, the store was opened, and I was very excited for our dinner. We can't start eating yet since we need to wait for the other one. It was already past seven in the evening when my other housemate arrived. I immediately prepared the dining.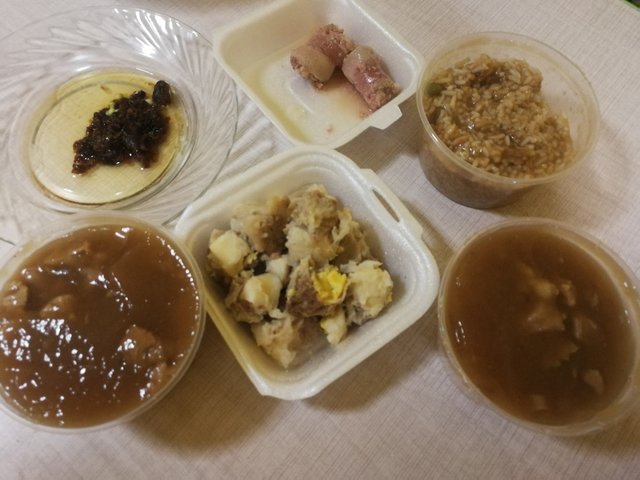 The signature steamed rice, siomai with egg and somai with bacon of Braddex
How I missed the taste of their steamed rice and the siomai. Their regular siomai has an egg topping while the other one was a siomai wrapped in bacon. Braddex also serves another siomai wherein it is wrapped with lettuce with a name Empress Siomai. We were so full and happy we finally had eaten Braddex signature steamed rice and siomai.
It was already ten when my two housemates kept on telling me that I should play Among Us with them. They've been like that for a week already. Since I was bored, I decided to install the game and play with them. It was rather confusing and I kept on being killed. I was too immersed in doing the task that I kept on forgetting there were two imposters. I kept on forgetting also the map that sometimes, during discussion time, when asked what's my alibi, I would tell them where I was. And because I still can't memorize the map, I ended up being the suspect since I was near the dead body even though I was not the imposter. It was almost 2:00 AM when we decided we should sleep already. I'm still not sold out with the game, honestly. Like if you would ask me, Exploding Kitten, or Among Us, I'd still choose Exploding Kitten. Although if my housemates will invite me again to play with them, I will still join.
---
• • •
---
That's it! It's the end of my Diary Game.
I'm happy and proud that despite the circumstances of being unable to post for a long time, but still I was able to reach this far. I honestly wanted to stop since I was far behind already and work became more and more handful because of the site launching. But my teammates encouraged me to finish what I've started and here I am, writing my closing remarks for my Day 50.
Even when there are plenty of days that were boring and monotonous, I was able to make something to share with. Like for example, for the whole week, my activity was all about ice cream because I was busy at work. My teammates even teased me about that. Remembering it makes me smile because I was trying so hard to extract a minimum of 300 words out of that sole activity. I had so much fun doing this Diary Game. I really do!
Also, I want to congratulate my teammates for a job well done! We did it, guys! We've made it to Day 50!!!
• • •
• • •
I am participating in The Diary Game initiated by @steemitblog.
Thank you to the hardworking curators @steemitcurator01, @steemitcurator02, and @steemitcurator08 for the support, and for your time and effort you've done in the Diary Game!

To know me better, you can check my introductory post:
Hello Again, Steemit!

Team Ph

@fycee, @pingcess, and @loloy2020.
Writing should be fun and healing.
Let's have some fun writing our open diary.
---
K N E E L Y R A C