During these lockdown days, we need to take what we can get and the same goes for Urbex.
As much as I would like to get in the car and go exploring we can't right now for fear of roadblocks and questions by PC Plod.
By exercising we can walk or run past places of potential interest and have a nosey around. I had a couple earmarked but had no preconceptions of access to either.
4 years ago this house looked like a haunted house. Smashed windows, a broken down door, graffiti, you name it, as well as crap all over the yard is what we could see.
That would have been the time to have a look, as a year later the place was suddenly under renovation, sandblasted, double-glazed, and habited.
What is that 'HP' above the door? I think of Hewlett-Packard, but... OK, so it's not Hewlett-Packard.
The symbols are known as apostrophic marks and tend to be carved into stone or woodwork near entrances like doorways, windows, and fireplaces.
It is thought that they would then ward off witches and evil spirits from entering, keeping the people inside safe.
1878 is old but not by English standards? This is the Victorian era and I would have thought witchcraft was done and dusted by then?
...'it's rare to see a barn without a hole in the roof. In fact, holey barns are so ubiquitous one would think they were purposely built that way'...
The house looked completely different after the renovation and the renting farmers even sold eggs to passers-by using the box and trust method.
For what I hear the local farmer (who's house it belongs) got greedy and ramped up the rent. The farmer tenants told him to 'fuck off' and the house once became again empty.
That sign in the window boasts of security cameras but I couldn't see any, and so had a look around the back.
There were a few boards in place, had someone taken a window out already?
Looking through the window it looked quite bare. You need to ask yourself, 'is it worth going in', if there's nothing inside.
Seeing this kind of thing tells me things are only going to get worse, but I could see no access.
Behind this metal paneling sat a horde of live bulls. I didn't hang around. The 'old house' is one for later when someone else smashes the windows or doors down.
I had noticed this old looking building on the Leeds/Liverpool canal towpath but with other more interesting targets had not had a look until now.
When they looked shrouded in trees it is always a good sign. The access is gained via a path off the nearest tow bridge.
Looking around I walked down this path conscious that it led to a very large posh-looking house, and that would be the only reason for walking down it.
The derelict building was a disappointment. From this angle, there were no weeds, brambles, nettles, and other nasty greenery you see typically associated with long-forgotten architecture.
The grass was procured but that window looked like a weak point.
…'is this some kind of Canal gatehouse from the mid 19th century? It's a little small to live in and is on the wrong side of the towpath'…
Inspecting it closer showed me some wire meshing on the inside and even worse, the place looked inhabited!
This was now strictly off the radar. I don't do inhabited places; they are generally full of unwanted humans and other such nuisances.
There is one old-style factory in my large village. Looking at it you would think it was derelict.
A business still runs or did before the lockdown, though you would not think so.
The owners have gone to some lengths to keep the undesirables out. Razor wire is particularly nasty stuff and can rip you up very easily.
Like many places, it is not very effective and one could climb over the standard metal gate quite easily. Once upon a time I could squeeze under the bottom edge.
It's bad to say but with all these businesses going bust, I think I may have more places to look at than ever quite soon.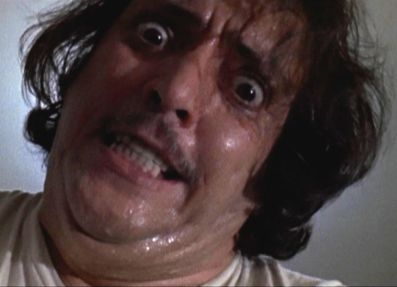 If you found this article so invigorating that you are now a positively googly-eyed, drooling lunatic with dripping saliva or even if you liked it just a bit, then please upvote, comment, resteem, engage me or all of these things.