I always thought 'The Grove' to be a strange-looking building. My father drove past it many times when he forcibly made me accompany him to Bradford when I was a boy.
This one was not planned and after a hard day's exploring, we passed it and slammed the brakes on hard.
There are many boarded-up pubs these days, but just a few that you can get inside. We figured it was worth a look.
I noted the fancy-looking car and then the dodgy looking van right behind it.
…'was there a drugs deal going down inside?'…
You can never be too careful. We parked up around 100 yards away and considered the triangle-shaped, quite ugly looking architecture beholding us.
...'is it me or is the building tilting backwards?'...
The front door was always going to be a no-no though it's always worth trying the handle. I have walked in a couple by doing this.
In the case of The Grove, there was no handle so pushing on the intricately carved door was my only option. It was unfortunately locked.
Meanwhile, here is a little history.
In the 1830s, the pub was built as a part of the Grove Brewery, and an archway is inscribed Grove Brewery.
In 1906, brewing was discontinued after the business – and around 13 of their houses – was taken over by Whitaker's. The property was sold.
The brewery was used by Harvey & Company. The brew-house was used as a biscuit factory. The pub closed in 2008.
Being built, in or before 1830 means it is getting on 200 years old and closed in 2008 means 12 years of neglect. That means the upper floor is likely to collapse under your weight.
If we did get in, climbing up there may lead to death..., you know the usual kind of shit.
The anti-climbing fencing was old, the chain rusty and predictably there was an opening to squeeze through.
What was happening around the back? It looked like a demolition job gone bad!
There must have been an extension at some point, the demolition team had started work and got bored or something!
The door next to the fire exit was also closed and locked, what a bummer.
After balancing on a flimsy wall and these rusty iron girders we spotted an access point.
Now it was a mere matter of jumping down a 12-foot wall, then climbing up the other wall and then clambering over that other lot of anti-climbing fencing.
I am incredibly dexterous, and the walls..., well they are peanuts to me but that gap...
It was just no good, and I had to concede I'm simply too bloody fat to get through there. That's what you get for eating too many Jelly Babies the night before.
Peering through the dim light the interior looked like it was devoid of anything except dust. Was it even worth going inside?
...'The Grove was quite low on the @slobberchops photogenic all-time charts'...
As the sun was setting, and we were both a bit knackered we looked at each other and thought, 'er NO!'
I figure that The Grove is one of the 'morning explores' when you are full of beans. We had been out for around 8 hours and anything better than 'just a look' was going to be a bonus.
…'thank you for your custom, please call again?'…
If someone else barrels the door down maybe, but otherwise The Grove is off the radar. There are better places to explore.
'Dizzy Discovery' from YouTube accompanied me on this one.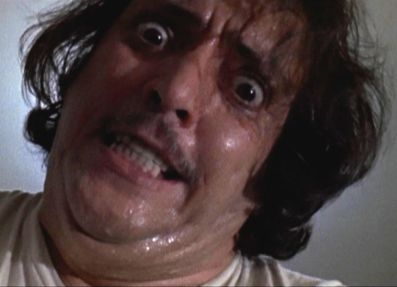 If you found this article so invigorating that you are now a positively googly-eyed, drooling lunatic with dripping saliva or even if you liked it just a bit, then please upvote, comment, resteem, engage me or all of these things.