That community of Christ-loving people committed to sharing messages of love and looking forward to the financial emancipation of Christian families all around the world is now thriving in three chains already - Steem, Telos and Hive and now identified with this unique name - HeartChurch. This identity will make us unique on as many chains and platforms we will be expanding to. Rememeber, we expand, we do not migrate.
Few days ago, I published this post where I emphasize that in the near future, #HeartChurch sponsoring City-wide crusades and Christian symposiums all around the world and sending relief materials to the broken wherever.
We are uniquely a people bound by love in search of freedom for our Christian families and with the message of our Lord Jesus Chrit to heal the world. I see in a near future the #HeartChurch sponsoring City-wide crusades and Christian symposiums. I see this very possible with the growth around the steem community as well as the hive community.
This would not be possible without our conscious and strategic commitment to it. We have enjoyed love in this community for the past two years and we have no excuse not to share love in any way we can and within our strength. We all have a role to play in building the @Heartchurch and growing it capacity to feed, educate and train the world.
The value of our communities on steem and Hive chains will be determined how we are going to engage the community and contribute value into it. Our staked tokens in the @Sniffnscurry and @Steemchurch accounts will lie waste if we fail to contribute quality blogs and engage the community.
I have decided to share this #how-to to help as many parishioners who wish to be a part of the building stones for @Heartchurch to learn how they can set any percentage of their post rewards to our home of love and freedom "Heartchurch" on steem and hive chains.
I had begun mine and hope to encourage other to do same not by compulsion but in love. There are no rules to doing it. Even less than a 1 percent is acceptable as our strengths match.
How to set "Heartchurch" as Beneficiary to our Posts
Login steempeak for your post;
Click on the "create post" icon on top of the page

Type in your post as desired.

Scroll to the bottom of the page just below the "tags" bar and you'll find the "Add Beneficiary" button.


Click on the "Add Beneficiary" botton and a pop-up as shown below would appear.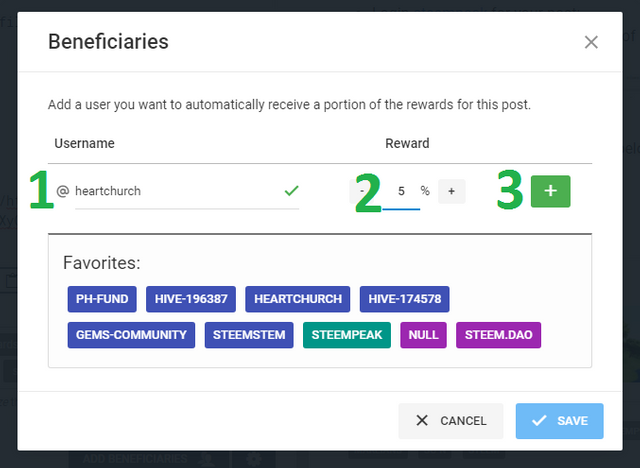 insert "heartchurch" in the "username" form
Set the amount you wish to set in the "reward" form
CLick the "plus" button.
Click the save button as shown below.

In few seconds, you are done setting @Heartchurch as reward beneficiary. Head on to publish your post and just the percent you set would be claimed into the @Heartchurch wallet at 7 days payout.
Let's join hands and build our community of love.