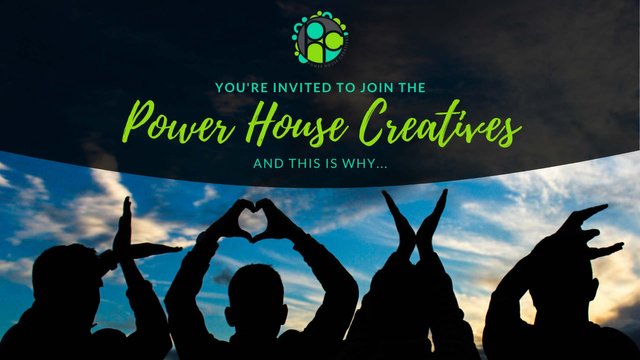 Hello 🐝lovely🐝bees🐝! It's. Wednesday 30th September 2020 and I would love YOU to join the Powerhousecreatives and this, my friends, is why…
At a time when Hive seems to be becoming a collection of little niches (micro communities with micro specialities) sometimes you can struggle to find a wide-ranging collection of quality posts, am I right?
No!
It's easy! Pop over the PowerHouseCreatives community! The only niche there is that the posts must be original and good quality!
@jaynie is the driving force behind the PHC. In the video I said she doesn't suffer fools gladly. Actually, I think that is wrong. She doesn't suffer people who take other people for fools gladly. She is a champion of Hive, quality posts and helping people with potential achieve their blogging goals. She's not afraid to stand up to the "big guys" if she thinks things need to be said.
The PHC discord server is the place to make connections. A fun and friendly place you'll meet some great characters, some new to Hive, some who have been around since the beginning (or close to it!)
The quality of posts is well known and so there are people who specifically look at the community feed for posts to upvote and champion.
But it's not a place to "link dump and run": engagement is key to the PHC.
So come and join the fun and games: join the discord server and come and say hi!
INVITING HIVE PEEPS
Connecting with other individuals, communicating efficiently and working together effectively is one of the most critical aspects of any successful community project, business or initiative. The Power House Creatives has been working together as a team to support and grow the genuinely passionate individuals on our blockchain since October 2017. We are proactive on all social media platforms - actively supporting the content published on our community feed. We work closely with the founders of @theterminal - who are members of our community too - assisting and guiding newer members of Hive, creating a seamless transition from an introductory space to one which nurtures the enthusiasm and creativity of each individual.
Our discord server is where we connect, brainstorm, assist members, highlight worthy Hive news, problem solve and simply chit chat - connecting in a more personal and direct space so that we can all get to know one another better as well as bring together ALL the social media aspects like Torum and Twitter activity and efforts.
.......
Everyone is welcome in our house
ALL content topics are welcome on our community feed
.......
GETTING SOCIAL
Torum is a relatively new social media platform connecting people in the blockchain arena and we would like to invite you to join us there too. It is a fun and casual space where we connect with and support our community members as well as connect with other individuals on Hive and beyond. You can join us by registering below.

We are VERY proactive on Twitter - sharing MANY of our content creators posts every day not only via our PHC TWITTER ACCOUNT
but ALSO via THE LUV BUG. Every SINGLE share is "uniquely" catered for in terms of hashtags and attracting the RELEVANT audience within and outside of the Hive space.
Hive is not simply a blockchain - it is a decision, a mindset and a like minded community that shares in the growth of such.

I am looking to promote good posts on Twitter.
Show your posts (and other peoples posts) some #HIVElove! Drop a link to an undervalued post for the chance of a upvote, reblog and tweet!
If you don't like self-promotion just leave me a comment and I'll go check out your blog!
If you leave a link to someone elses post and I like it I will Reblog, Upvote and Tweet it AND I will take a look at your blog and do the same for one of your posts (if you haven't posted in the last 7 days I'll send you a TIP via the new PeakD tipping system)
Follow me on Twitter: https://twitter.com/FeltBuzzWrites
Here are some #HIVElove Tweets from yesterday:

...
Have a great day!
Sheep what I made yesterday!