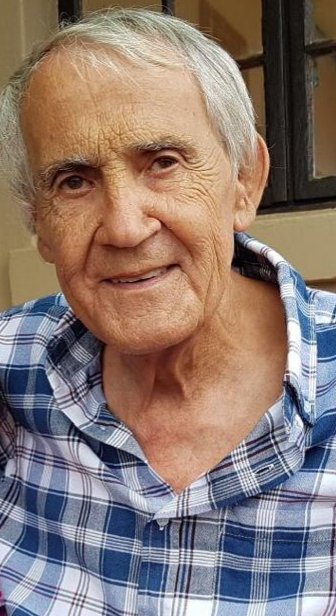 It's been quite a while since I've written here, and today is really the first day that I feel up to doing anything. The last four months have been unbearable, and I lost my father the day after Christmas.  
My mom is totally broken at this stage, and we are all struggling to keep her standing. To be married to someone for fifty years is like losing a piece of yourself that cannot be filled ever again.  
Strangely enough, I am quite at peace. I know that my father had a good life and that he completed his tasks on earth. He was a brilliant teacher to so many children who are now grown ups and he touched the lives of so many people.  
I had no other means as to post his passing on Facebook and you can't imagine how many people made contact with me after I announced it.  People who's lives he changed for the better.  My father was not only my hero, he was the hero of every single child and parent who he came in contact with.  He was loved by all, and he was the wisest man I have ever known.  
I was blessed to have him as my father and I am so grateful for every little thing he taught me in life. My father was not just a teacher.  He was born to be a teacher and he had compassion and all the patience in the world.  He had a very calm way to handle difficult situations and he made a very deep impression on people.   
He was a born teacher and he will be forever missed by everyone whose lives he touched. My father taught me very valuable lessons in life, and I want to share some of it with you.  
He taught me to be compassionate but don't let people walk over you. 
He taught me to love others the way I love myself, and to show kindness wherever I go.  
He taught me to be realistic and not to expect too much from others, because he knew that we were all alone on this earth.  Even though there are people around us all the time, we are in fact alone.  We were born alone and we will die alone. 
In some way I think my father knew that he was not going to live very long, and he came to sit and chat with me every single day while he was still able to.  I will cherish those chats forever.   
 I can keep on writing for hours, but this is all I can bare at this stage. Everything will be back to normal soon even though my normal is no longer the normal I knew.  I will find a new normal because that is what my dad expected from me.