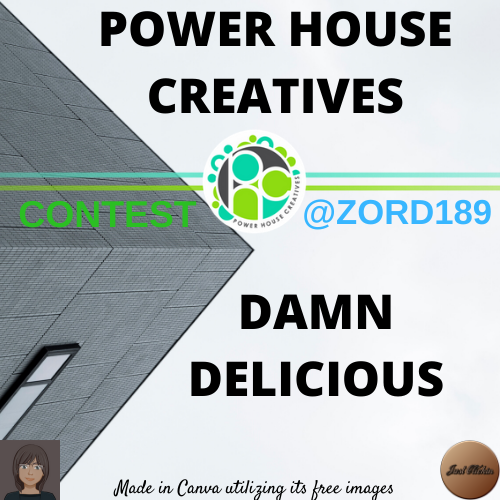 @zord189
PowerHouseCreatives Contest | Damn Delicious (Contest Details)

Apologies in advance everyone, but I have a dish that my family calls "damn delicious." They like my home cooked meals, but their favorite dishes of mine are my desserts. And one in particular, my dessert to die for -- my banana pudding.
I've crossed paths with numerous recipes over the years. And I've tried several of them. At first they were so sweet, they'd make your head swim.
Then a few years ago, I found a recipe that is not only light and flavorful, but also quick and easy to prepare. So quick, in fact, that it's prepared in the microwave.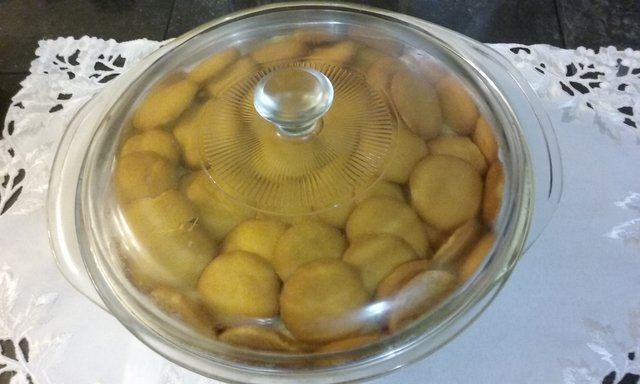 You might say, "but you didn't spend and hour" slaving over the stove stirring and stirring until the pudding sets just right." My response to that..been there, done that.
Besides, my knees just won't allow me that luxury.
Now, I'm all about flavor and speed of assembly in my senior years. And my family didn't hesitate to jump on board, or be left at the station without something sweet to take home with them.


So, let's get started with the preparation and assemly of my Banana Pudding.
RECIPE INGREDIENTS:
1 Box Nilla Vanilla Wafers
2 bananas
6 tbsp. flour
1 cup sugar
Pinch of salt
2 1/2 cups milk
3 egg yolks
1 tsp. Vanilla flavoring
1/2 stick I Can't Believe It's Not Butter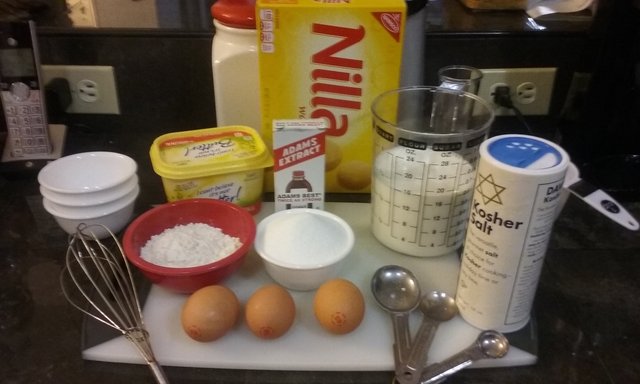 As you can see, I grouped all like ingredients together; dry, wet; other.
Now you might wonder from the picture above how can I make a Banana Pudding without the bananas.
Well, here's the story. I was in the process of locating all my ingredients when I discovered a family member had eaten 2 of the 3 bananas needed. Nothing is more frustrating than to think you have everything needed; then discover at the last minute you're missing a key ingredient.
So to calm my frustration, I took the last banana, peeled, and ate it. Then I sent that family member to the grocers to replace my bananas. I felt better.
Now I can proceed.


DIRECTIONS:
Set the Vanilla Wafers and bananas aside;

Mix flour, sugar, and salt together. Sift to remove all lumps. Then place in sturdy, microwaveble bowl;

Whisk milk, eggs yolks, vanilla, and butter;



Pour wet ingredients into dry and stir until blended well.


Place bowl in microwave;

Microwave on high every 2 minutes, use a whisk to stir until you reach your desired thickness.
Remove from microwave.
LET COOL at least 30 MINUTES before assembling.

ASSEMBLY:
This is the super easy part.
Grab a clear pyrex bowl with a cover/lid. Why pyrex or clear?
Just looks pretty after assembly so you can see the dessert. However, you may use any container you wish.
Remember, you will be storing the dessert in this container.
Now, you'll need your: Vanilla wafers and bananas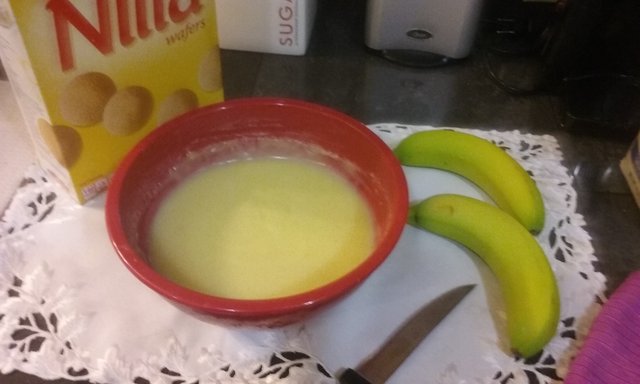 Place several wafers in the bottom of the bowl to start.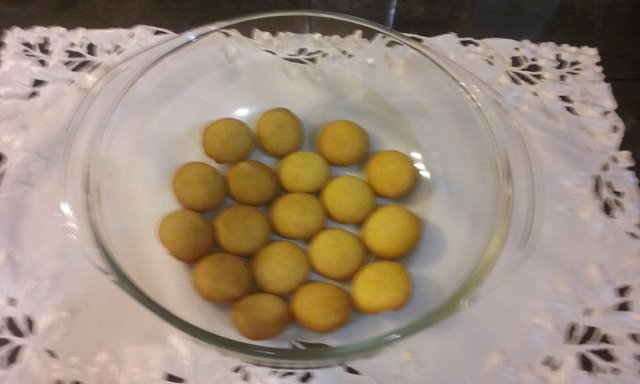 Next, cut up one of the bananas and layer on top of wafers.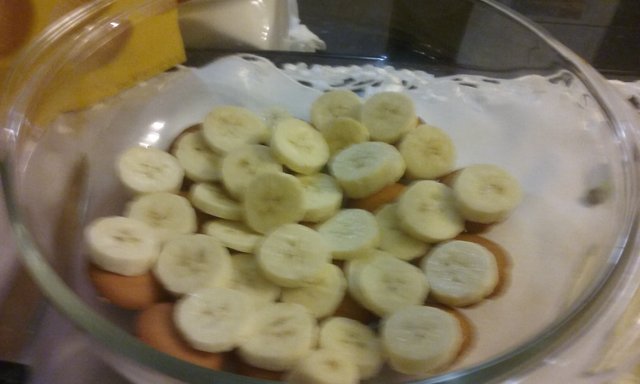 Next, add a large spoonful of the pudding on top of the bananas.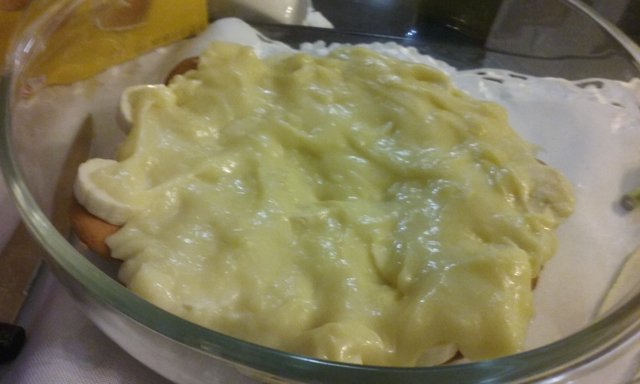 Next, place some more wafers on top of the pudding.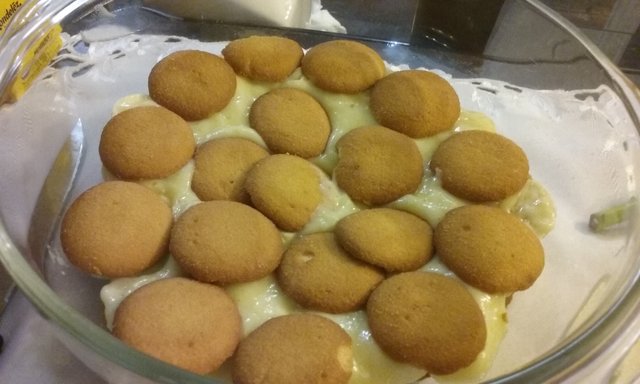 Continuing layering the dessert, alternating with: wafers and bananas
until ending with top layer of waters.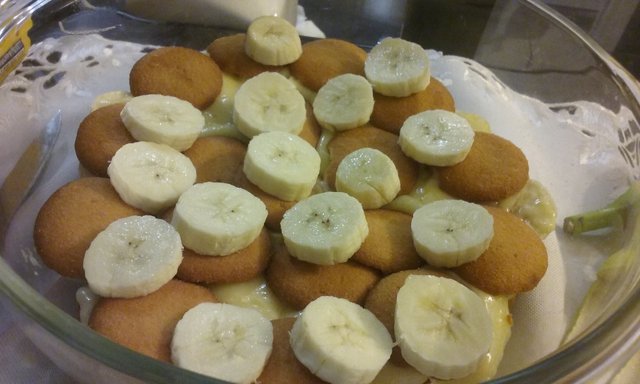 Place wafers around edge of bowl and top layer of the dessert.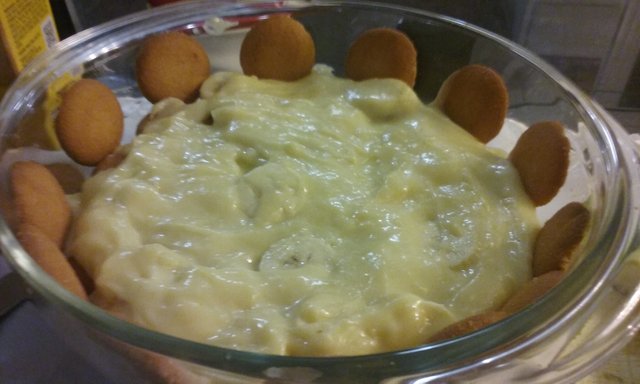 Voila! my finished Banana Pudding. Now all I have to do is make 3 more!

Just cover and cool in the refrigerator about 2 hours until set.
Enjoy.

Thanks,
@justclickindiva
Happy rest of the week everyone with whatever your endeavors.
---
SOURCES:
a) JustClickin's personalized PHC signature created by and purchased from @zord189.
b) JustClickin logo created at CoolText.Com
c) Unless otherwise noted, all photos taken by me with my (i) Samsung Galaxy 10" Tablet, (ii) Samsung Phone, & (iii) FUJI FinePix S3380 - 14 Mega Pixels Digital Camera
d) Purple Butterfly part of purchased set of Spiritual Clip Art for my Personal Use
e) Separator Lines Free ClipArt Belt from Public Domain Vectors & ShadedLine from ClipArt-Library
f) All Tribe logos used with permission of Tribe Discord Channel admins.




I SUPPORT THE FOLLOWING GROUPS: