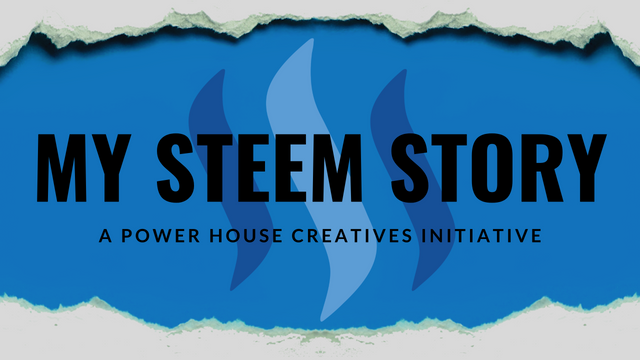 MY STEEM STORY
A Power House Creatives Initiative

Everyone has a story – and all our stories have something in common… we all started from nothing and knew nothing. People want to hear stories. They want to hear OUR stories — they want to know who we are, where we are from, what we are doing, who and what we love, what we have learnt and where we are going. People also want us to hear their story! Being a part of the Steem network is an individual journey for every single one of us and through this initiative we will share our stories not only with all who are already here – hopefully inspiring, guiding and informing them… but doing the same for everyone else in the world too. Through our stories we will prick the curiosity of those who have not yet arrived and illuminate and widen the already open doors to our one in a million blockchain.
We invite and encourage each and every one of you to participate and share your stories too! You can find the "how to" details at the end of this post.
---
MY STEEM STORY - BY @sgbonus
• Where my Steem Journey began
My steem journey Began 2 years ago, I was looking for a site where I could earn and I read about steem. I said to myself that I'll give it a try. I remember that I was excited to login my account but it took a while before I was able to use my account and it actually came during my birth month, so it was like a birthday present to me.
• My initial challenges & how I overcame them
The initial challenge was thinking of what what were all these passwords and keys. Until I read some articles about them. I was also hesitant to post because I was thinking of what people will think. I got the courage to post and I remember that most of my posts didn't earn anything. Instead of getting discouraged I still continued with posting different content and I started taking photos using my smartphone whenever I go out so I have something to post.
• My Steem blockchain knowledge
To be honest, I just hopped into this site and knew nothing about the blockchain. At least now I learned that this blockchain based on social media and content. I really hope that this will be the future of social media.
• My Steem favourites
My favourite thing about this website is that I am able to express what's in my mind even though I suck at writing but I'm also trying my best to improve myself. When I write posts I'm focused on blogging. I usually write ULOGs, "U" in "Ulogs" represents "YOU", which was started by @surpassinggoogle you can learn more about it here. Most of my posts are about what's happening in my life, my experiences and places that I was able to visit. I also write some reviews of restaurants at @tasteem. One challenge that I love joining is #Wednesdaywalk by @tatoodjay
• My golden nugget advice
Always have fun whenever you write. If you're not getting any upvotes, don't be discouraged because we all have gone through that. Try your best to engage with people, that's one thing that helped me grow my account.
• My Steem hood & its peeps
I belong to an awesome community called #powerhousecreatives(@steemitbloggers). Everyone there is just so kind, helpful and supportive.
Come and join in @otom, @atongis,@tatoodjay, @mermaidvampire and @veryspider
---
>>>INSERT THE BELOW INSTRUCTIONS AT THE END OF YOUR POST AFTER YOUR STORY<<<
GENERAL INSTRUCTION:
Create a post titled: "My Steem Story – By @your.user.name"

The first three tags in order are to be as follows:
#hive-114105
#powerhousecreatives
#mysteemstory

ONLY make use of the cover image provided in this post.

Keep the same formatting and placement (intro, footer
instructions etc.)

Replace the personal photo with one of your own.

Tag 5 people to join in on the initiative.

Share your post to twitter.

Share your twitter link and Steem post link in the comments of @jaynie's "Steem Story" post.
POST INSTRUCTION:
Write a post which shares and gives adequate response to the following headings:
• Where my Steem Journey began
(How you first discovered Steem and your very first thoughts and impressions "as you landed".)
• My initial challenges & how I overcame them
(Share a bit about the difficulties you faced at the beginning, whether it was navigation, post creation, engagement – whatever – how you resolved them and how differently you feel about it now)
• My Steem blockchain knowledge
(Give a little bit of background on your blockchain knowledge when you began your Steem journey versus now.)
• My Steem favourites
(What are the things you do mostly on the blockchain – is it blogging, vlogging? What front ends do you like to make use of and what content genre's do you generally focus on?)
• My golden nugget advice
(What advice would you offer to those that are unfamiliar or new to this space)
• My Steem hood & its peeps
(Share a little about the communities you belong to, discord servers you frequent and perhaps a handful of the awesome people you follow)
Thanks for reading.

EARN BITCOIN CASH BY CREATING AN ACCOUNT HERE AND POSTING

Animation by @zord189




Join Plankton token for daily rewards and curation
gif created by @gerber