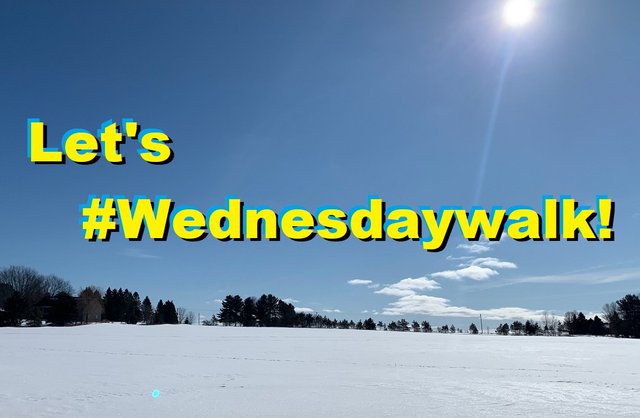 It is not every Wednesday that I have time to share a walk and join our buddy @tattoodjay on #wednesdaywalk. sometimes, I am snapped out of my intense business focus, or just inspired to get up, take a few thousand steps, and snap some pics to share with my followers.
This time, I had an EPIC walk you may have caught glimpses of in a big actifit/daily highlight reel post. I had the chance to combine family (Family Day weekend in Canada) with a nice trip to the wilderness up north. Folks in the tropics might get a kick out of this walk but even the northern city dwellers may be inspired to get up and out.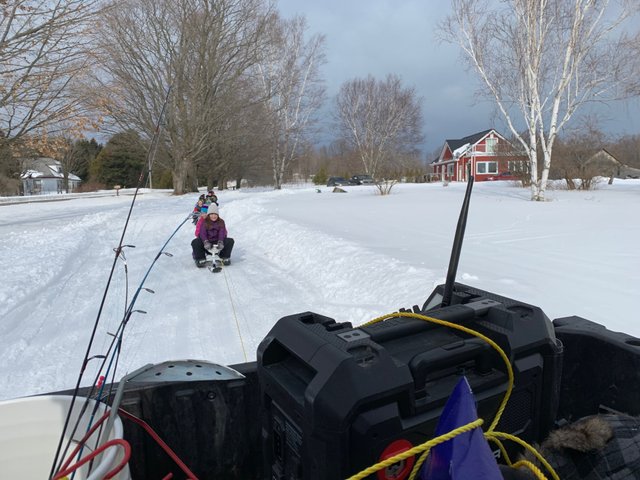 It started out more like a ride than a walk. We jumped on the 4-wheeler, hitched up a bunch of GT Snowracers, loaded on a few of the kids, and ran the Redneck Rollercoaster out to the woods. Young ones just love it and the older folks like playing with their motor toys so even the trip out there is a win/win. You can see some of the gear between us and the smiling fraggles to get an idea what we might do when we get out there.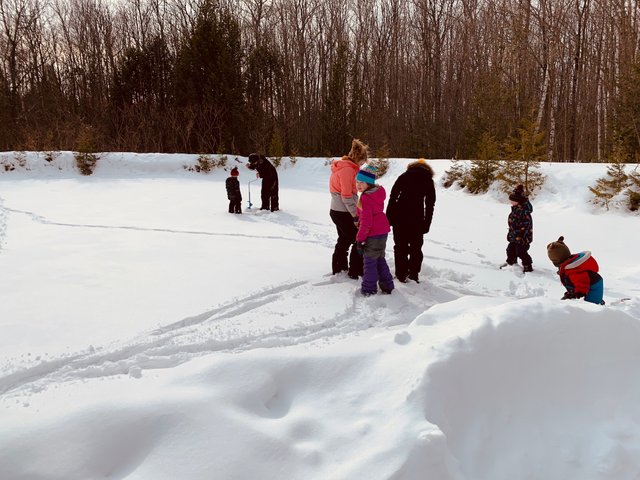 Once we get through the ~1-mile trip through the woods, we arrive at the pond on the property of this awesome family member. It is the perfect size for a skating rink but the thaws and snows have made it a little bumpy to skate too much. The good news is they stock the pond with Rainbow Trout and it is perfect for some ice fishing with a max depth of 20 feet or so.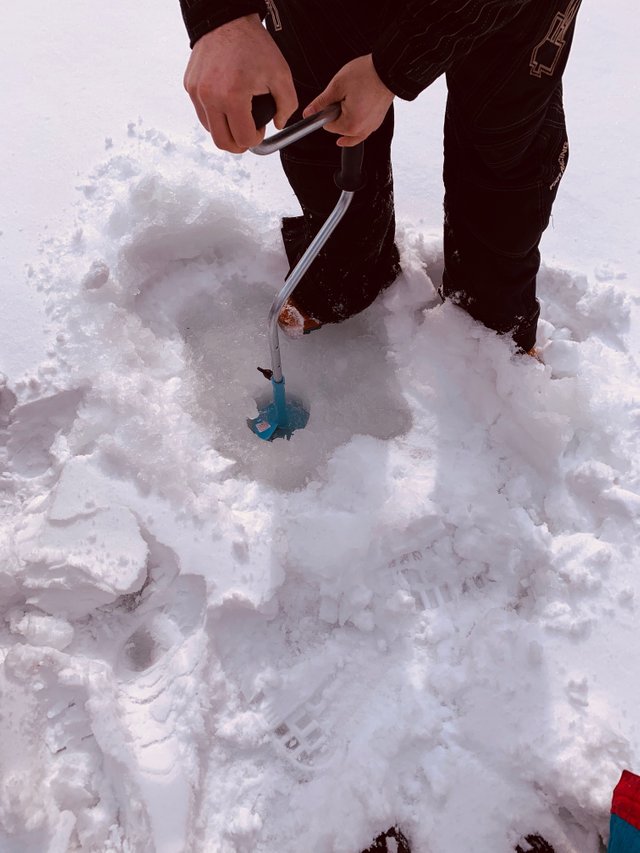 A quick pause in the walk to drill some holes for fishing. The manual augur works really well and drills a hole in30 seconds or less. The ice is perhaps 12-inches thick so it is plenty to walk, skate or even park the 4-wheeler on. You can see he is not wearing gloves either as the cold snap the day before has ended and we are pretty close to freezing (zero Celsius) and the sun has a little warmth in it for a Feb day.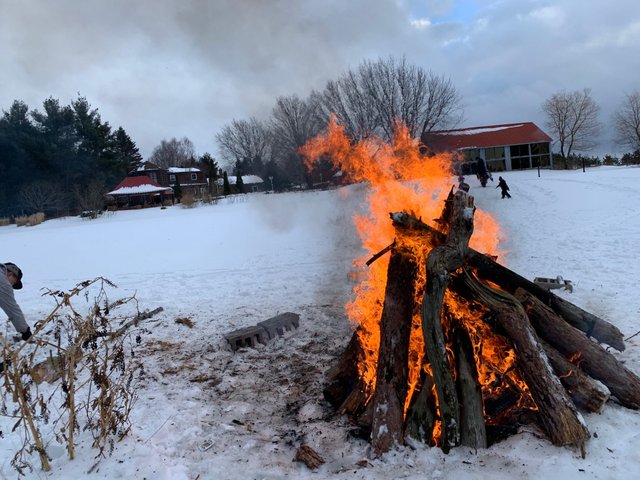 We caught about a dozen trout and put them right back in to grow a little more and be there for catching next time. A little hiking around and it is time to gather for a nice bonfire. It is probably typically Canadian to get all dressed up, leave the house and lounge around a fire in the middle of the winter. This wasn't a regular fire however. It is the first fire of this uncle who only recently closed the real estate deal on this property. So, his brothers are putting a little pressure on him to make it a big and memorable one otherwise his new neighbours may not take him seriously. You can see he is loading it up nicely and I am pretty sure it burned for 6 hours.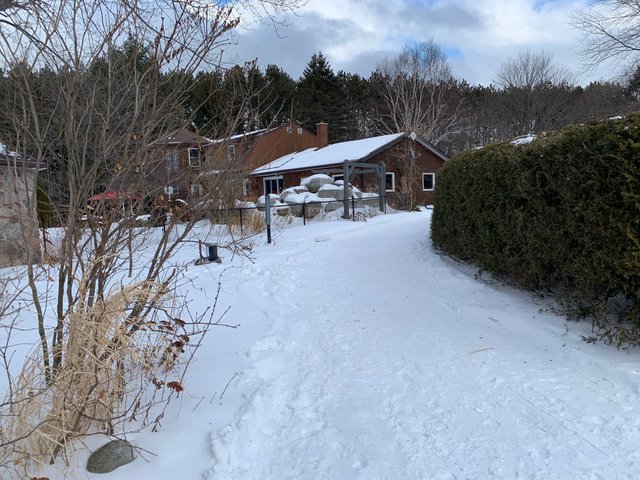 So many neat little walk ways which make for great hikes around the property in the dead of winter. His first summer coming up should be interesting as he discovers all the property has to offer. Perhaps I will take some pics in the summer from the same places to show the difference and walk in the warmer weather.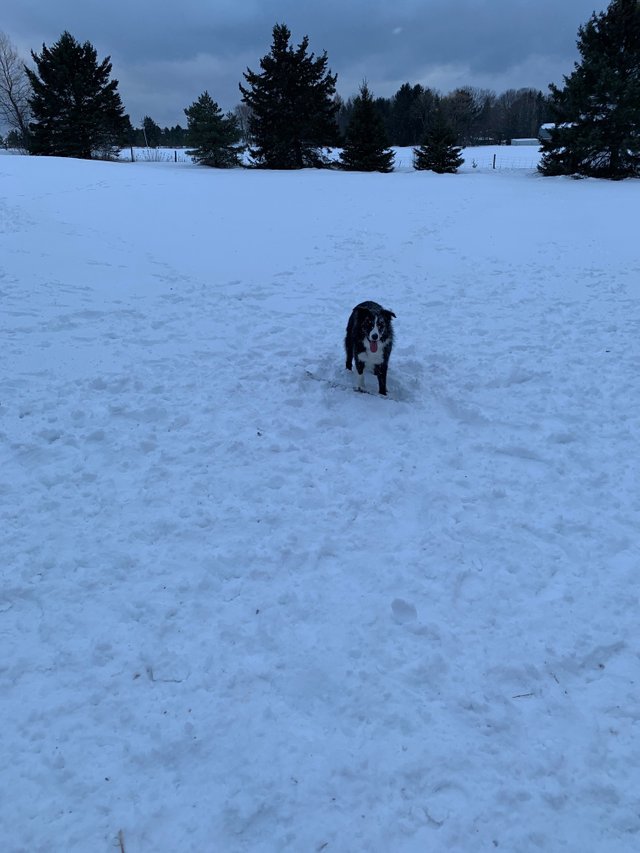 One being that enjoys wide open spaces and long walks is a border collie. Mustang is one of those and seems to have an endless range and energy level. So many sticks to grab and kids to chase around this weekend makes this doggo very happy with the walk. Perfect for this big property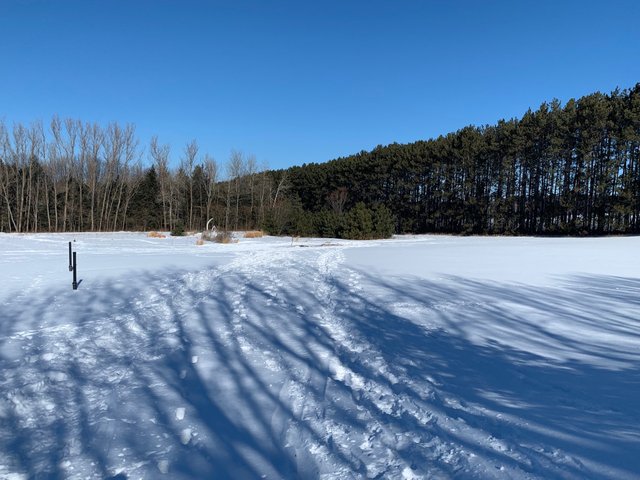 A walk out here starts with a stroll down a snow-covered meadow filled with sunlight and neat curvy tree shadows. We will stroll past the fire pit and make sure we pick up a stick for Mustang. Then on to the back of the field where the path winds around a copse of trees and heads to the forest.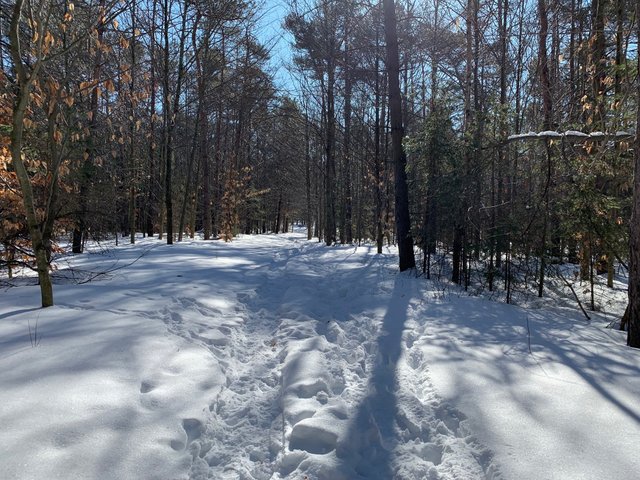 A thousand small trees in 1 pic wrap themselves around the path that winds its way through the forest. The thought of owning property with a forest like this is definitely a dream. The sun fights its way through the mess of branches to light up the sparkling snow.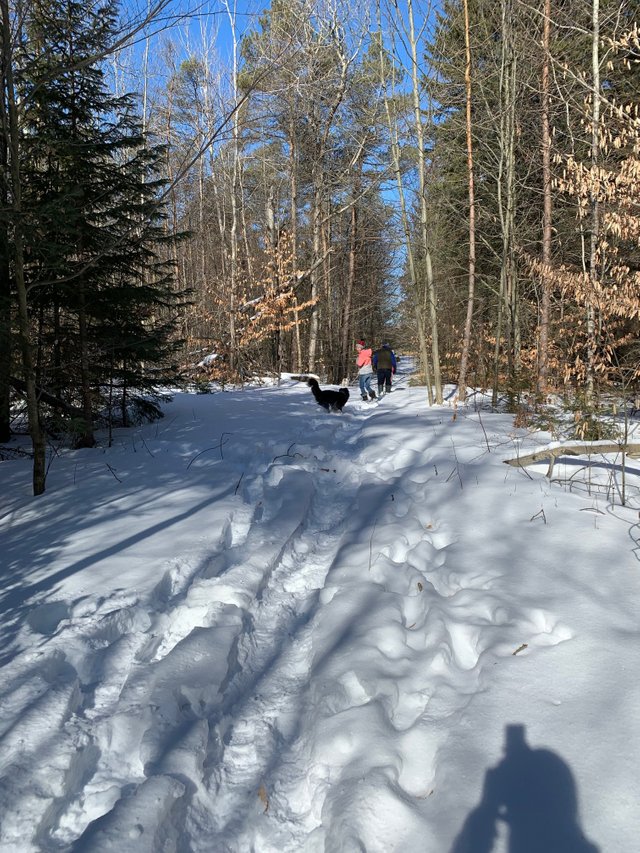 Getting the kids up to go for a boring walk is tough enough but they like to play as much as the dog does on this path. Moving and playing and laughing makes it feel warmer than it should in the middle of the winter.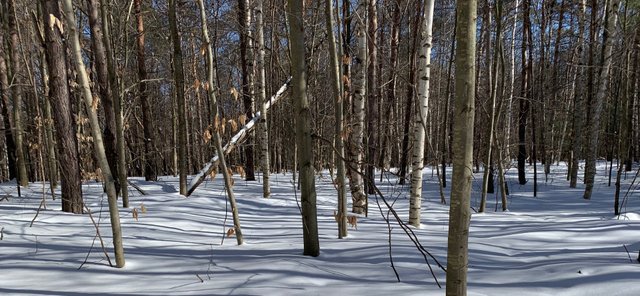 I think it was @jaynie who said this looks like the winter version of the Blair Witch Project. Bitch and pine and other assorted northern stalwarts kind of haunt you in suspended animation if you are in the spooky mood I suppose.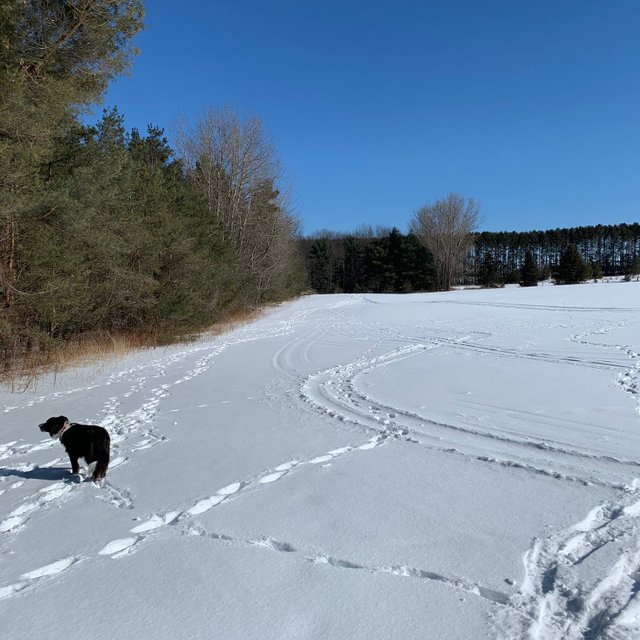 We are returning from the long woods walk in the back 40 and the homestretch is a nice meadow and I can only imagine how it will look in the summer. For now, there are rambling lines of footprints from other walks, dog prints weaving back and forth over the straighter people prints. This is a great place to ride a snow mobile and the neighbours often do. Whether it is for a little fun, or to visit eachother. I am told all the little reddish twigs lining the forest are blackberry bushes. If so, that will make for a HUGE harvest and I may have to combine some with my garden raspberries for some jam!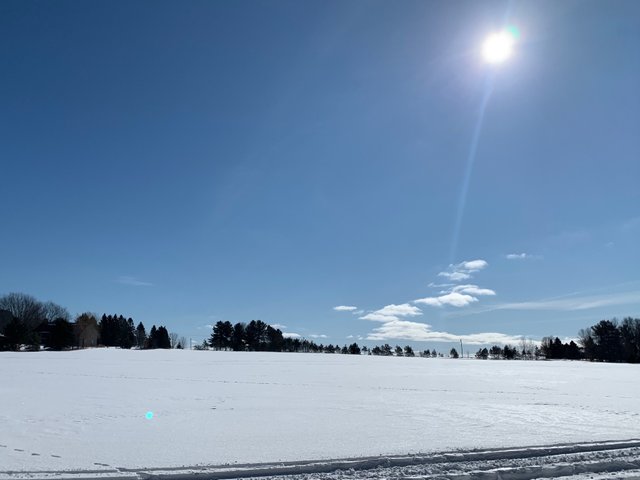 I am sure there are many versions and opinions on what paradise is. For some, it is the bright sun in the wide open sky with no buildings to block it out. Others may like the nature and ratio that never gets disturbed by humans. Some define that by the company you keep, or the activity you enjoy to keep you healthy and happy.
For me, this is an all-of-the-above situation mixed with a little blockchain to share the story with others.
Thanks @tattoodjay for inspiring #wednesdaywalks all around the world.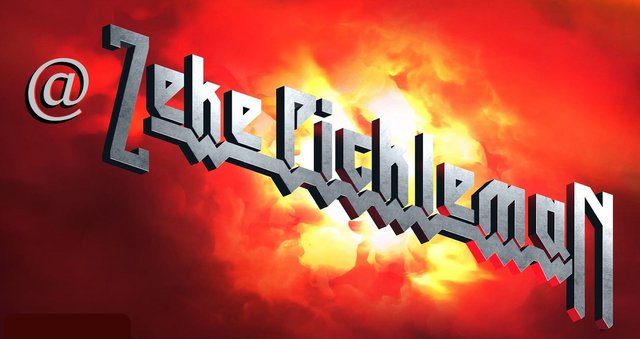 I am honoured to curate for: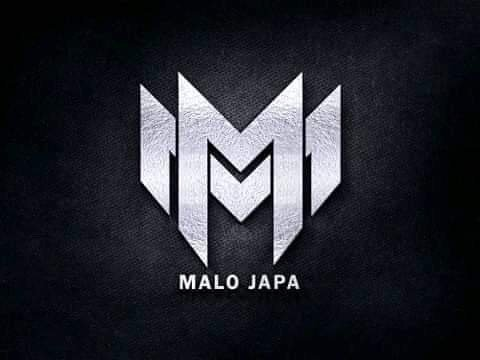 Who wants to join me on a walk?
---
Posted via Marlians.com