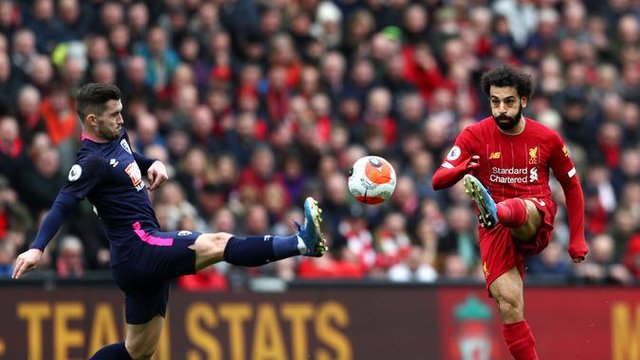 Akhirnya Liverpool mampu memutuskan tentetan hasil buruk setelah dengan susah payah mengalahkan Bournemouth di Anfield, markas kebanggaan publik Merseyside dengan kemenangan tipis 2 : 1. Lanjutan pertandingan matchday ke-29 English Premier League sangat penting bagi The Reds untuk menjaga peluang mereka merengkuh gelar juara Premier League setelah penantian 30 tahun lamanya.
Bermain di didepan publik sendiri Liverpool langsung tancap gas dari menit pertama. Namun justru malapetaka hadir bagi The Reds pada menit ke-9, gawang mereka dijebol oleh pemain lawan lewat kaki Callum Wilson. Gol cepat tersebut tidak menyurutkan semangat anak asuh Jurgen Klopp, mereka bermain semakin ngotot dan trengginas. Usaha tidak pernah mengkhianati hasil, Mohammed Salah mampu menyamakan kedudukan menjadi 1 : 1 pada menit '25 dan delapan menit kemudian giliran Sadio Mane memaksa kiper Bournemouth memungut bola dalam jaring. Kedudukan 2 : 1 pada babak pertama.
Memasuki babak kedua, kedua tim saling menyerang namun sampai peluit akhir dibunyikan, skor tidak berubah dan masih tetap 2 : 1 untuk keunggulan Liverpool. Dengan kemenangan ini The Reds sudah mengumpulkan 82 poin. 

Untuk lebih lengkapnya DLikers bisa membaca pada tautan berikut ini.
Shared On DLIKE
---