support for quarantined moviegoer №10
---
Мені здається, що в цьому випуску голоси зберуть №4, 5 (вдалий перший) і 6, хоча
"Закохані невротики" - те, що треба для поіржати пралюбов;
"Звуки шуму" - про справжніх музик;
"Смачного!" - вкусна романтика;
"Аватар"
"Вітаємо у Зомбіленді"
"Книга Ілая"
"Теорія брехні" не тільки гостросюжетний, але й корисний
на "Антихристі" Трієр ще не з'їхав з глузду
"+" додати схожий і краще №...
"-" зойкнути протест фільму №...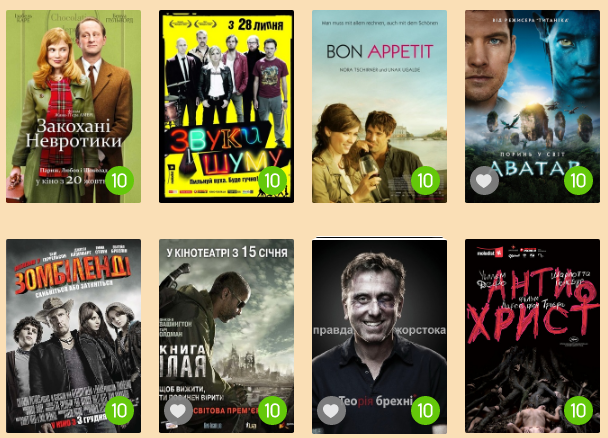 Було б прикольно побачити схоже на те, за що ви голосуєте. Але можна й протестувати:)
Серед недооцінених "Гаспар їде на весілля"
доїжджаємо и дооцінюємо.
Кому подобається, аж лайка - отримує десятикрат, ледарів і жаднюг засипати токенами набридло, = 0:)
вам треба підтвердити, доповнити або опротестувати кандидатури, аби виявити відповідне кожному (а насправді подивитися:)
---
---
---
---
---
---
---
---
---
"+" add a similar and better №...
---
"-" cry out a protest to the film №...
---
Answer the question at dpoll.xyz.