image source
Mr. Audu had a very large ranch. He rearing specifically only pigs. He lived in a small block house. All other people in his village lived in mud houses. He had more money than any other person in, and around the village. He had five wives and many children.
One bad thing about Mr. Audu was that he did not relate well with his neighbours and the neighbouring communities. His wives and children were not living with him in the village. His pigs were his companions. He went out to the ranch few metres away from his house in the morning and came back to the house in the evening. He showed no concern about the problems of other people.
image source
One day, something bad happened to him. Some hungry wild animals came into his ranch and began to attack his pigs in the pen. Mr. Audu tried his best to send this wild animals away but they were too powerful for him. He became totally helpless and began to shout for help.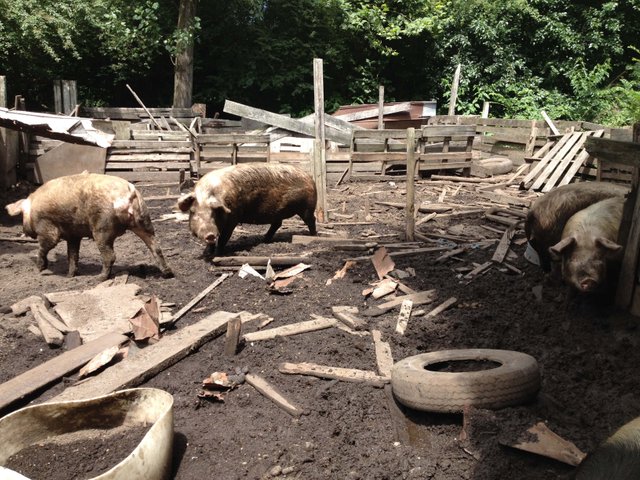 image source
His neighbours heard him as he was shouting but they refused to come out. A few people who came out were only shouting with him. They did not lift any hand to help him.
image source
The hungry wild animals were snarling at and biting the pigs and also attacking him. They killed about twenty, and injured some of them. Mr. Audu wept. The villagers laughed at him. After the hungry animals had left, the villagers came to sympathize with Mr. Audu. Although it was not a true expression of sympathy but that of mockery.
Mr. Audu realized his mistakes. He blamed himself at the end. He said to himself. "Now I have learnt my lesson. It's good to relate well with neighbours. One good turn deserves another."
QUESTIONS:
Who was Mr. Audu?
What attacked his pigs?
What was the bad thing about Mr. Audu?
Did he have neighbours at all?
How did he treat his neighbours?
Mr. Audu's pigs were more important to him than his neighbours. Is this true?
What bad thing happened to him?
How did his neighbours react to his problem?
Did Mr. Audu realise his mistake?
Do you think Mr. Audu will change?