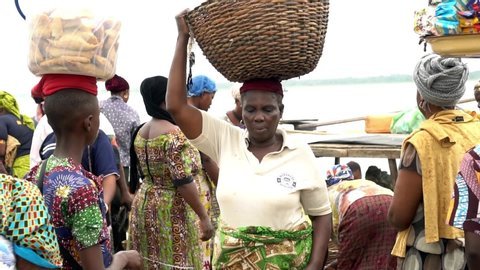 image source
Halimat makes the flour which other women use for making corn cakes. She has to travel very far to find the dried corn grains. Then she pounds them to make the flour. One day when Halimat was out looking for corn, she met a very old woman along the street carrying a huge basket filled with corn on her head.
Halimat asked the old woman for some corn, but the old woman was rude to her. She responded, "No, you can't. It is mine, don't talk to me!' said the old woman. Halimat was confused, she wondered where and how such an old woman could gather so much corn from?. Then she realised what must have happened. Within her taught..."The corn grains must have been stolen from another women like herself who went long distances to find corn.
So, Halimat being worried followed the woman to her village and waited to what the old woman would do.
The next day, early in the morning, the old woman left her village with an empty basket. She was wearing a wrapper brownish in colour so that no one would see her. Halimat followed the old to the nearby village, as she was hiding to watch the old woman, she saw the old woman stealing corn from the next village. The old woman hurriedly rushed back with the stolen corn, on the way back Halimat stopped and asked her for some corn, but she refused and said 'Stop asking me,' hissed the old woman. 'Go away!' Halimat decided to punish the old woman.
Halimat hid outside the village and when the old woman returned, Halimat followed and watched to see where the old woman had put the stolen basket of corn. When the old woman had gone, she took the corn and put some ants in the basket.
Early in the morning the next day, the old woman went to find her stolen corn, but she could not find it. Unfortunately for her, the ants crawled over her body and bit her hard. She screamed loud… 'Help! Help! Get these ants off me! Please! I promise never to steal again.'