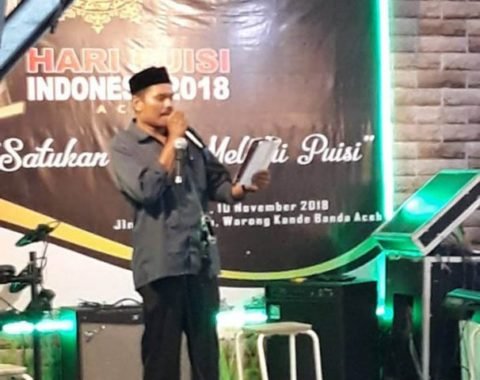 ---
I had the honor of reading a manuscript of a collection of poems by Tgk Mahdi Idris, a young ulama (a leader of religion) in North Aceh who was also a writer. The book of poems is called Membaca Tanda (Reading the Sign).
This is the sixth collection of poems from Mahdi Idris. Previously, this writer who is also a teacher has published Lagu di Persimpangan Jalan (2014), _ Kidung Setangkai Sunyi (2016), Kutukan Rencong (2018), Sebatang Pena di Meja Penyair (2018), dan Doa Dalam Tidur (2019).
How productive and creative Tgk Mahdi was in writing amidst the various preoccupations of teaching and working in the Ulama Consultative Assembly (MPU) in Kabupaten Aceh Utara, Indonesia.
I admire that consistency and perseverance because there are not many writers who are able to maintain enthusiasm and creativity to always be at the top level. I am did not have a single book of poetry collection until 2019.
Membaca Tanda contains 32 poems divided into three sections. The first part is entitled Keberangkatan which contains 10 poems. The second part is titled Membaca Tanda which contains 10 poems, and the last part is titled Sirah Kata which contains 22 poems. The division was seen sorting out the themes of poetry that fit the big title.
Reading Membaca Tanda is like exploring the maturity of a Mahdi Idris in arranging words into poetic verses that are not only beautiful, but full of interpretive meaning that may differ between what the poet intended and the reader. Because poetry is indeed open to different meanings in accordance with inner wealth, wealth of experience, and wealth of insight into the connoisseurs of poetry.
An anthology of Membaca Tanda is a journey from both the physical and inner aspects of the poet. Give a sign of a memorable moment, to one and several places related to the trip such as the pier, travel map, time of departure, cruising, and signs of earth travel that is close to the explorer's activities. In it we also find signs from traveling companions that make life more colorful.
This set of poems is indeed discussing a journey in the broader sense of the ocean. A trip that requires a plan, preparation, provision, and purpose — of course. On the journey before even starting the journey, we find many signs to launch a safe trip to the destination as a winner. The signs in various forms will be seen for people who want to read with their eyes and mind's eye.[]
---